I was scheduled to attend Matt Bell's documentary film at the 2016 Arnold in Columbus, Ohio; unfortunately for me, flight changes made that impossible. There is good news for the for the strongman fan though; it has been added to Netflix, making it highly accessible.
While I'm certain readers of my column will certainly watch the documentary, I'll offer you my humble thoughts on the film and my take aways from it. Full disclosure; over the last ten years I have met and had conversations with nearly everyone in the film (with the exception of Mr. Hall). I do not believe it makes me biased, but gives me a deeper insight to the goings on in the sport.
Eddie is a well shot documentary that came together over two years of strongman Eddie Hall's life. While most film work in strength sports is done by amateurs, this is a quality production by a trained professional. Easy to watch by fans and the uninitiated alike you are treated to an excellent package. It takes you a behind the scenes for a look at one of the top competitors in the game, exposing the human side of athletes that are larger than life.
The film is raw and real, featuring plenty of time on his romantic relationship with his wife and his love for his young son, Maximus. Often, we tend to forget that those that excel in athletics are human and vulnerable like all of us. Ed speaks of his depression during his grandmother's cancer and eventual death. This gives the viewer some insight as to his drive to excel and push through limits that would often stop others.
"The Beast" has a storied background in athletics and was a national champion youth swimmer. Along the way he lost his zeal for the pool when his passion turned to weights in his teenage years. This is something that holds true for many competitive strongman, being great at one sport in their youth, but finding their true love later in life. He also finds commonality with many as a former blue collar worker and bouncer in a small depressed town who is personally yearning for greatness. Limited options and the realization of less than desirable circumstances can bring out conflicting outcomes in people. Many turn to drugs and crime, but occasionally a Phoenix will rise from that ash. In strongman this documentary points out very little financial reward awaits this hero.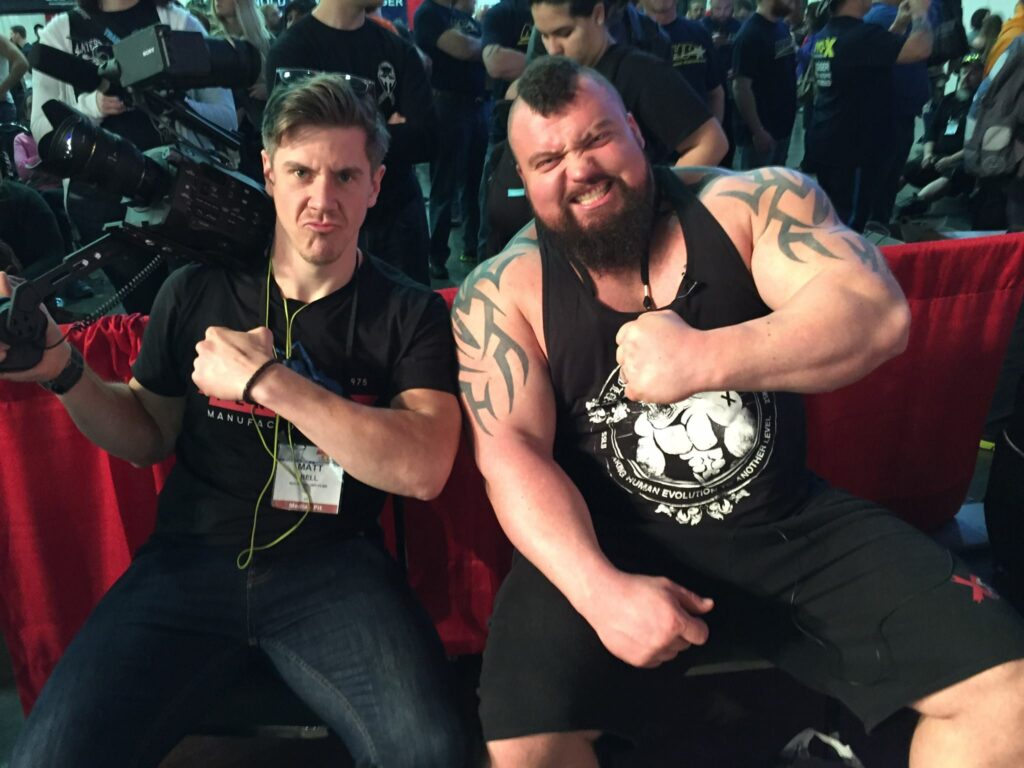 Filmmaker Matt Bell, left, with Eddie Hall, right.
Even at the top level, very little prize money awaits these super human lifters. The film features the British National Championships, World's Strongest Man, and the Arnold Classic. To make a living one would need to win all of these contests year in and year out.
A very remote possibility. To survive Ed relies on sponsorships and is a fantastic self promoter; the key to training and competing full time. Unfortunately, as small as the sport is, the demand just isn't there to supply dollars for more than just a few athletes.
A nod is given to the massive diet that must be consumed to keep a body weight near 400 pounds. Scenes of Ed food shopping and eating give slight comic relief to the film. You also get an inside glimpse on how being just so large can make it difficult to fit in real world situations and how it affects simple things like sleep. You definitely understand there are many small sacrifices that add up to big disadvantages to a normal life.
The top competitors in the sport play a small but welcome role in the film. The interactions of Eddie, Brian Shaw, Hafthor Bjornsson, and Terry Hollands illustrate the respect these men have for each other. The specter of serious injury and even death is discussed among them with a somber yet devil may care attitude. It seems that athletes who play where these risks are present accept them with a shrug and a smirk. This may be hard to understand with the mindset of the average person.
The first British champ — Geoff Capes — makes a cameo appearance in the movie and unfortunately it appears that time has not been kind to the former athlete. One can surmise that injuries have added up and serious weight gain was the end result. Geoff is a legend and it can be difficult to see them at less than their best.
All in all this documentary is a must see for anyone involved in the sport, their family members, and casual fans. The director pays much respect to the effort of the athletes without painting them as cartoonish meatheads. Very little time is spent showing training sessions but focuses instead on the actual contests and the chase of the world deadlift record. Bell makes no attempt to portray (or create) conflict between the athletes as the "Pumping Iron" films have done. Ego chasing is not the theme here but rather the true love of testing ones limits. The backstage footage at the Arnold Classic clearly illustrates the major difference between the strongman athlete and the bodybuilding model.
In a recent conversation with Bell he informed me of some upcoming behind-the-scenes specials he has in the works for strongman aficionados. If the quality of the new work is on par with this film I am sure more fans will be created to grow one of the most demanding sports on the planet. Eddie Strongman is a surprisingly enjoyable, dark, realistic, warm look at man who refuses to settle for less than his best and those that share his journey.
Editors note: This article is an op-ed. The views expressed herein are the authors and don't necessarily reflect the views of BarBend. Claims, assertions, opinions, and quotes have been sourced exclusively by the author.
Images courtesy of Matt Bell.