On Saturday, September 3rd, I had the chance to talk with 2016 National Champion and USA Pan American Team Member Wes Kitts at the Hassle Free Invitational in Sacramento, California. In the past two years, he has really exploded up the ranks and is a (very) early favorite to be on the 2020 Olympic Team. This Tennessee native recently moved to California, and I personally am excited to see how he will progress as his technique improves in addition to being naturally "Country Strong."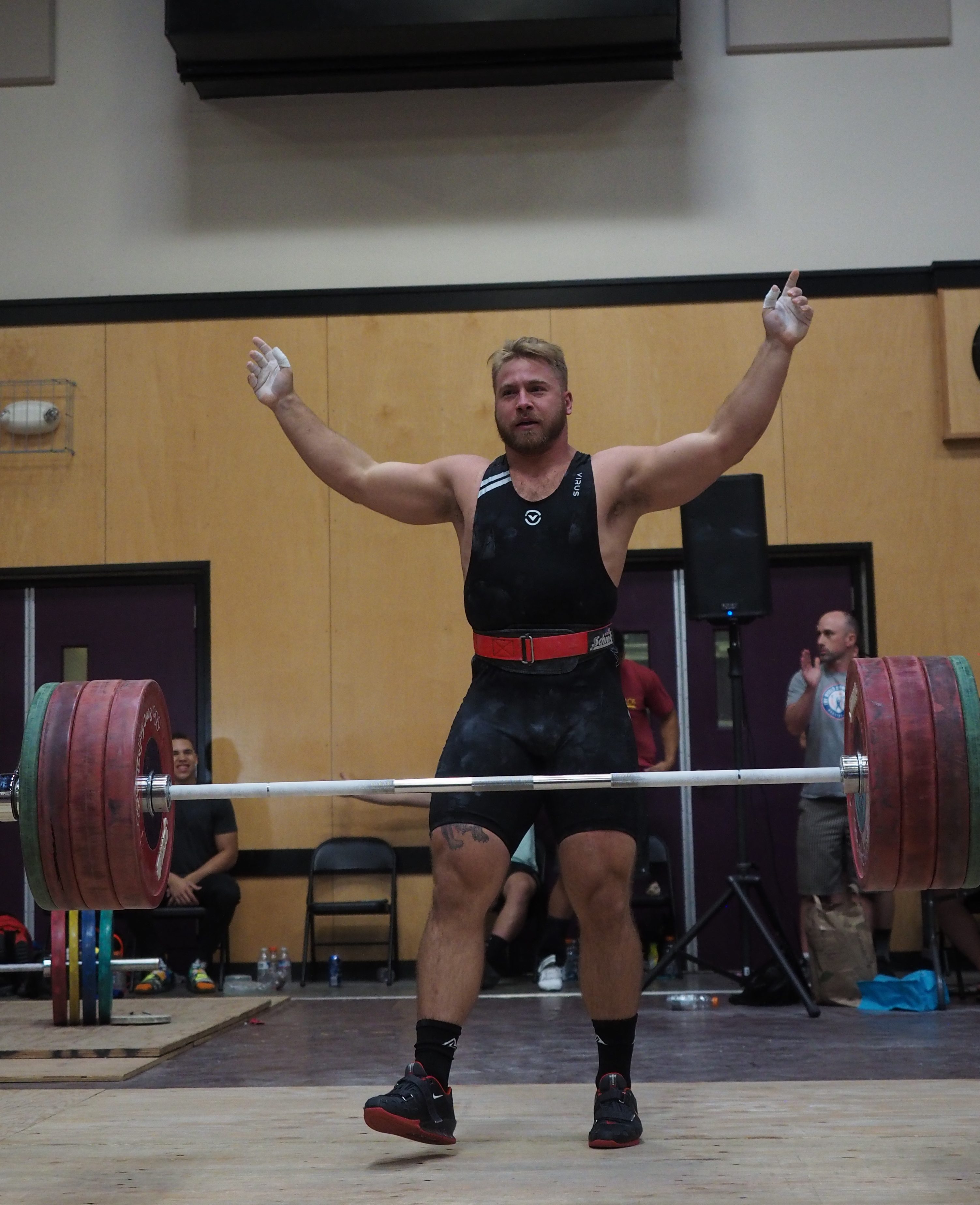 Image: Sam Viglienzone
Wes Kitts (California Strength, 105KG)
Instagram: @weskitts22
Hometown: Knoxville, TN
Education: BS in Exercise Science from Austin Peay State University
Athletic Accomplishments:
2008 – 2012 played Tailback for the Austin Peay Governers 

(American) Football Team

Ran for over 1,100 yards in his career

Ran for 110 yards versus Virginia Tech his Senior Year

Competed for the

New York Rhinos

in the National Professional Grid League (GRID)

2016 USA National Champion (105KG)

2016 Pan America Championships – 4

th

Place

Bronze Medalist at the 6

th

Russian Federation President's Cup & IWF Grand Prix in Kazan, Russia

2015 American Open Champion

2015 USA Weightlifting National Championships – 4

th

Place

2014 American Open – 4

th

Place
How long have you been lifting? How did you get started?
"I've been lifting competitively for about 2 years. After college I got into CrossFit, then I discovered the GRID league. I was pretty strong and it was an opportunity to make some money. About a year ago, Dave Spitz invited me to come train at Cal Strength, and I've been getting better ever since."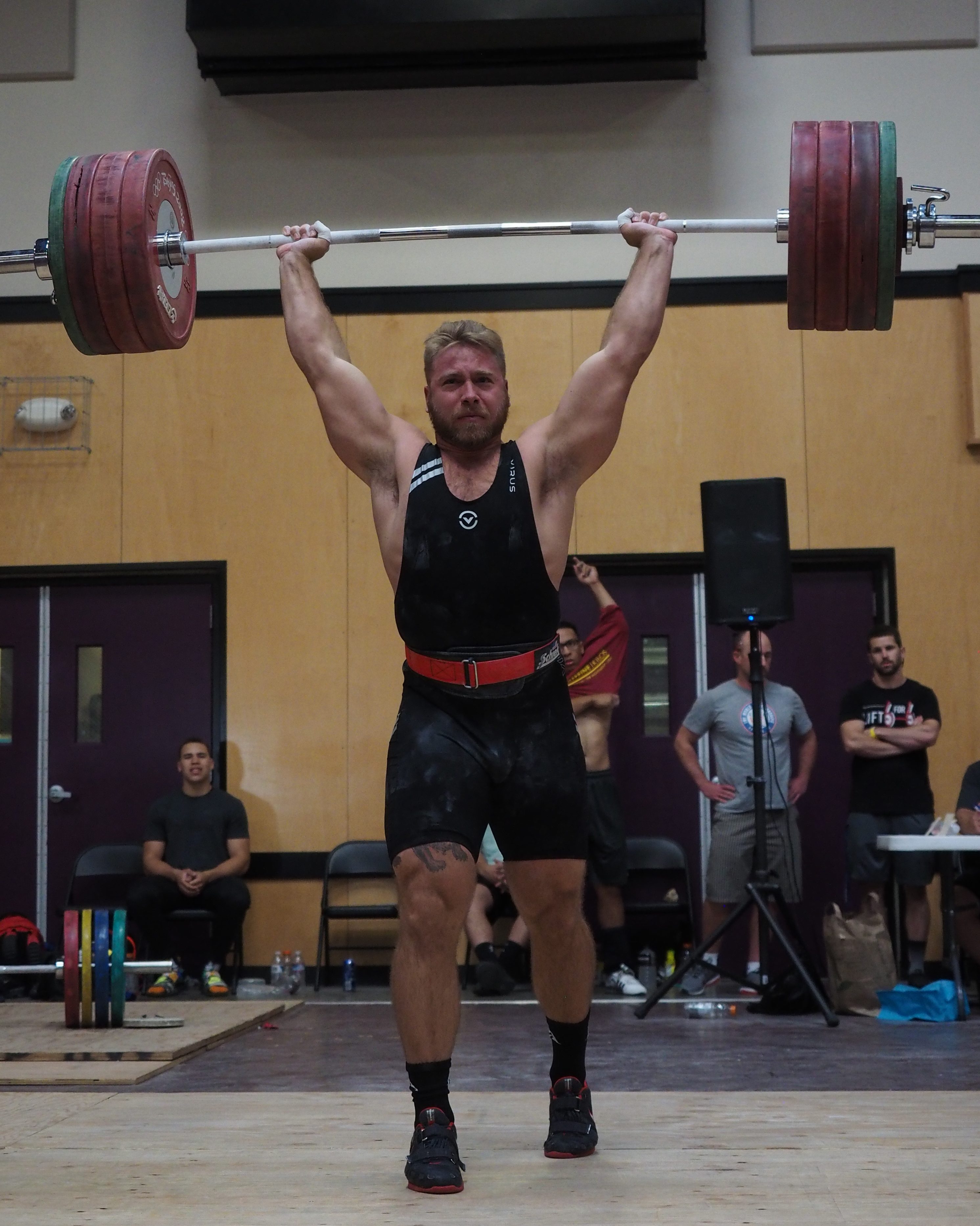 Image: Sam Viglienzone
What are your favorite hobbies/activities outside of Olympic weightlifting?
"I'm a gym rat, I spend most of my time at the gym."
[Kitts is currently working as a Personal Trainer at California Strength in San Ramon, CA, and he works as the Strength & Conditioning coach for the Football and Basketball athletes at San Ramon High School.]
Goals for C&K Invitational and the rest of 2016?
"Try to make all my lifts and have fun today, for the rest of the year I'm going to just train seriously and get better."
Goals for the Hassle Free Invitational2017 and beyond?
"I want to be competitive internationally."
Who in the USA is your Biggest Competition?
"All the 105's are solid. Donovan Ford is the most consistent with putting up big totals."
Who is your favorite weightlifter to watch?
"I like watching Nicole Lim [his California Strength teammate, national level 48KG athlete] – she has the best jerks."
What are your training PRs?
Snatch: 172KG (378lbs)
Clean & Jerk: 212KG (466lbs)
Back SQ: 276KG (608lbs)
Front SQ: 245KG (539lb)
Number of training sessions/week (how often do you go heavy (90% +)?
"I train 7-9 times per week. I go over 85% at least 5 of those sessions, sometimes as many as 7."
What does your diet consist of (special foods, nutritional plans, etc)?
"I am naturally a 105KG and walk around close to that weight most of the time. Closer to a competition I will clean up my diet, primarily eating white meat and limit the meals where I eat red meat to about three per week. I also get most of my carbs through vegetables."