Update: After the 2016 USA Weightlifting Nationals & Olympic Trials in Salt Lake City (May 5-8th), we know which women will represent the US in weightlifting at the 2016 Rio Olympics. They are:
Jenny Arthur (75kg)
Morghan King (48kg)
Sarah Robles (75+kg)
The final start list has been published! American Weightlifting is one month away from determining the woman's team that will represent USAW in Rio de Janeiro at the 2016 Summer Olympic Games. Here's what you need to know about qualification and who will represent the US in Women's Weightlifting.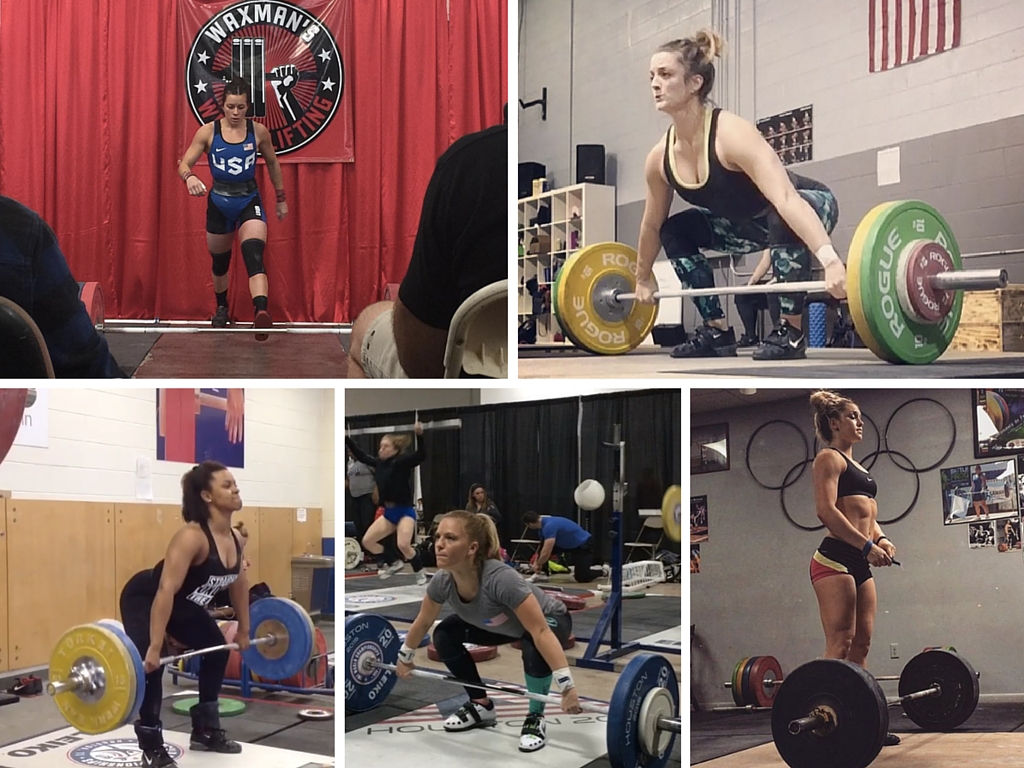 How did we get here?
Based on finishing 14th place as a team in points scored between the 2014 & 2015 World Championships, America earned 3 Olympic Spots for women in the Olympic Games. An outside chance still exists we may earn 1 more spot based on additional positive drug test results, however that seems unlikely.
What is happening in Utah?
May 6-8 will be the 2016 USA Weightlifting National Championships, concluding Sunday afternoon with the Woman's Olympic Trials. The trials will consist of the top 15 women who have posted qualifying totals that give them the highest likelihood to earning a medal at the Summer Olympic Games.
Jenny Arthur (75KG, Team Georgia)
Courtney Batchelor (53KG, Gayle Hatch WLC)
Jessie Bradley (75KG, Unattached (Utah))
Morghan King (48KG, Unattached (Colorado))
Marissa Klingseis (75+KG, Wesley Weightlifting)
Jessica Lucero (58KG, Catalyst Athletics)
Holley Mangold (75+KG, Unattached (Ohio))
Mary Peck (63KG, Hassle Free BBC)
Jessica Phillips (75KG, California Strength)
Kelly Rexroad-Williams (48KG, Coffee's Gym)
Melanie Roach (53KG, Roach Strength)
Sarah Robles (75+KG, Team Houston)
Mattie Rodgers (69KG, Team O.C.)
Ariel Stephens (69KG, Catalyst Athletics)
Kathleen Winters (48KG, Team Montana)
The women who do not compete in this session are capable of using their total from the National Championships to earn an Olympic Spot, however that is very unlikely to happen. Vice versa, woman in the Olympic Trials session can earn medals at the National Championships. This format is designed to give a competitive advantage to the top 15 women so they have a better idea what they will need to total to earn their Olympic Spots. The format also gives NBC, an official Olympic Sponsor, enough coverage to produce a television program that can air at a later date and time.
Who is in?
In January the world learned that Jenny Arthur already earned her spot as an Olympian by earning the most team points between her performances at the World Championships in both years. This leaves 2 spots to still be locked down. The ranking methodology that will be utilized to determine who goes to the Olympic Games will be the 5 year average of 3rd place at the world championships/Olympic Games. Third place represents the bronze medal, which is the lowest position an athlete can finish and still earn a medal. Over the previous fuve years, there are fluctuations as to what total can earn a medal; so taking a moving average of the most recent time period gives a good enough gauge at who has the most potential to earn a medal.
The emphasis is on earning a medal for Team USA. Currently Sarah Robles (75+KG) and Mattie Rogers (69KG) are holding those spots, based on totals from the 2015 World Championships and February's Olympic Qualification Event; respectively. The USA Weightlifting Official ranking going into the event has Sarah Robles ranked first and Mattie Rogers ranked second.
What are the totals needed?
Beating out Rogers and/or Robles will not be an easy task, yet there are still a few women who have that potential, and many more who will be trying to pull off this athletic feat. My analysis shows that in order to knock one or both of these woman off the ranking list, new American Records will need to be set in some of these weight classes. Also, Rogers and Robles would win tie breaking criteria if a woman in their respective weight class were to tie their total, so a 75+KG or 69KG would need to total 1 more kilo.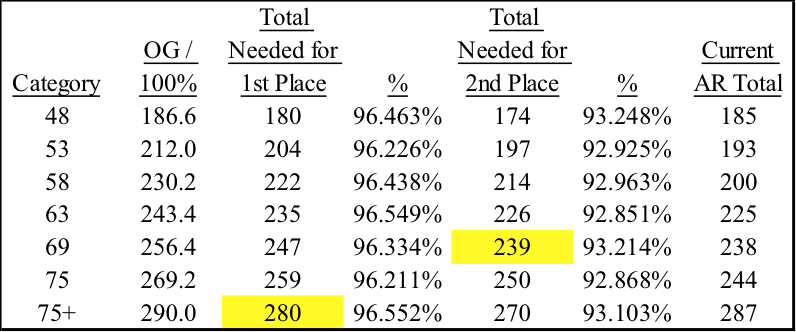 Who are the contenders?
Not all of the 15 athletes have a legitimate chance to make the Olympic team, however there are a few interesting storylines to follow and we hope all the competitors have a great competition.
Lifters On The Bubble
USOTC resident athlete Morghan King has as good of a chance as anyone else to make her way onto the team. If everything stays the same, as a 48KG athlete she needs a 174 total to knock off Rogers. At the Pan Am Games in July she totaled 172KGS, where she only made one good lift in the clean and jerk. Her potential is very high as she has totaled 184KGs at a light 53KGs athlete as recently as the 2016 Olympic Trials event in Philadelphia this past February.
Another bubble candidate is Jessica Lucero at 58KGS. She recently totaled 206KGs on Easter Sunday with an unofficial American Record in the Clean & Jerk and total. Eight more kilos onto her total is probably a stretch of the imagination, but honestly she had a great year of competitions in 2015 that very few people outside of her training hall saw coming. If one woman can pull off a small miracle at the Olympic Trials, it is probably her.
Previous Olympians
2012 Olympian Holley Mangold is looking to recreate the magic she had in 2012 that she utilized to earn a spot on the team. She had wrist surgery after the 2012 Olympics, but has rebounded to earn spots on the 2014 and 2015 World Team. Her training has been well documented on YouTube.
2008 Olympian Melanie Roach is also on the start list at 53KG. Her entry total of 177 is 16 kilos lower than the American Record she set at the 2008 Olympic Games in Beijing. While weightlifters are usually the opposite of a fine wine — not getting better with time — this 41 year old mother of five and business owner is a great story of hard work and perseverance, and I hope she has a great showing. 
Masters Competitors
There will be two Masters' athletes participating in the Trials; in addition to Roach, Kelly Rexroad-Williams will be competing in the trials at 48KG. As recently as 2014, she was on the US World Team in Kazakhstan, where she placed 22nd in the world.
The Youth Movement
The trials will feature Marissa Klingseis (75+KG), who just finished her age eligibility as a junior lifter. She is a bronze medalist from the 2013 Junior World Championships, and has been on the USA Senior World Team in 2014 and 2015.
Also competing will be hometown favorite Jessie Bradley (75KG) who is from the state of Utah and just completed her youth eligibility, with 2 more years to compete as a junior athlete. She placed 8th at the 2015 Junior World Championships.
Regardless of how these ladies fare, this is a great opportunity for them to gain experience, as they will be representing the USA well into the future.
Editors note: This article is an op-ed. The views expressed herein are the authors and don't necessarily reflect the views of BarBend. Claims, assertions, opinions, and quotes have been sourced exclusively by the author.
Correction: This article has been updated to clarify Melanie Roach has five children, not three as originally worded.