Outside of the bodybuilding divisions, there were two other men's divisions in the IFBB Pro League on display at the Arnold Sports Festival.
The men's physique division calls for athletes to be judged while wearing shorts and resembles a beach body look but with more muscle. Classic physique is a throwback division with the look and shape appearing more like the stars of the 70's and 80's. Both the men's physique and classic physique divisions have stars that are both top level athletes and have personalities to match. As a result they both have great fan bases that care about who they support.
Both of these divisions had contests to determine their own Arnold Classic champions and it turned out to be a good thing if you were from New York City. Both winners and the runner-up in classic call the city that never sleeps their home.
Classic Physique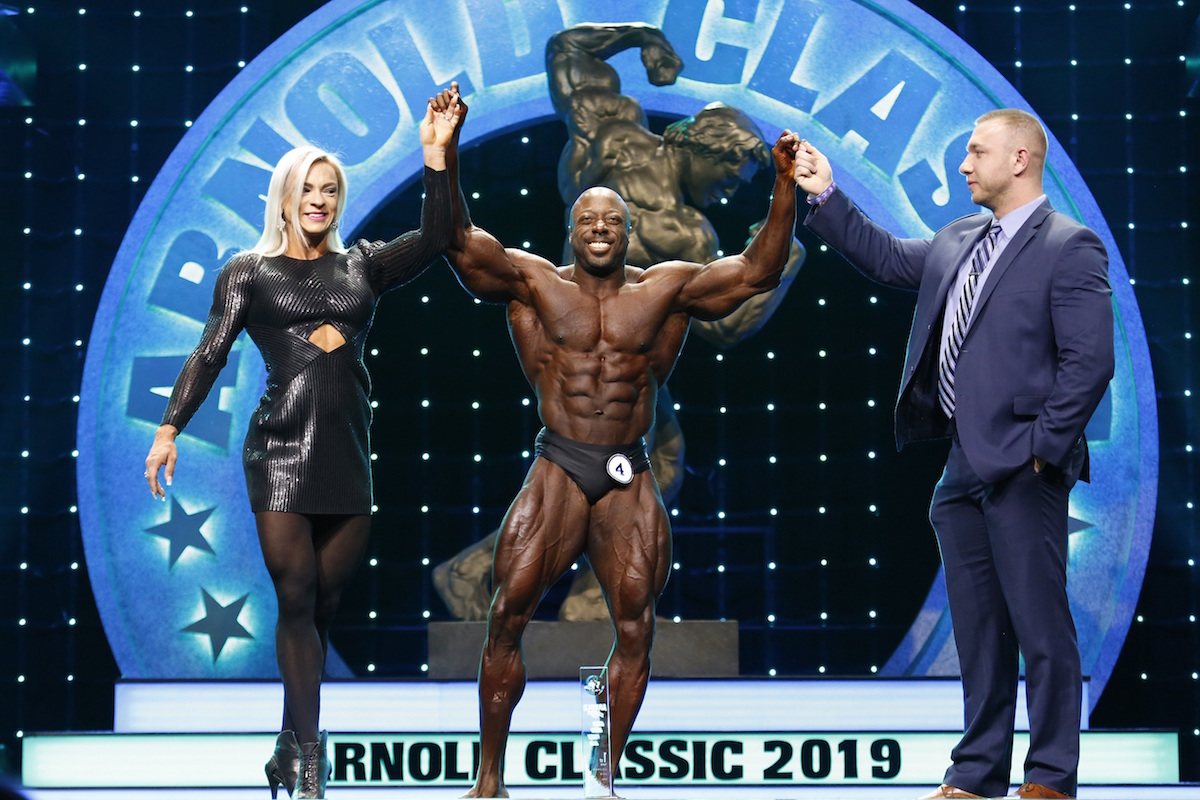 With reigning Olympia champion Breon Ansley as well as runner up Chris Bumstead in attendance as members of the audience, the competitors in this show were making fans in the crowd compare them to stars of the past like Lee Haney and Bob Paris. At the end of the competition, Arnold Schwarzenegger himself praised all of the Top 6 for how they posed and looked onstage.
As the final callouts were being made, it was clear that New Yorkers George "Da Bull" Peterson and Steve Laureus were going to be deciding who takes the trophy back home. When the final announcement was made, it would be "Da Bull" who got to talk to Schwarzenegger and win the title. Peterson credited his coach, Justin Miller for helping him prepare and bring what he called his "best look ever".
1st – George Peterson
2nd – Steve Laureus
3rd – Courage Opara
4th – Keone Pearson
5th – Khaled Chikhaour
6th – Ricky Moten
Men's Physique
Andre Ferguson may be the most popular athlete in this division currently and he's not one to keep quiet either. His confidence is what he feels helps him perform at his best when the time comes to compete.
The 2018 champion of this show would need all of that confidence and a great physique if he was to hold off the challenge of guys like Raymont Edwards and 2015 winner of this show, Sadik Hadzovic. Hadzovic had been in the classic physique division in recent years but made the decision to go back to where he started in men's physique. The last time he was seen in board shorts, he weighed around 180 pounds. He's now around 215 or a little more.
As the men were being compared, Ferguson had more swagger and confidence and that presence onstage may have been what he needed to go over the top because he is now a back-to-back champ. Edwards had a great physique with shoulders that stood out in his own right, but it wasn't enough.
1st – Andre Ferguson
2nd – Raymont Edwards
3rd – Hyron Holden
4th – Logan Franklin
5th – George Brown
6th – Sadik Hadzovic