Watches play a pivotal role for many people in terms of keeping time, with tight schedules and deadlines increasingly important in this era of on-demand services and international supply chains. Watches can also, however, play a crucial role in staying fit, as training often involves marking lap times, counting the seconds between reps, and making sure we are accountable to the amount of time we said we would workout. Sports watches for men can come loaded with different functions, with some designed for underwater resistance while others are primed to be companions for long runs. With a multitude of options available, it can be difficult to decide which watch may be the perfect fit. Here is what we found after comparing some of the most popular options on the web.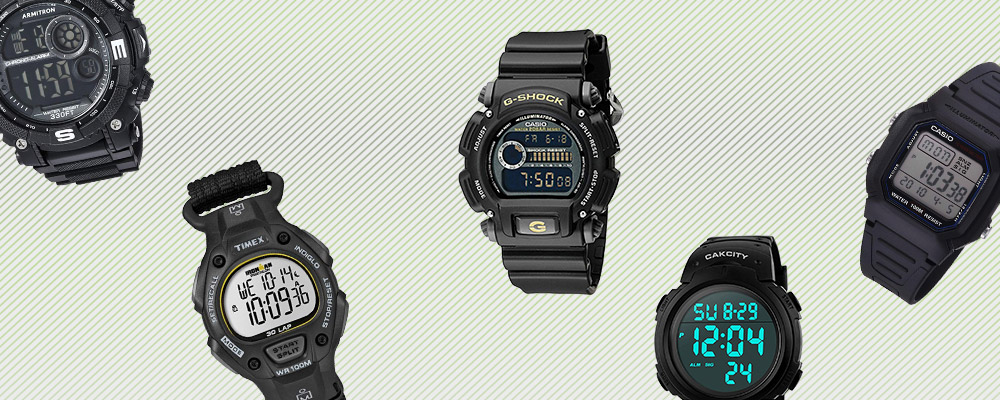 Editor's Choice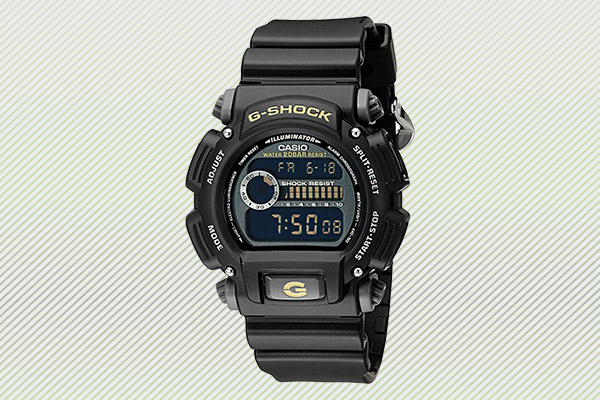 Casio Men's 'G-Shock' Quartz Resin Sport Watch
Pros: 
Shock resistance. The G-Shock line from Casio, short for "gravitational shock", were designed specifically to withstand impact from falls and to be long lasting. The quartz mechanism floats in a cradle that provides a crucial layer of support.

20-bar water resistance. This watch can withstand up to twenty-bars (or about 200 meters) of water resistance. This is double the depths of many competitors.

Second marker. This watch's face has a bar that fills up every second. There is another part of the face that marks a notch every 10 seconds.
Cons: 
Small display for size. While this is a medium-to-large sized watch, the actual display could be bigger. Some users may have a hard time reading the display, especially on that watches with a darker watch face.

Adjustment holes far apart. The holes in the band that allow users to adjust the size are rather far apart, making the watch slightly too big or too small for some users. 
The Contender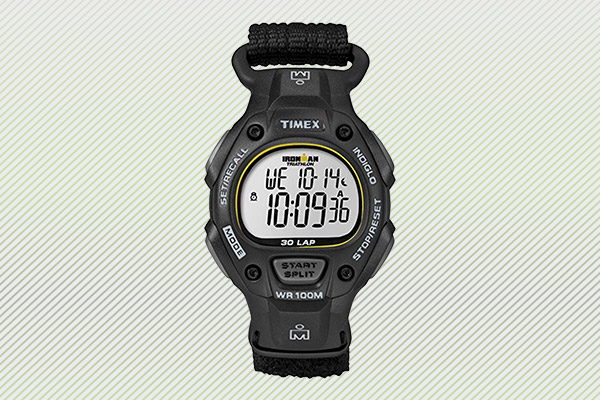 Timex Ironman Classic 30 Watch
Pros:
14 different colors. This watch from Timex comes in different color bases with various accents to add flare to different versions. There is also a variation with a quick-access "fast-wrap" strap made out of velcro.

100-lap stopwatch memory. Timex's Ironman Classic allows users to store times of the last 100 "laps" – or times they have used the stopwatch. This is great for training for a race or just keeping track of lap times to help motivate and gauge training.

Thin band. Many users will prefer this type of watch band, as it is relatively thin and lightweight. For those using the watch for competitions, it is one of the least cumbersome options out there. 
Cons:
Some varieties harder to read face. Timex has variations of its Ironman watch that have a darker background of the watch face that can make checking the time or other information more difficult, as it has less contrast with the digits. The variations with the lighter grey background are easier to read.

Need to hold down stopwatch for 3 seconds to reset. In order to reset the stopwatch, users need to hold down the button for three seconds. This can disrupt the rest and timing schedule of some training regimens.
Best Bargain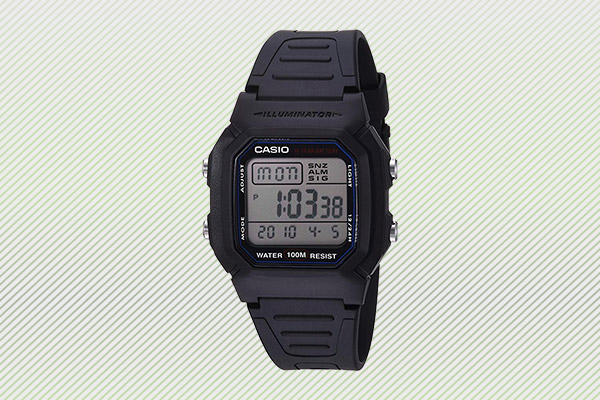 Casio Men's W800H-1AV Classic Sport Watch
Pros: 
100 meter water resistance. This watch offers 100 meters depth, or about 330 feet, of underwater resistance. With its everyday casual style, users can keep it on during showers or while swimming without thinking twice.

Comfortable band. The black resin band of this watch has a smooth and soft feel. Many other sports watches have more obtuse shapes that can dig into the skin and thicker, less malleable bands.

Cost. This prices that this classic watch can be purchased for might seem surprising. It is so affordable that replacement bands often cost more than buying a new watch.
Cons: 
Light only stays on for 1.5 seconds. Users may get frustrated when trying to look at the time at night. The light only stays on for 1.5 seconds, which may not be enough time for eyes to adjust and to get a proper reading of the display.

Narrow viewing angle. This watch is best viewed straight on. At night, especially, sometimes the angle that the user views the watch prohibits a clear reading of the display.
Best for Large Wrists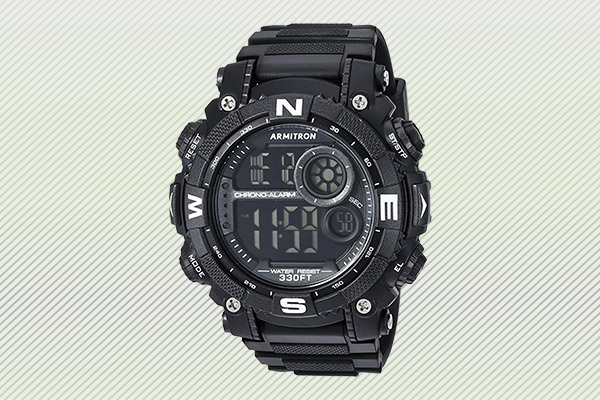 Armitron Sport Men's 40/8284 Digital Chronograph Watch
Pros: 
10-3/8″ length band. Sporting one of the larger bands among its nearest competitors, this watch has a large face and fittingly can be worn by those with larger wrists.

Color options. This offering from Armitron comes in six different varieties. Options available are black, red, black and red, black and blue, black and green, and grey and orange.

Doesn't spin around wrist. As opposed to some watches that have smaller faces, this large watch will be not likely to mistakenly spin around the wrist. This is mostly a problem that can occur with smaller watches.
Cons: 
Useless compass bezel. There is a bezel in the upper right of the quadrant of the watch face that looks like it should house a compass. It is merely decorative and provides no utility. A missed opportunity.

Backlight not bright enough

. The backlight can illuminate bright enough in some settings (such as complete dark), but other times users may need to bring out a light just to read the display.
Best for Visibility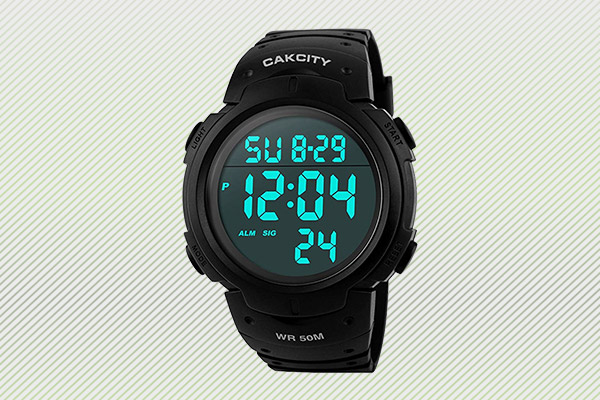 CakCity Men's Digital Sports Watch
Pros: 
Large display. The watch face is large and the digits displaying the time are consequently large as well. The digits span across the width of the watch without any other materials nestled in the face, allowing users to see the time and other information quite easily.

Day of the week. Though many digital watches will display the date, this watch spells out the abbreviation of the date and displays the calendar date in a rather large font. Convenient for those who use their watches as a calendar reference.

Bright display. The display is not only large but well lit. The backlighting of this watch is one of the brighter options available for sports watches.
Cons:
Band not very flexible. Some users may find this watch band uncomfortable. It can feel a bit more rigid and less flexible than other competitors.

Light button on the left side of the watch. This will only be a concern for those who wear watches on their left hands, but the light button is located on the left side of the watch face. This means the users' right hand will most likely be covering up the watch whenever the light button is being pressed, making it difficult to read the illuminated time.
How We Picked
Sports watches are relied upon to be there through thick and thin. Whether it's during a mud race, cross-fit training, 4 AM long run, boot camp, or playing football in the rain with friends, people rely on sports watches to be resilient and dependable no matter what sort of environment or strain is put on them. Sports watches can be a pivotal ally when training, but can be big disappointments if certain aspects of the watches interfere or malfunction when they are needed the most. With all this in mind, there are certain factors that we determined were amongst the most variable and important:
Size
One of the biggest variations found between different lines of sports watches is their physical size. The sizing of the sports watch manifests itself not only in the face itself, but also in the bezel (the casting of the face), the length of the band, and the width of the band. Some companies are very blatant in what they are trying to achieve; manufacturing a large watch face with wide and tall digits against a bright backlight is clearly designed to cater to those looking for maximum visibility.
However, large watches aren't necessarily always the preferred rod to travel. Those training for a marathon or other race may not want a large watch, and might prefer a slim, lightweight offering that helps them measure lap times. The visibility of the time may not be as important to these users. The smaller watches are often more in line with modern sartorial trends and may come off as more professional for use in situations outside of training.
Style
There is a wide gulf between types of sports watches in terms of style. Some are fashioned in a classic, nondescript manner that belies its modern popularity. Watches such as the Casio Classic have been rocking the same aesthetic for decades yet still are being worn by each subsequent generation. Watches with a subtle and timeless look can be versatile; wearers can don the watch during training and seamlessly transition into professional mode without thinking twice.
Other manufacturers make watches that seem to boast how rugged and durable they are. These watches may indeed go underwater at greater depths than their competitors, but even if they don't, they give off an impression of rigor and durability. These watches sometimes mimic military or law-enforcement styles and are consequently popular with those in related fields. While this will usually come down to an aesthetic choice by the user, sometimes a brand may offer a function that is appealing but unfortunately not sport the look the customer is looking for.
Functions
Form often meets function and that is true of most sports watches. The watches that are slim, light, and with easily-accessible buttons are designed for those who run or swim and keep time as they train. These watches often have lap memory and can even recall the best time for a given distance. Countdown timers and multiple alarms are also features that can aid those training for a race or with a strict fitness regimen.
Other watches lean into their visibility, durability, and size. These are designed to be all-weather and all-purpose devices that can withstand inclement weather and material shock. These watches may not have all of the same time-keeping features as other sports watches, but they may last longer and be more efficient in certain environments.
Tips
Not sure which sports watch is right for you? Here are some considerations to make before making your decision:
Will you wear your watch all the time? Most sports watches are designed to be useful and comfortable enough to wear in any situation. These watches can usually withstand some water pressure and a degree of physical trauma, whether it is contact in a sport or just simply dropping it. However, some watches are more water resistant or more shock resistant than others. These can be worn in most situations without thinking twice. Similarly, some sports watches have an aesthetic that can match any scenario. If you are hoping to use a sports watch for specific activities, then by all means go for the one that suits those needs. For those hoping for a device that can be worn all the time in all scenarios, then there are options for those as well.

Do you wear watches on your left or right hand? The way watches are designed sometimes favor those using it on a specific hand. Crucial buttons for backlighting may be on the left side of the watch but will need to be accessed with the right hand, obscuring the very screen that was meant to be illuminated. Some watches have buttons that protrude and can mash into the wearer's skin, but only when the wrist is bent. Take a look at the physical shape of the watch, where the buttons are located, and see how far, if at all, any function buttons protrude.

Are you training for something? Several sports watches have great functionality designed to help people train for races. A popular feature is to have lap memory, meaning a user can store up to a set amount of times for each "lap" performed. This can even apply across several different workouts. Other useful functions to look out for are timed bars or other shapes that illustrate seconds and tens-of-seconds as they pass. This can be super helpful for resting in between sets. Those training for a triathlon or other water-based sport should find a sports watch that offers at least 50 meters of water resistance, if not more.