Right off the bat, professional strongman Brian Shaw makes it evident that his latest video isn't intended to be seen as an excuse for the results at the 2018 World's Strongest Man, but to be taken as a possible inspirational video for others.
Leading up to the 2018 World's Strongest Man, Shaw discusses how his motivation was at an all-time high and he was feeling great. Shaw went out to train truck pulls one day and as opposed to pulling the normal 50,000 lb (roughly) truck, he pulled his local fire department's newly out of commission ladder truck, which weighs around 90,000 lbs. Shaw states that instead of shying away from the challenge, he said sure, and notes that he's only pulled this truck one time before in his life.
To provide background, Shaw shares that over the last few years he's been dealing with plantar fasciitis, which is an inflammation of the foot's fascia that connects the heel to the toes. After warming up like normal, Shaw says that he began his pull, took roughly one step, and felt a "pop" that stopped him in his tracks.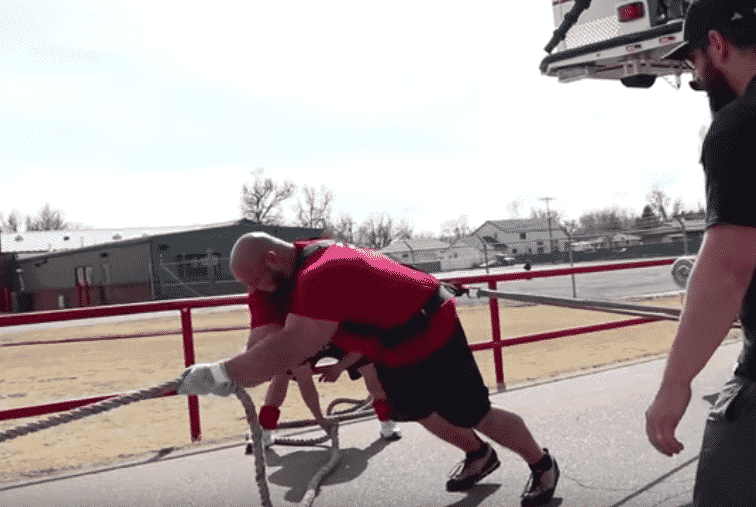 "That happened and things started to get progressively worse. That night I was having a hard time walking to bed, and the next day I woke up the next morning and literally could not walk. I had to crawl to the kitchen, and that's a pretty degrading thing when you're not able to walk and have to crawl due to being unable to put any weight on your foot." 
[Did you know Brian Shaw eats around 12,000 calories when in-season?]
The doctor told Shaw that she felt he ruptured the plantar fascia, so Shaw opted into receiving stem cell injections to promote healing, as opposed to a cortisone shot to only mask pain. At this point, Shaw was about 4-weeks out from the World's Strongest Man and the doctor prescribed him to wear a boot for 3-4 weeks, but that wasn't an option. He had to work around the pain to compete.
Check out the full video and explanation below!
To wrap up the video, Shaw summarizes that if there's a will, then there's a way. Adversity makes us stronger and better, and that he's using this as a lesson to improve. We're wishing Brian Shaw a speedy recovery over the next few months.
Curious how Shaw finished at this year's Worlds Strongest Man? Check out the full results article, here!
Feature image from ShawStrength YouTube Channel.