"I should probably start out at the beginning by saying…This diet is to make me as strong as I possibly can be. I'm eating to be the strongest man on the planet," says professional strongman Brian Shaw at the beginning of the video below. Translation: Don't try this at home.
It's not easy being the four-time World's Strongest Man, and it's even tougher eating to be maintain that status. Shaw mentions in the video below that eating is often the toughest part of his training because it's a continual process. He enlists a nutritionist, so he gets to pick some of his favorite foods while also being provided meal recommendations.
He points out that his diet becomes especially difficult when he just isn't hungry, which makes absolute sense when you consider how much 12,000+ calories a day really is. In Shaw's words, "It's a necessary evil, so to speak."
His first meal in the video entails his cereal of choice (Cinnamon Toast Crunch) and eight eggs, which equates to roughly 1,180 calories, 68 grams of fat, 74 grams of carbs, and 68 grams of protein.
Shaw's Stats
Weight: Around 430 lbs
Height 6′ 8″
His second meal is consumed about an hour later and includes a protein shake containing whey, peanut butter, and granola bars. The nutrition breakdown of this meal comes out to 1,025 calories, 25 grams of fat, 92 grams of carbs, and 115 grams of protein. Within three hours of waking up, Shaw is around 2,300 calories, and that's a typical morning for this athlete.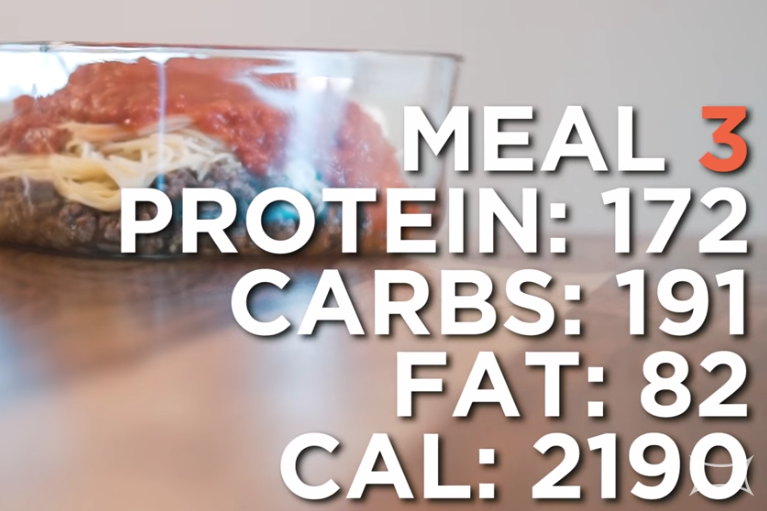 As the video progresses Shaw continues to breakdown his daily meals and what they entail. It's absolutely insane, and I recommend watching it until the end (especially if you're someone who fantasizes about having a reason to eat 12kcals a day).
[Does Shaw have this year's World's Strongest Man competition? Check out one of BarBend contributor Dane Curley's rationale and prediction.]
This video got me curious — how much does 12,000 calories look like in other foods? In a week, Shaw is consuming 84,000 calories, which equals 28 days worth of food if you were to consume 3,000 calories a day. I crunched some numbers below, and if you're hungry… I'm sorry for doing this to you.
1. 266 Oreos – 11,970 calories
Each package of regular Oreos has around 40 cookies in it (it had 45, but got reduced this year), so you could eat 6.6 FULL packages of Oreos.
2. 11 Pints of Ben and Jerry's Half Baked – 11,880 calories
If you're a fan of Ben and Jerry's ice cream goodness, then you could eat eleven full pints of their tasty Half Baked with a caloric allowance of 12,000.
3. 92 3 oz. Grilled Chicken Breasts – 11,960 calories
Not many people would purposely consume 92 chicken breasts, but could you imagine? It would be physically impossible (I think) to stomach all that protein, at least without blending it.
4. 25 In-N-Out Cheeseburgers With Onion – 12,000 calories
Fans of the popular West Coast-based In-N-Out Burger rejoice, because with 12,000 calories you could slam 25 of their tasty cheeseburgers.
5. 40 slices of 14″ Hand Tossed Pepperoni Pizzas From Domino's – 12,000 calories
I'm personally a homemade pizza fan, but for the sake of national recognition, you could consume 40 cheesy slices of 14″ pepperoni pizzas from Domino's for 12,000 calories… that's five entire pizzas.
6. 111 Boneless Wings From Buffalo Wild Wings – 11,610 calories
111 boneless wings (which isn't that much) comes out to about 4.5 servings of B Dubs's large boneless baskets. This one kind of made me sad, as I was reminded how high calorie wings are.
7. 387 Cups of Chopped Broccoli (1 cup is 31 cals) – 11,997 calories
For fun I wanted to see the volume of broccoli 12,000 calories was. It's 387 cups of chopped broccoli. Could you imagine eating 387 of broccoli in one day? That's 928 grams of fiber.
8. 16.5 lbs of Cooked Spaghetti – 11,814 calories
"Yeah, I'm carbing up for my arm workout tomorrow, it's all about the glycogen replenishment." "Dude, you're eating 16.5 lbs of spaghetti in one sitting." On a serious note, who has a bowl that big, you'd probably need a bathtub or a trough.
No matter how you crunch the numbers, it's absolutely insane how much food 12,000 calories a day is, and that's every day for Shaw.
That's just a day in the life of the World's Strongest Man.
Feature image screenshot from Supertraining06 YouTube Channel.