With over 4,500 stores in the United States and Canada, GNC is one of the largest retailers in the supplement world. That's why it's news that they've announced they've started selling cannabidiol (CBD) supplements.
The compound was outright illegal until Congress legalized industrial hemp just last year, but even though the FDA has yet to specify lawful pathways for products that contain CBD, that hasn't stopped countless companies from launching CBD-based products at an extraordinary rate.
Twelve of them have been introduced to GNC's line, which includes topical creams and shampoos from Physician's Grade and Myaderm. No mention has been made of whether they'll be providing CBD products that can be inhaled or consumed.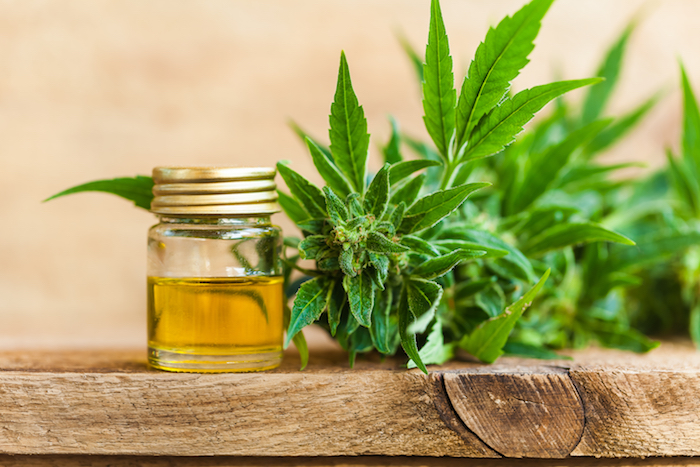 Why all the hype over CBD? It's a powerful antioxidant that appears to help with inflammation, even when applied topically. Given its history as an illegal substance it's been hard to build a wealth of studies, but research has suggested that CBD can be a powerful method of fighting inflammation, reducing pain, and possibly improving sleep and reducing anxiety.(1)(2)(3)(4)(5)(6)(7)
When it comes to topical ointments, rodent studies have found that it can alleviate symptoms of arthritis.(3)(8) Why the CBD shampoo, though? The companies claim that it may help to improve hair density, but research is lacking in that area.
"There's more evidence that it can exert anti-inflammatory effects on the scalp and help with cell regeneration," says Austin Katz, the founder of Shea Brand, which produces CBD-based products. "Both CB1 one and CB2 receptors are found in hair follicles. What's cool is that it's not pro growth or anti-growth; it's simply regulatory."(9)
[Don't miss our complete guide to the benefits of CBD for athletes.]
The market seems to agree that GNC has made a smart move — their shares increased in value by about 13 percent after the announcement. The products are available at GNC now.
Featured image via ElRoi/Shutterstock
References
1. Klauke AL, et al. The cannabinoid CB₂ receptor-selective phytocannabinoid beta-caryophyllene exerts analgesic effects in mouse models of inflammatory and neuropathic pain. Eur Neuropsychopharmacol. 2014 Apr;24(4):608-20.
2. Woodhams SG, et al. The role of the endocannabinoid system in pain. Handb Exp Pharmacol. 2015;227:119-43.
3. Philpott HT, et al. Attenuation of early phase inflammation by cannabidiol prevents pain and nerve damage in rat osteoarthritis. Pain. 2017 Dec;158(12):2442-2451.
4. Petrosino S, et al. Anti-inflammatory Properties of Cannabidiol, a Nonpsychotropic Cannabinoid, in Experimental Allergic Contact Dermatitis. J Pharmacol Exp Ther. 2018 Jun;365(3):652-663.
5. Shannon S, et al. Cannabidiol in Anxiety and Sleep: A Large Case Series. Send to Perm J. 2019;23:18-041.
6. Zuardi AW, et al. Effects of ipsapirone and cannabidiol on human experimental anxiety. J Psychopharmacol. 1993 Jan;7(1 Suppl):82-8.
7. Bergamaschi MM, et al. Cannabidiol reduces the anxiety induced by simulated public speaking in treatment-naïve social phobia patients. Neuropsychopharmacology. 2011 May;36(6):1219-26.
8. Hammell DC, et al. Transdermal cannabidiol reduces inflammation and pain-related behaviours in a rat model of arthritis. Eur J Pain. 2016 Jul;20(6):936-48.
9. Telek A, et al. Inhibition of human hair follicle growth by endo- and exocannabinoids. FASEB J. 2007 Nov;21(13):3534-41.