Any time elite strength athletes and Rogue Fitness come together to create videos, there tends to be a unique outcome. We saw that when Rogue Fitness posted their Stoneland video, and now we're seeing another great flick with Hafthor Bjornsson's "Road to the Arnold 2017" mini-film.
This video is a tribute to Bjornsson's daily life and training in lead up to the Arnold Classic this March. They talk about Bjornsson's diet, training, daily life, and differences between this year and previous years. Needless to say, this video is definitely building the hype around the fierce competition that's going to compete at the Arnold this year.
Below are a few of the coolest pieces of information and summary I took from the video. The below summaries are in order from which the video plays.
Stats (:12)
Bjornsson is 28 years old, 6′ 9″, and weighs 420 lbs. He's been formally competing in strongman for the last eight years.
His Pet (:40)
Bjornsson has a young Pomeranian dog named Asterix who he personally trains and has won two trophies with (two first places he points out).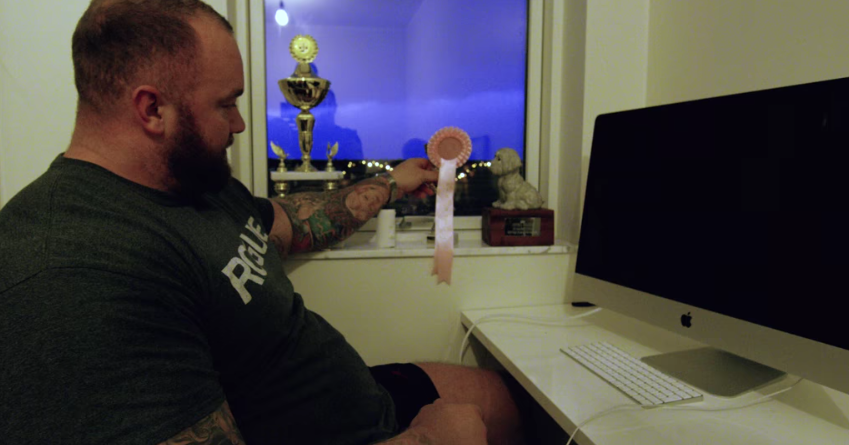 Screenshot from Rogue Fitness YouTube channel. 
Last Year's Arnold (1:30)
He talks briefly talks about last year's Arnold and how he wasn't happy with the outcome, so this year he's been preparing more than ever. His biggest two athletes to compete against are Žydrūnas Savickas "Big Z" (7-time winner) and Brian Shaw.
Iceland (3:00)
Bjornsson talks about living in Iceland and how during this season the majority of the day is spent in the cold and dark. He says he personally like the darkness and it's what makes Iceland residents so tough.
"There's a reason why such a small nation has so many great athletes in so many sports." 
His Diet (4:19)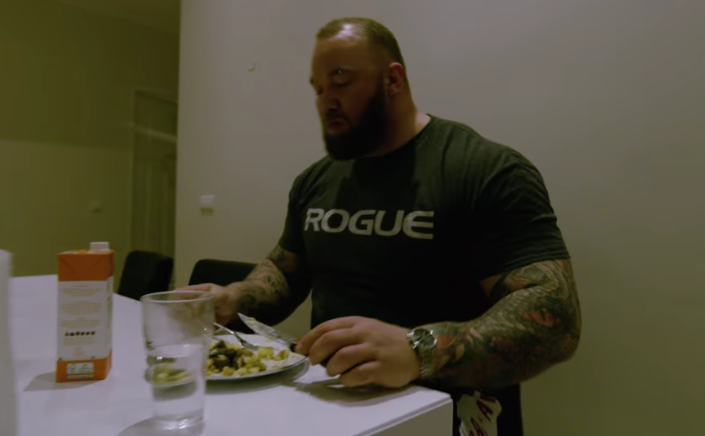 Screenshot from Rogue Fitness YouTube channel. 
This part was possibly the most insane, Bjornsson eats around 10,000 calories a day with a meal every two hours. He then gives an idea of a typical breakfast, which includes: eight eggs, six pieces of bacon, and two cups of oatmeal with blueberries and strawberries.
"For the regular person this would be lunch or dinner, but for me it's a second breakfast." 
His Training (5:45)
He brings us to his gym, "Thor's Power Gym," which is a gym for strongman and powerlifting athletes. Bjornsson then gives a tour of his training space and talks about the special dumbbells he had made to match his strength (100kg ea).
Prep for This Year (6:59)
He talks about his prep going into 2017. Bjornssons states that he's not traveling and he's cut all offers, so he can stay home and train.
CrossFit (7:10)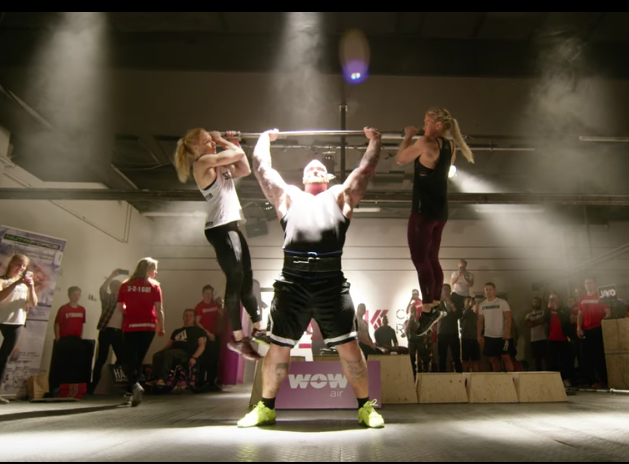 Screenshot from Rogue Fitness YouTube channel. 
Without going into too much detail (he clean & presses 430 lbs), Bjornsson competes in a mixed functional-fitness and strongman competition.
The video closes with Bjornsson talking about how this year he feels more physically ready than ever. It looks like the complete focus on training has truly been paying off for this elite strongman.
What are your predictions for the 2017 Arnold Classic?
Feature image screenshot from Rogue Fitness YouTube channel.