If you're a college student and you love the sense of accomplishment from throwing knee-quivering PRs over your head, you don't want to train alone. It won't maximize your potential and it won't minimize your injury risk.
If bigger lifts and safer training are your goals — and let's be honest, they should be — they'll be reached by training with a certified USAW coach and taking part in some competitions. And the truth is that for college students, it's simpler, cheaper, and more fun than you think to start your own USAW-certified college lifting club.
Why On Earth Would I Do That?
Anyone who has experienced the energy of a weightlifting meet knows that competition is what elevates the sport from working out to training, from a hobby to a passion. Starting a club means better quality coaching, better strength gains and fewer injuries. Your college benefits by building a reputation as an institution that's serious about strength and wellness. Your members will discover the thrill of competing against other athletes, and you'll be creating a legacy of strength at your college for years to come.
Plus, if you're registered with USAW, they'll provide secondary insurance coverage for both competitions and training. That's a big deal: it's just 199 dollars per year for the entire club, and as long as the members register with USAW ($69-$99 dollars per year depending on if they're youth, junior, or senior), they're even covered if they wind up training in your garage.
How Do I Know If My College Will Even Let Me Start a Club?
First, you want to check with your student union to see their policies and procedures for campus clubs. One of their first questions will be about insurance, which USA Weightlifting provides in exchange for the aforementioned membership fees.
"Usually after being listed as a student organization, you can apply for student funding," says Brad Suchorski, USAW's Membership Manager. "Each university is different on that, but some will give money from the university to the club, even if they wind up training off site."
Next, you need to file a Club Constitution with your student union. A constitution establishes the goal of the club and explains the steps in becoming a member, and it is the foundation on which you build your future. You can ask for a sample constitution when you apply for membership with USAW.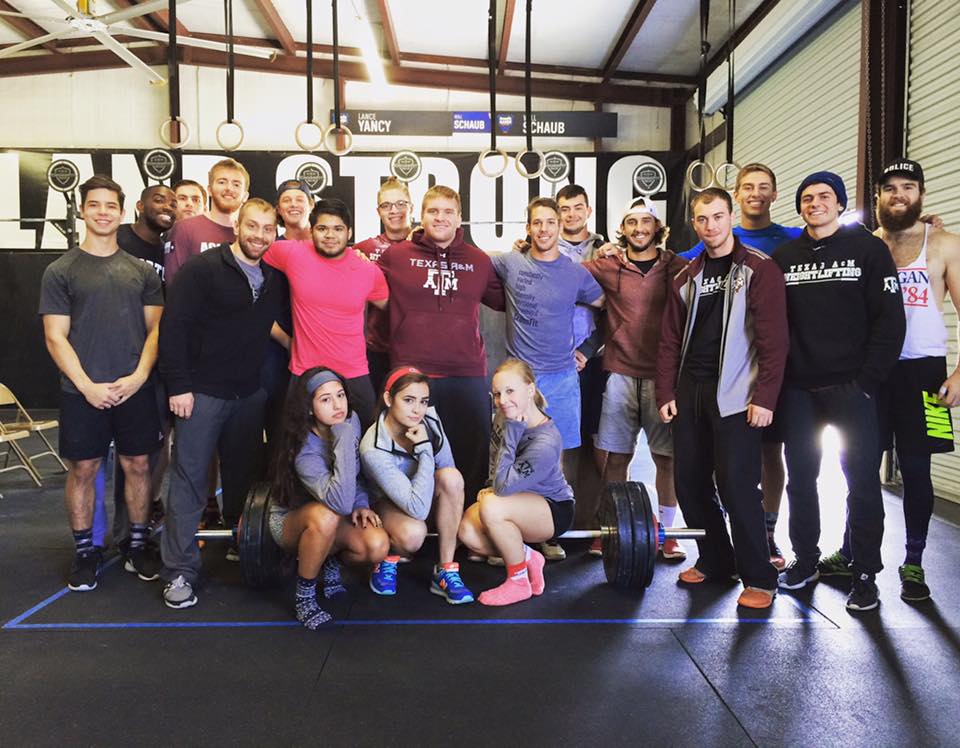 A previous Texas A&M Weightlifting Team, via Facebook.
Build Your Tribe
It's smart to have an estimate of how many people are interested before you start worrying about the bigger picture. A club can easily start with six people.
"It's really pretty simple to start," says Michael Conroy, the coach for Idaho Weightlifting and former Director of Coaching for USA Weightlifting. "The very first thing you want to do is go to your school's Department of Kinesiology and grab all the strength and conditioning majors. I've seen this happen a lot, you start with a group from that department and it grows from there. Also, a lot of the time you can grab the foreign students with more of a background in the sport, or in competitive throwing, and use it to give them an outlet."
Suchorski also recommends simply asking around the college gym and marketing with the student union in campus publications.
A big selling point is the fact that whatever your membership fees wind up being (more on that later), it'll be cheaper than a monthly fee at most functional fitness gyms.
"In our city, people were charging about 150 dollars a month for membership at functional fitness gyms," says Michael Bingaman, the founder of the Texas A&M Weightlifting Team and current strength and conditioning coach at U.S. Ski and Snowboard Association. "So I knew there were a lot of college students who are paying 150 dollars a month, and if I can convince them to train with us for fifty dollars a month, I'm in. And I knew that people in fraternities were paying thousands of dollars a semester, so when we ended up charging 175 dollars a semester, it went over fine."
Now, You Need a Coach
All USAW teams need a USAW-certified coach. The coach doesn't have to be affiliated with the university, but it can be a challenge for some clubs to find one.
You want someone willing to coach athletes from beginner to advanced, someone who's not overwhelmingly busy coaching their own team, and someone who's willing to arrive early, stay late, write programming, and perform all the other duties of the coach — and you'll probably need to budget money to pay them, too.
You can start by finding a local USAW-affiliated club to see if anyone there is interested, and some aspiring club founders reach out to their college's kinesiology departments, where a lot of folks want to build up coaching experience.
But the simplest answer here (especially if funds are tight) is to become a coach yourself, which will take a weekend of your time and cost about 499 dollars.
"We do have a lot of our members become coaches, anyone can become a USAW coach," says Suchorski. "All they have to do is take the coaching course, which takes place all throughout the country, and it just takes a weekend: half in the classroom half in the gym."
Remember, though, that the USAW recommends the coaches pick up some additional personal liability insurance, the steps for which can be found here — it's only 65 dollars a year, it further increases a club's chances of being able to train at a university, and it covers wherever the coach may teach, even if they're touring another facility or training someone at home.
Secure a Venue
Before you start recruiting members, you'll want to have an idea of your membership costs, and that means figuring out your venue — which will help you figure out if equipment will be a financial factor as well.
It's very unlikely that your college will give you access to the varsity weight room, but depending on the size of the school, you may get access to the recreational weight room.
"For a lot of schools, if you offer to source additional equipment and there's enough room, you'll get access to their weight training facilities," says Conroy. "If you work that relationship with the rec department and ask for set times you can train, then it can work well. A lot of university departments are willing to do that."
What happens when that's not the case? You train off campus. For some, this can be relatively simple: find a big garage, source equipment (more on that below), and get lifting. For others, this means finding a gym with weightlifting equipment and finding time in their schedule for at least two weekly training sessions of 90 minutes apiece.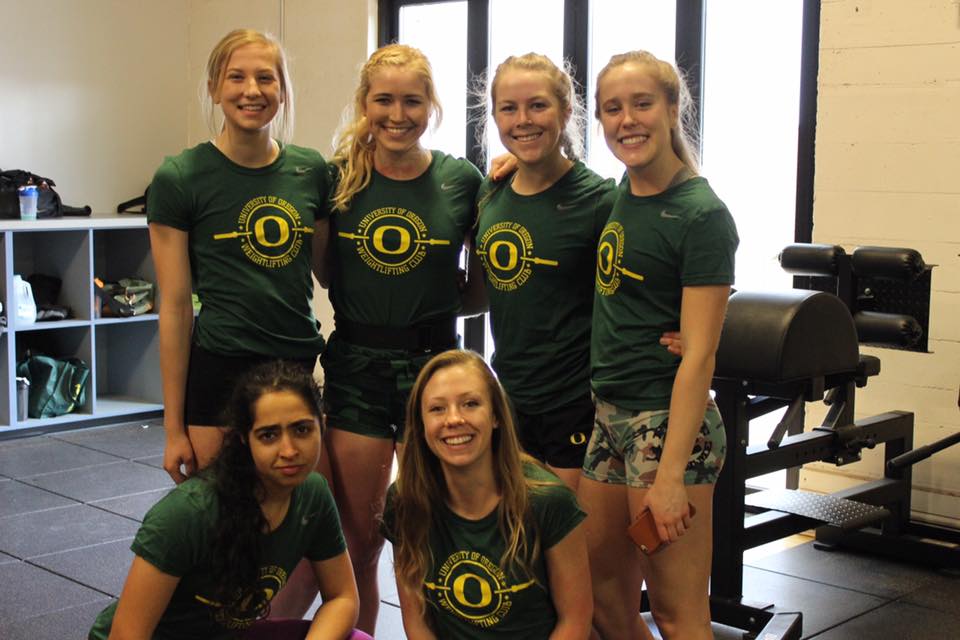 Part of the current University of Oregon Weightlifting Club, via Facebook
"But if you're using a gym's space, you're costing that gym money," says Bingaman. "How will you repay them? What will you offer them in return? Will you pay a monthly fee? Will they get a percentage of the dues? Do you pay per hour of gym use? Even if you work at the gym or if the owner is a friend of yours, it's wrong to assume they'll let you use the gym for free. There's opportunity cost there – the eight hours that we were using the gym, they could've been using it for something else. On top of that, we were running the lights, the fans were on, and the music was blasting. That stuff isn't free."
These are all questions you'll need to tackle with the owner of the facility if you end up needing to train off campus. In Bingaman's case, he split his training between two CrossFit affiliates (CrossFit Aggieland and CrossFit 979), creating a partnership with each to reduce and in some cases completely eliminate facility fees in exchange for the business and spotlight their gym received for hosting the Texas A&M Weightlifting team.
"One of them we trained at on Sundays when they didn't have classes, the other was on Tuesday afternoons when they were only doing open gym work," says Bingaman. "Figuring out your training location is the hardest thing. And figuring out how to work with their schedule. And working not just with the gym's timetable, but the students' timetables as well."
Figure Out Membership Costs
If you have a rough idea as to how many members you'll have, where you'll train, whether you're paying a coach, and if you need equipment, you can start to estimate membership fees. But you may prefer to do have a number in mind from the get go, before you start approaching new members.
"This requires a little working backwards," says Bingaman. "Only once it has all played out can you actually know, so you're going to have to make educated guesses and roll from there. It sounds a little scary, but that's the only way to roll when you're in this position."
As mentioned above, membership almost always costs less than monthly gym fees, and the coaching received is extremely valuable.
You also might want to think about creating positions within the club. Bingaman had a President to maintain relations with the university and with USAW, a Competition Coordinator to both host and find competitions, a Marketing Chair to build their social media profile and plan social events, and a Treasurer for collecting dues and maintaining the books.
What If I Don't Have Equipment?
If you only have access to subpar gyms or you don't have a gym at all, you'll need to source equipment. To start with, Conroy points out that it's perfectly acceptable to make your own weightlifting platforms if they meet USAW standards.
"Seriously, all you really need for a platform is OSB plywood," he says. "I can get three-quarter inch plywood for fifteen dollars a sheet, so I can build a very, very nice platform that lasts forever for about sixty dollars. It doesn't look beautiful, but it lasts. I'm not going to spend 2500 dollars on one."
He goes on to say that you can find solid squat racks for 150 dollars from Overstock, and if you buy enough equipment from Rogue Fitness, the company will pay for shipping. The bare minimum needed to start a small club, he says, is a platform, a bar, a squat rack, and 190kg in bumper plates, a starter kit that he estimates can be put together for under a thousand dollars. That's less than what many spend on a set of golf clubs.
"You're probably not going to have success at car washes, so a lot of the time, athletes have to be entrepreneurial about raising funds," says Conroy. "So they'll get with the student union and say that they want to do some fundraisers on campus. One of the most amazing and effective ways they can make money at colleges is to work concessions at sporting events. You get with the athletic department or events center and ask if they allow clubs to work concessions. Then you can get a cut of it."
Now What?
Now comes the fun part: lifting! Once all of these areas are squared away, you can start some quality coaching and start looking into local competitions and possibly even hosting one yourself. As a USAW Club, you can compete locally, at the state level, or even the national level. It opens up an entire world of possibilities within the sport, and possibly even careers.
"It was definitely a challenge, but it's something I'm really proud of doing," says Bingaman. "It was a fun process, and now I'm getting to see they're still enjoying that and the club is still living on even though I've left. I'd highly encourage anyone who's thinking about taking this on to go for it!"
Legacy, lifting, and prestige await you — competing in the USAW is what separates girls and boys from women and men. Think you've got what it takes?
Featured image via @usa_weightlifting on Instagram.