Yesterday, Canada's Strongest Man, Jean-Francois (JF) Caron shared a video that literally had our jaws dropping.
The video features Caron holding two cars continually upper their horsepower for a maximal amount of time. In his Instagram video's description, Caron points out that he held up to 922 lbs in each arm before having to let go.
This clip comes from Canadian television show Tour De Force, which is being aired on the popular Canadian Canal D channel. The original episode was aired on Tuesday the 19th and it featured multiple Canadian strongman and strongwoman athletes tackling insane strength feats.
In Caron's case, he was trying to replicate the legendary Canadian strongman Louis Cyr's incredible tower of force hold. On the Tour De Strength's website they describe the episode by writing,
"In this episode of TOWER OF FORCE, we demystify the feat of walking with a 1472 kg wheelbarrow of Moise Charbonneau and the restraint of 4 horses pulling in the opposite direction of Louis Cyr."
Logistically, four horses pulling with maximal force is absolutely insane. While it's nearly impossible to estimate how much force four horses produced during the time of Cyr's feat, Caron mentions that they estimated Cyr held up to about 1,430 lbs.
So how strong are horses generally? Roughly, and this is depending on the size of the horse, they can pull up 2-3x their bodyweight, so for most horses this comes out to about 2,500 lbs!
If you're new to old timey strongman athletes, Louis Cyr was an absolute legend and pioneer for the sport. If you want to learn more about the world's "original strongest man", then we'd highly recommend checking out our article covering Cyr's life!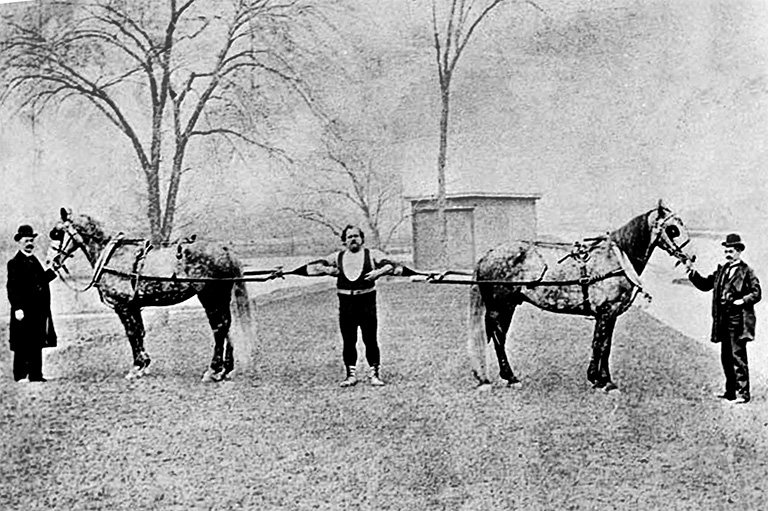 After watching Caron hold two cars we are left wondering, "how much could we hold if we were put in the same position?"
JF Caron FAQs
Who is the strongest man in Canada?
There's a strong case to be made for Jean-Francois (JF) Caron as being Canada's current strongest man.
Caron won the Canada's Strongest Man competition from 2011-2017, and most recently finished 4th at the World's Strongest Man competition.
Feature image from @jfcaron Instagram page.