After Mathew Fraser and Tia-Clair Toomey both scored their third wins in a row on day two in the Bike Repeater event, two questions loomed heading into the final event of the day and ninth event overall: could anyone claim an event win other than the defending champions? And what was the ninth event — added early this morning — taking place at The Ranch going to be?
Here is what athletes were challenged to do in event nine — Happy Star:
Four rounds:
200- to 300-meter hill run
5-7-9-11 reps of:
Each hill run was on a different hill.
Women 95-105-110-115-pound thrusters / Men 135-145-155-165-pound thrusters
Happy Star Women's Results:
Tia-Clair Toomey — 8:42.59
Kari Pearce — 9:17.37
Katrin Tanja Davíðsdóttir — 9:32.02
Brooke Wells — 10:05.21
Haley Adams — 10:18.46
Happy Star Men's Results:
Mathew Fraser — 8:18.21
Samuel Kwant — 8:33.91
Jeffrey Adler — 8:40.17
Noah Ohlsen — 8:54.53
Justin Medeiros — 8:59.33
[Related: Complete Domination: Toomey and Fraser Win All 4 Events on Day 2]
Happy Star Highlights
The women lined up for the first hill run, and event nine was underway. Brooke Wells led the run and was the first to her thrusters, but it was more or less a paced start with everyone at parity due to the lane out of the athletes' lanes. By round three, Wells pressed her lead with Toomey not too far behind. Katrin Tanja Davíðsdóttir, Haley Adams, and Kari Pearce ran as a pack up and down the third hill.
In the final run, Wells and Toomey were still battling for first as Pearce made her way to the middle of the pack, with Davíðsdóttir and Adams in fourth and fifth, respectively. On the final set of thrusters, Toomey's reps were clean, and she crossed the finish line to complete a perfect sweep on day two. W
Wells struggled after failing a few reps, opening the door for Pearce and Davíðsdóttir to pass her in that order. As a result, she was able to salvage a fourth-place finish, leaving last place for Adams.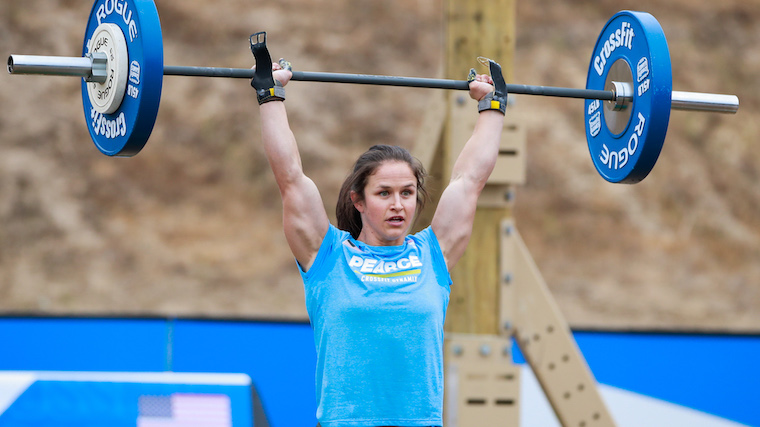 [Related: Toomey And Fraser Start Day 2 With Wins In Event 6]
The first run for the men maintained their lane order: Samuel Kwant, Justin Medeiros, Fraser, Jeffrey Adler, and Noah Ohlsen. Kwant, who came into the event in last place overall, but only 45 points behind second place, led the field heading into the second round of burpees. His lead was short-lived as Fraser claimed it and then pressed the pace for the next two rounds.
Like his training partner Toomey, Fraser completes a perfect day two by winning all four events. Medeiros appeared to be out of gas in the final run and was far behind heading into the last set of burpees. Kwant held his second-place position the entire event to score a much needed 75 points. Adler was seven seconds behind Kwant; Ohlsen and Medeiros rounded it out.
The Final Day is Near
Toomey and Fraser head into day three — which has two events (as of now) — with a very, very strong lead. However, nothing is impossible, the rest of the leaderboards in both divisions are still in flux, and podium slots are still anybody's game. You can read more about the events the athletes will have to endure today, and be sure to check out our leaderboard and results page to track all of the action.
Featured image: CrossFit