The 24-hour "Murph" world record has been matched. On Sept. 27, 2020, Brandon Westover, a fitness coach and endurance athlete from Orlando, Florida, completed a full 17 rounds of the CrossFit hero WOD "Murph" in 22 hours and 32 minutes. He stopped with one hour and 28 minutes left so he could be hooked up to an IV to rehydrate after suffering from heat exhaustion early on.
Here is what the hero WOD "Murph" consists of:
While wearing a 20-pound vest:
1-mile run
100 pull-ups
200 push-ups
300 squats
1-mile run
Upon completion, Westover had run 34 miles, performed 1,700 pull-ups, 3,400 push-ups, and 5,100 squats.
View this post on Instagram
[Related: Fraser and Toomey Win Stage 1 of the 2020 CrossFit Games]
The 24-Hour "Murph" World Record
In August of this year, 34-year-old California native Brandon Breitenbach set the 24-hour "Murph" world record when he completed 17 rounds to best 17-year-old Tyler Friese's 16.75 rounds completed just a month prior. On May 25, 2020, Lee Davis completed 16 rounds in 22 hours advancing upon the 13 rounds performed by John Sullivan back in May of 2019.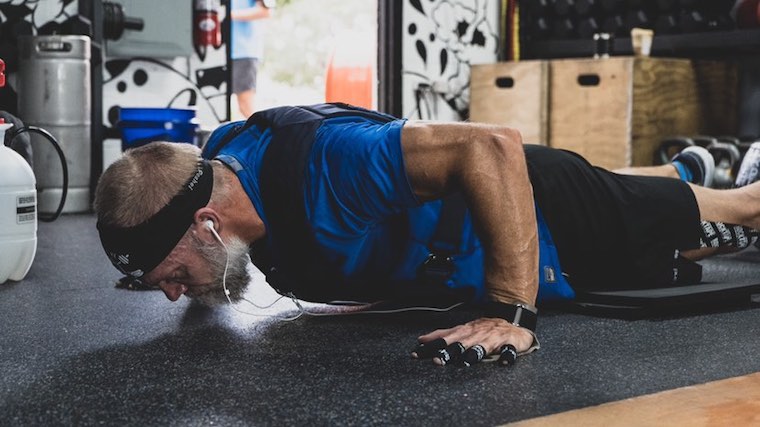 Although Breitenbach and Westover tied at 17 rounds each, Westover completed his 17 rounds 38 minutes faster. Since the record does allow for usage of the full 24 hours, Westover did not set a new record. However, he did perform the most rounds ever in a single day the fastest.
Westover first considered attempting the world record after completing a couple of rounds of it on Memorial Day in 2019 when the record was 13 rounds.
"I thought to myself, I am positive I can break that," Westover wrote to BarBend in an email. After Davis secured 16 rounds, Westover was confident he could reach 19 rounds. He completed a trial run of eight rounds — a tremendous conditioning and strength feat on its own — in seven hours and 50 minutes. After that, he committed to training for the 24-hour attempt.
Originally scheduled for Sept. 20, 2020, Westover's birthday, the event moved to the following weekend. This was done so that the gym the 24-hour "Murph" took place in — United Front Community Fitness (UFCF) — could accommodate the world record attempt. In preparation for the event, Westover was working out either late at night or early in the morning. But he decided to start and end his attempt at midday, starting at 5 p.m. EST Saturday, Sept. 26, 2020, and ending 24 hours later.
This would turn out to be a very bad decision.
The temperature that day, according to the thermometer in Westover's car, was 98 degrees. He completed the first four rounds in four hours and 22 minutes, which was much slower than he planned for. After round four, he was vomiting and suffering from heat exhaustion. Worse yet, the sheer number of push-ups caused a pain akin to tennis elbow.
View this post on Instagram
[Related: Fergus Crawley: A Hybrid Athlete For A Greater Cause]
This slew of unpredictable maladies, compounded by the fact that Westover hadn't had a single bite of solid food during the event, forced him to lower his goal to 17 rounds. Still, Westover was on pace to beat the current world record by a quarter of a round — or so he thought.
Westover was actually unaware of Breitenbach's 17-round "Murph" record in August. BarBend confirmed that with Westover, who responded: "I was not aware…the only thing that seems to ever come up when Googling the record is either [Tyler Friese's 16.75] or the [Lee Davis] at 16."
Supportive Community
Despite the physical problems and mental hurdles that Westover encountered during the challenge, he had the advantage of encouragement and support from the community at UFCF. His day was broken up into two-hour blocks so that UFCF members could perform "Murph" and scaled versions of it alongside him.
Some folks just hung out to cheer on, which worked out as well. This made it very easy because I had support at every hour of the event.
By the time Westover completed round 14, he knew he was on pace to hit 17 rounds. Once all was said and done, he had an hour and 28 minutes left on the clock. Had he known of Breitenbach's 17 rounds, he would have had plenty of time to complete some portion of an 18th round (assuming there was still gas in the tank).
Westover is already on the hunt for his next big endurance challenge. Perhaps he'll revisit the 24-hour "Murph" world record in the future so he can claim it all to himself.
Feature image from Brandon Westover's Instagram @fittestmewithcoachb/Yarelis Westover