Chances are you've seen Ed Kranski's deadlift in his full firefighting gear video on Instagram. Kranski, 50-years old, originally shared this video on December 5th to mark his retirement after a successful 30-year long career.
The video features Kranski pulling 600lbs for 3-reps in 80 additional pounds of firefighting gear. He made this video as a goodbye tribute to his career and to show his love for strength training.
"Deadlifting is by far the most important real life strength exercise. When you pick anything heavy up – you don't squat, bench, or snatch it – you deadlift it. If a heavy beam falls on another firefighter you deadlift it off them. If you're dragging a fallen firefighter out of a burning building you deadlift them." – Ed Kranski
Firefighting demands a strong mentality, along with a strong body. In fact, firefighting and strength athletes tend to go hand in hand. For example, CrossFit Games Masters Champion Ron Ortiz is an active firefighter outside of his fitness endeavors.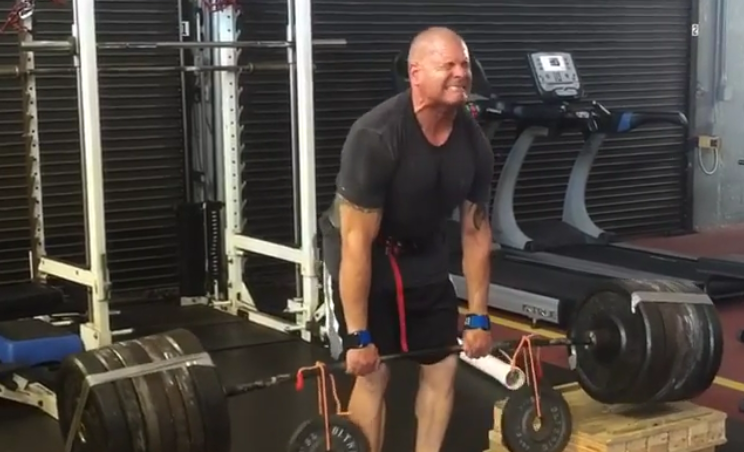 Photo from @strongfirefighter4ever Instagram page. 
Kranski's deadlift video was more than impressive, but I was also intrigued to know how being strong translated into a successful long career. Also, I wanted insights into how someone can effectively train while being a full-time firefighter.
Strength and Fire
Jake Boly: To give a little background on you are, what's your name and what do you do?
Ed Kranski: My name is Ed Kranski, I'm 50 years old and was a Fire Captain for Palm Beach County Fire Rescue in South Florida for the last 30 years.
JB: Have you been a lifter your whole life?
EK: I've always been an athlete and lifted since high school. I was a sprinter, but my true gift is strength. Even at an early age it was obvious that I was exceptionally stronger when compared to my peers.
JB: Did it have any influence early on in your career?
EK: Within a few years of being hired by the fire department I set all the Olympic powerlifting records in 1996, and they still remain unmatched (I could break them now if I chose).
JB: How important is strength training for a career choice like firefighting?
EK: I believe strength training is incredibly important for a firefighter. The stronger you are the easier demanding physical tasks you face as a firefighter become.
For example, as others around you struggle to move charged hose lines and carry heavy equipment, you'll be much less spent performing the same task. The ability to complete your work more quickly/effectively on the fire ground can easily translate into lives lost or saved.
Cardio is also important. Although, those with cardio and lack of strength are worthless under heavy loads, thus making both important.
JB: How often and how did you strength train during a typical work week?
EK: I lift three days a week. I split my body into three parts. chest/shoulders/tris, back/biceps, and legs.
JB: What about cardio?
EK: The days in-between strength, I'll train cardio. I'll usually kill two birds with one stone and make this playtime with my kids. I'll pull them behind me in a carriage while I bike for an hour doing sprint intervals.
JB: That's a great idea using your kids to supplement your training.
EK: I'm incredibly driven and competitive, but at the end of the day I still understand family comes first. When they were babies I would wear them on my back and go sprint stairs at a 18-story building by the beach.
In fact, three years in a row, all in my mid-40s I won the American Lung Cancer Society Fight for Air Stair Run. I would enter the firefighter "in-gear" division and nobody came within a minute of my time. I recorded the fastest time ever at 2:19 for the 30-story climb.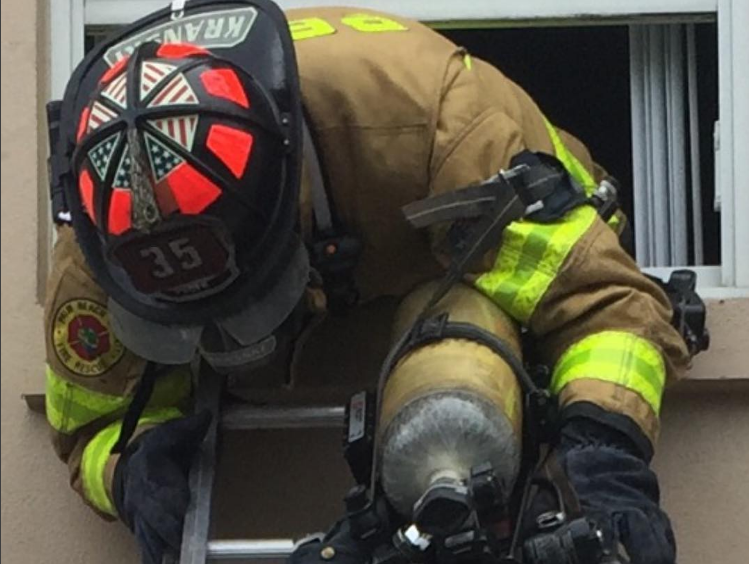 Photo from @strongfirefighter4ever Instagram page. 
JB: That's amazing. Do you have any specific strength training/life tips that you've seen correlate to your firefighting career?
EK: Best life lesson: Set your goals incredibly high and when you reach them stay hungry for more. Never be satisfied and always train, educate, and strive to be the best. I think regardless of your sport, profession, or whatever ambitions you have, there's an importance to stay hungry and self-driven.
Best lifting lesson: Lifting hard and heavy conditions both your body and mind to block out pain and makes you accustomed to it. Weights don't care if you're hurt or tired and neither does fire. I think the constant practice and mindset of completing a lift or job no matter how you feel go hand in hand. Both are as mental as they are physical.
When you continually practice completing a lift or job no matter what – you positively reinforce habits that feed off each other. This practice then preps you for real life situations. Obviously the result of failure in firefighting is potentially much worse than missing a lift.
—
Strength training for so many is more than simply training. In Kranski's case, it could mean life or death for another person. Being strong is one of the best natural gifts we can give ourselves.
Kranski now with a long career behind him has set his sights on chasing the over 50 World Record. I'm hopeful and excited to see what the future holds in strength training for this retired firefighter.
Feature image from @strongfirefighter4ever Instagram page. 
Editor's note: Certified Personal Trainer, BarBend reader, and volunteer firefighter/EMT Amanda Laughlin had this to say about the roles of strength and fitness in firefighting:
"I firmly believe strength training plays a crucial role in firefighting both from a safety and longevity standpoint and is especially important for females. Female firefighters are expected to wear the same gear, use the same tools, and will have to lift and move people much heavier than themselves, especially with the rising obesity rate.
For instance, the necessary gear to protect the firefighter easily adds 45-75 pounds, so if you're not strength training, that extra weight will cause you to fatigue much faster and prevent you from safely doing your job and could also lead to preventable injuries."