The 2022 Rogue Invitational crowned two champions Sunday afternoon at the Dell Diamond in Round Rock, Texas. For the second consecutive year, Justin Medeiros took the win on the men's side.
Without Tia-Clair Toomey in the field, three-time CrossFit Games podium finisher Laura Horvath was able to fill the power vacuum and bag a win in the women's division.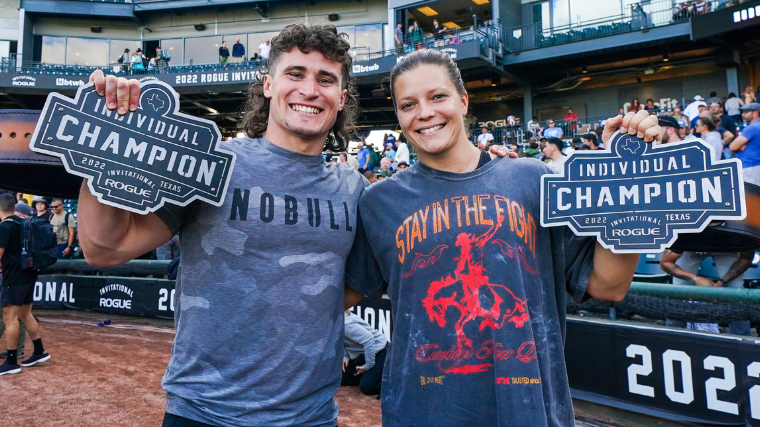 The stories of how Medeiros — who was coming off his second consecutive Fittest Man on Earth® title from the 2022 CrossFit Games — and Horvath ended up atop the podium, however, are quite different. Here's how it all went down.
Editor's Note: This article is an op-ed. The views expressed herein and in the video are the author's and don't necessarily reflect the views of BarBend. Claims, assertions, opinions, and quotes have been sourced exclusively by the author.
How It Happened for Justin Medeiros
Medeiros's competition trajectory began in the same fashion that audiences have grown accustomed to over the last two seasons. Through the first two days (consisting of Events One through Four) of the competition, he had finishes in fifth, first, third, and fifth places. In the process, Medeiros also "stole" points from the rest of the field.
Medeiros pocketed some of the said points due to unfortunate circumstances for other athletes. For example, Lazar Đukić, who likely (based on past performance history) would have placed ahead of Medeiros, rolled his ankle on the Texas Trail run.
This allowed Medeiros to likely pick up an extra five points. Considering some of his biggest threats — notably second and third-place Games finishers Roman Khrennikov and Ricky Garard — were ahead of him, those early points seemed like they could come into play later on.
In other instances, like "Ski Bar" (Event 2) and "DT with a Spin" (Event 4), Medeiros earned the points by implementing what's becoming his most notable asset of picking off his competition late into a given event. During "Ski Bar," Medeiros passed Pat Vellner on the last set of muscle-ups, picking up five points against most of the field. Then, on "DT With a Spin," he barely beat Jayson Hopper (by one second) and again passed Vellner late, eventually beating him by four seconds.
Saturday had not one, but two very uncharacteristic event finishes for the two-time Games champion. Medeiros had not finished in the bottom half of the field during any event at the 2021 Invitational and 2021 & 2022 Games: On Saturday alone, he found himself below the middle of the pack twice.
The first came on Event Five, "The Turtle," a workout that took less than three minutes for most of the male athletes. Medeiros suffered a no-rep call on his last lunge in the first round, which undoubtedly cost him a few positions.
He bounced back admirably with an event win in "The Duel II" (Event Six) before taking another stumble — this time a 16th-place finish on the "Texas Oak" lifting event on Saturday night. Medeiros began his 270-pound log lift late, which invalidated the attempt.
Despite these uncharacteristic mishaps, Sundays historically treat Medeiros well in competition.
[Related: The 2023 CrossFit Open Begins on Feb. 13, 2023]
In 2021, his Sunday event finishes at the Games were third, second, and first. In 2022, there were also three events and he finished fifth, third, and fourth.
At the Invitational in 2021, he finished second, fifth, and third on Sunday. And yet, Medeiros finished eighth, seventh, and fifth on the Invitational's final day in 2022.
Medeiros's best efforts on Sunday in Round Rock barely matched his worst results from the Sundays at prior competition appearances.
He did, however, take points away from the field yet again. On Event Eight ("Snatch and Press"), Medeiros once again passed Vellner in the final round and beat him by three seconds. Medeiros also beat heat one competitor Jorge Fernandez's time by less than one second for 10 additional points.
Event Nine was a pacer's dream workout, and round by round Medeiros advanced his position, moving from ninth to fourth. Picking off Jonne Koski in round five, and then Björgvin Karl Guðmundsson in round seven (of seven) seemed inevitable; another 10 extra points.
The final was the icing on the cake — a showdown between Vellner and Medeiros. They were neck-and-neck after ten reps of Heavy Grace (30 clean & jerks at 225 pounds). Vellner made a move in the middle set of ten, a big risk, but one it's hard to fault him for taking.
Medeiros remained calm as he (almost) always does, stuck to his methodical pacing pattern, and when Vellner missed twice in the last 10 reps, Medeiros was able to pass him and secure the points he needed to defend his title.
Laura Horvath's Path to Victory
Laura Horvath's trajectory to victory wasn't exactly cut and dry. After the first two event finishes of ninth and 14th, she was a considerable way down the leaderboard: Neither the trail run nor the thick bar muscle-ups in "Ski Bar" should have been particularly troublesome for her. (She got second on the Capitol at the Games and fourth on Jackie Pro — two comparable events).
That concern was mitigated quite quickly as she fired off a barrage of wins in the next four events and then took second place on the workout after, accruing 495 of 500 possible points across those five events.
Looming on Sunday morning, however, was a repeat workout from the 2019 Invitational, which disqualified Horvath that year. Two notable things had changed in the time since: the minimum work requirement was removed, meaning there was no threat of disqualification. Secondly, Horvath was strong enough to log a couple of valid reps, though it still yielded a 19th-place finish.
[Related: The Best Kettlebells for CrossFit, At-Home Workouts, and More]
With two events to go, Annie Thorisdottir (who accompanied Horvath and Toomey on the podium at the 2021 CrossFit Games) was within striking distance after closing the gap significantly on the "Snatch and Press" workout. However, Horvath was able to finish four places ahead of her on Event Nine, setting herself up nicely for the final.
The race was over as soon as the parameters of Heavy Grace — 30 clean & jerks for time at 165 pounds — was announced.
It wasn't a workout Horvath was going to give any ground on. She took second in her heat, third overall, again finishing four places ahead of Thorisdottir.
A Tale of Two Titles
When the weekend came to a close, Horvath had fared better, winning four events and finishing in the top-three positions five times. Medeiros won only two events and placed in the top three twice.
Despite a 19th-position finish on one event, Horvath's average event performance was better than that of Medeiros. Her per-event ranking was 5.8, while Medeiros averaged 6.3; both a far cry from the exceptional 2021 performances of Toomey (2.75 across eight events) and Medeiros' own 2.25-average from the same year.
This indicates that the competition at the Invitational is growing more fierce by the year. No single athlete managed a top-10 finish in every single event. It's hard to point to another CrossFit event in recent memory with such large swings back and forth across the leaderboard. But both Medeiros and Horvath proved that it's not how you start; it's how you finish.
Featured Image: Patrick Clark / Athlete's Eye Photography