Long may she reign. On Thursday, Sept. 22, 2022, it was revealed across social media that Tia-Clair Toomey, the 2022 NOBULL CrossFit Games Champion and winningest Games athlete in history with six titles to her name, has plans to seek a seventh win in 2023.
Toomey, fresh off her record-setting performance in August, spoke with NewsChannel5 in Nashville, TN, about her future in competitive CrossFit; she admitted that defending her title was "the plan." A clip of the interview, shown below, was published on the CrossFit Games' Instagram page. The full interview, also published on Sept. 22, can be found on NewsChannel5's website.
As of Sep. 22, Toomey had yet to release a follow-up statement about the interview on her Instagram or Twitter accounts.
View this post on Instagram
[Related: The Best Barbells for CrossFit, Weightlifting, Powerlifting, and More]
In her interview, Toomey remarked about where her sights are in the coming months when asked if she would pursue another Games appearance:
"Yeah, that's the plan. Actually, coming up at the end of October is the Rogue Invitational which is held in Austin, TX. And then next year, the season starts around February. And then it's just getting ready and prepared for the 2023 [CrossFit] season."
(The Rogue Invitational is set to occur from Oct. 28-30 at the Dell Diamond Stadium. At the time this article was written, Toomey is not on the list of Female competitors on Rogue's website.)
While many Games athletes have opted to take a well-deserved break from the rigors of competition, some have hit the ground running post-Madison. Ever urged by her competitive spirit, Toomey seems to be aiming at another challenge sooner rather than later.
In August 2022, it was revealed that Toomey will compete in the Elite Teams division of the 2022 Down Under Championship, alongside American Brooke Wells and Australian Ellie Turner.
An Illustrious Career
There's a solid case to be made that Toomey is among the greatest living strength athletes — an accolade owed to her achievements both within and outside CrossFit.
However, Toomey's most impressive feat in professional athletics is her dynasty at the top of the podium in Madison. Since her Games debut in 2015 (where she finished a mightily impressive second place), Toomey has quickly ascended to the very top of her sport:
Tia-Clair Toomey at the CrossFit Games
2015: second place
2016: second place
2017: first place
2018: first place
2019: first place
2020: first place
2021: first place
2022: first place
Toomey's 2022 win, when tacked onto the pile of previous victories, edged her just ahead of prior training partner and five-time Games champion Mat Fraser. Fraser opted to retire from competitive CrossFit early in 2021.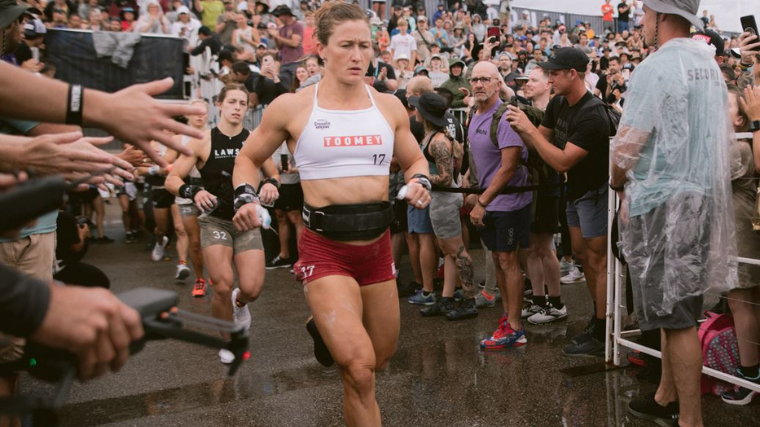 [Related: The Best Multivitamins for Women, for Energy, Iron, and More]
Outside the CrossFit arena, Toomey is an internationally-competitive weightlifter who represented Australia at the 2016 Rio Olympics. She also made a push to join the Australian bobsledding team in the 2022 Winter Games but narrowly missed team selection.
Six and Counting
If anything, Toomey's drive to continue competing in CrossFit speaks to her dedication to the sport and her ferocity as an athlete.
While she can rest on her laurels for the time being, the grind never comes to a complete stop when you're competing against the fittest athletes on Earth. The 2023 CrossFit Open kicks off in just a few short months on Feb. 13, 2023.
Toomey will have to be ready when it does, but if history is any indication, "ready" is her baseline.
Featured Image: William Johnson, BarbellStories