We receive free products and receive commissions through our links. See
disclosures page
.
Ankle braces can be an athlete's best friend. They can be worn during any stage of injury, from immediately after the inciting moment, to the period of recovery, and even worn as a preventative measure. (Those experiencing ankle or other foot injuries and pain should seek the advice of a medical professional before continuing training or rehabilitation from an injury.) They provide stability, compression, and can act as a shield against impact during training.
Before purchasing, it is important to know the difference between different models, brands, and design types. We have examined offerings from some of the leading brands to see how they differ and what stands out. Here is what we found.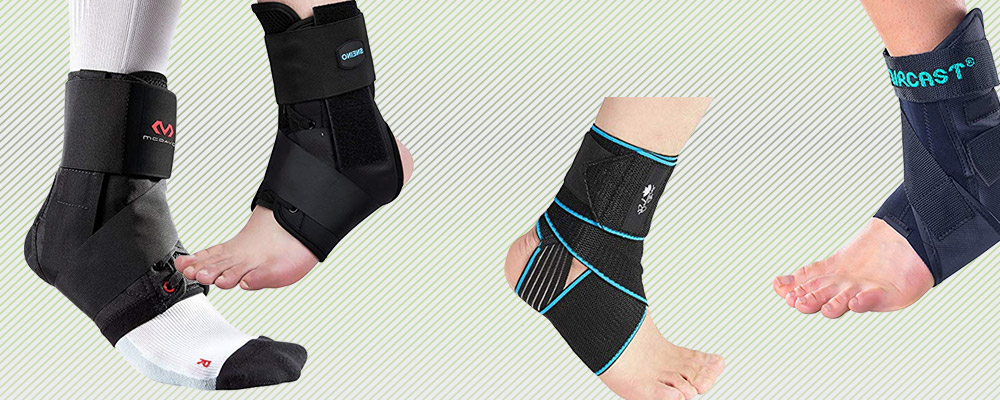 Editor's Choice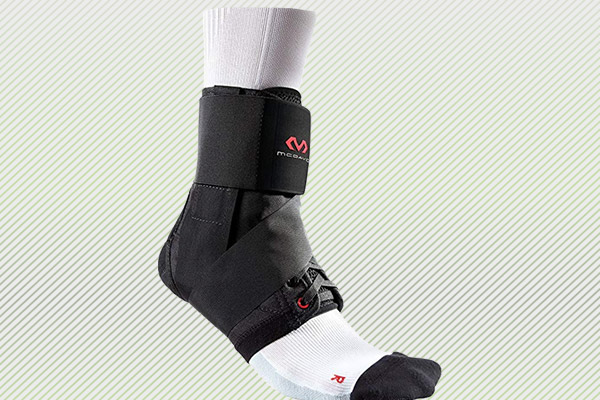 McDavid Ankle Brace
Pros: 
Top strap. The design of this ankle brace features an upper strap that wraps around the top portion of the ankle. Not only does this secure the rest of the apparatus, but it provides extra compression that can help with swelling.

3 levels of protection. This ankle brace from Mcdavid also has an polyester housing that acts as a laced sleeve which is then secured by an adjustable "figure 6"-style double ankle wrap.

Ventilated tongue. Due to the abundance of material wrapped around the foot (without even mentioning the socks or shoes), there may be stenches that build up during a day. The ventilated tongue helps prevent that by providing airflow, a feature not shared by all ankle braces
Cons: 
Difficult to lace. Due to the "figure-6" straps being in the middle of the front of the brace, the straps can an impediment to lacing. This can be annoying as the laces needs to be done and undone frequently to take off and then to tighten the brace.

Can be difficult to put into shoes. While the three layers of support are welcomed, they make the whole brace a bit bulky and sometimes make it difficult to wear with tighter fitting shoes.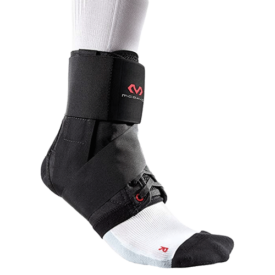 This ankle brace from McDavid provides three layers of adjustable support all in one ankle brace. With five different size options and three different colors available, this ankle brace can help provide support for areas all over the foot.
The Contender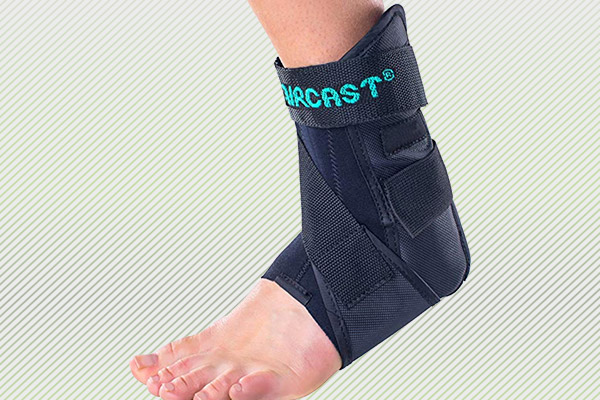 Aircast AirSport Ankle Support Brace
Pros:
Soft foam interior. The design of this Aircast ankle brace features a semi-rigid exterior stirrup with a soft "air-cell" foam interior. This allows allow for sturdy (and taught) fit while not causing too much abrasion due to the soft foam interior.

Automatic width adjustment. The bottom of this brace is made of a flexible material that provides a tight fit around a range of foot widths. This allows those with different sized heels can receive a similar amount of compression.

Step-in design. A benefit of this line of ankle brace is that the brace itself can be put on and tightened in a matter of seconds. The rigid stirrups on either side are attached by a soft and flexible undercarriage, allowing a simple "step-in" design.
Cons:
Less heel support. The heel is exposed with this brace and thus doesn't have any cushioning. There is some compression on the sides but those looking for relief or security on the back end of the heel will have to look elsewhere.

Left & right version. This brace isn't designed to be applicable for either foot. Those hoping to buy a brace and have it around for whenever an injury occurs will have to buy both left and right versions.
Aircast AirSport Ankle Support Brace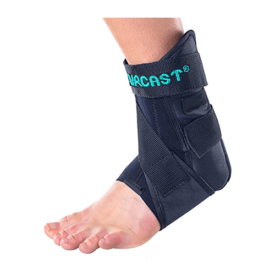 Aircast AirSport Ankle Support Brace
The Aircast AirSport Ankle Support Brace provides sturdy girders on either side of the ankle in a stirrup shape. These stirrups are secured with two different straps that add compression to the upper and lower ankle and keep the brace in place.
Best Bargain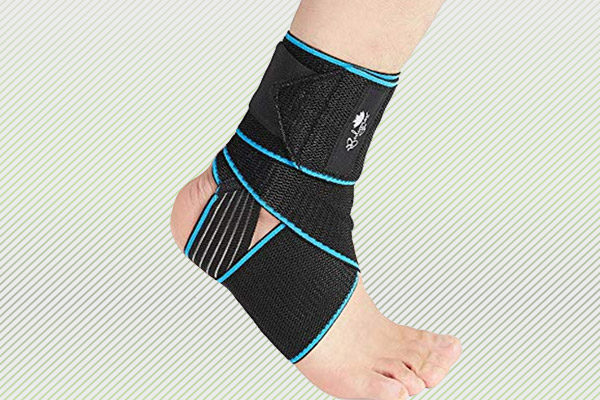 Bodyprox Ankle Support Brace
Pros: 
Wavy design. The stretchy neoprene that the fabric is made out of features a silicon gel shaped in wave designs horizontally placed along the strap. This decreases the likelihood that the brace will slip out of place.

One size. Due to the wrapping functionality of the design, the one size that is offered is designed to fit most customers. When shopping for ankle braces, finding the right size can oftentimes be the most confounding part of the process.

Cost. This is an affordable ankle brace that can cost in the single digits. When buying two, it can cost even less. This brand offers two packs that leave the second brace costing less than half than it usually would.
Cons: 
Can be hard to remove. Due to the combination of sturdy velcro and the no-slip silicon waves, the straps can be hard to remove. Those with hand ailments may have a hard time detaching the straps.

Need to wear socks underneath. This brace will most likely need to have a sock worn underneath. The silicon waves can be uncomfortable when in direct contact with skin.
Bodyprox Ankle Support Brace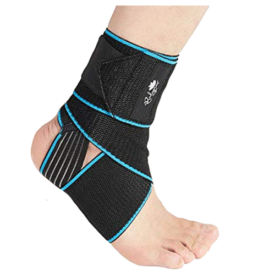 Bodyprox Ankle Support Brace
The Bodyprox Ankle Support Brace criss-crosses the ankle with neoprene wraps that are secured with velcro and silicon waves that work to keep the brace in place. It is a soft brace with customizable sizing that can fit within a shoe due to its lack of bulk.
Easiest to Assemble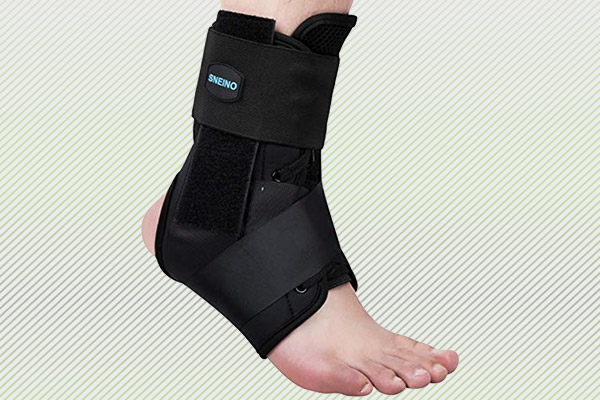 SNEINO Ankle Brace
Pros: 
Elastic. This product has a lace and strap design found in other competitors' styles, but this one has a major difference; the lace portion of the brace is made of an elastic material. This allows a snugger fit and thus more compression.

Spring bars. Each side of the ankle has two spring bars in the interior of the material. This provides not only stability but flexibility, allowing users to have mobility while wearing the brace.

Price. For such a solid piece of protective apparel, it is surprising how affordable it is. This style of ankle brace can be priced at a much higher price point.
Cons: 
Components can get stuck on shoes. The lower part of the brace has certain components that stick out a bit, causing them to potentially get stuck on shoes. This can make the brace pull in a direction that gets it out of place and cause discomfort.

No instructions.

Considering the number of steps and straps required to get this brace on correctly, it is surprising the manufacturer doesn't include instructions. Directions can be found online.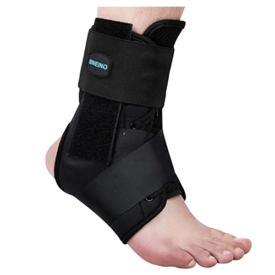 The SNEINO Ankle Brace has the same lace and strap style found in other products, but offers more elasticity and compression. The spring bars in the sides of the brace allow a flexible durability.
Best for Upper and Lower Ankle Coverage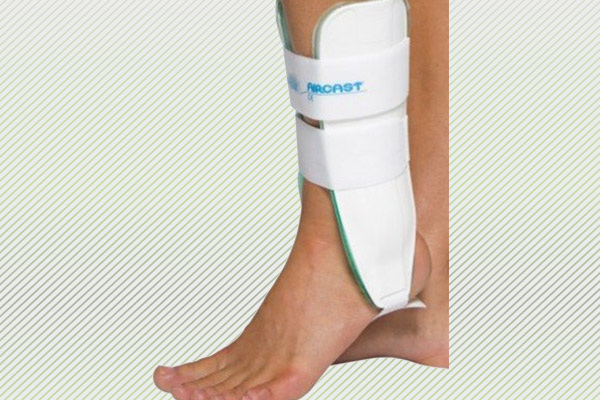 Aircast Air-Stirrup Ankle Support Brace
Pros: 
Anatomically designed. The interior of the stirrup-style shells are pre-filled with air. These air cells provide compression while forming to the shape of the specific ankle of the user. The outer shell has a curved design made to follow the natural contour of the lower leg.

Height. Measuring in between 8.75" and 10" in height (the small and large sizes, respectively), these ankle braces provide support for a large portion of the lower leg.

Two horizontal straps. These Air-Stirrup ankle braces provide support throughout the entire vertical length of the product with two adjustable velcro straps. This keeps the stirrups secure in the upper and lower portion of the brace.
Cons:
Doesn't stay in place. Because of the stirrup-style design and the lack of a substantial underwrap, this brace only has two straps keeping it in place. During long periods of activity, this strap may need extra security to keep it in place.

Not much support for front of the ankle. While this ankle brace does a good job of stabilizing the ankle from bending from either side, it provides much less compression and stability moving forward and backwards as there is much less material there.
Aircast Air-Stirrup Ankle Support Brace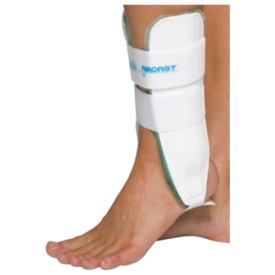 Aircast Air-Stirrup Ankle Support Brace
The Aircast Air-Stirrup Ankle Support Brace is a sturdy brace that supports both lower and higher ankle injuries. With two straps securing the length of the stirrup-style braces and a pre-filled air interior, the product can be strapped tightly and still provide soft compression.
How We Picked
Ankle braces can be an everyday companion during the duration of someone's training or athletic life. Or ankle braces can simply be a physical and mental crutch to use when rehabilitating from an injury. Whether for prevention, recovery, or just an added dose of stability while training, ankle braces provide compression, solidity, and a layer of protection around what could be unstable or weakened joints and tissue. With such a wide range of applications, it is important to know what there is to look out for. Here is what we considered when doing our evaluations:
Material
Ankle braces can be made of a variety of different fabrics, a variety of different densities, and a variety of different weaves. This variety is reflected in the various levels of flexibility, rigidity, and perforation. Braces can have a hard shell, either explicitly on the outer or inner surface or encased in a soft shell. These provide ample structural support around your ankle but can be uncomfortable, unless sheathed in a softer material, usually foam, plastic, or neoprene.
Velcro, neoprene, and polyester are other commonly found materials used in ankle braces. While velcro is a standard tool for making sure braces are tightly wrapped and secured, neoprene and polyester are typically used for the sheath that covers the foot. While polyester weaves offer strength and durability, they do not offer as much shielding from impact nor as much softness as neoprene. The polyester weaves, however, do offer more breathability and can help avoid incurring a build-up of stench.
Comfort
As these are pieces of equipment that will be in close proximity to the skin and to active joints, it is best to find a fabric and shape that can be worn without much discomfort. There are pros and cons with each type of material and each shape. The braces that are made of softer materials or have less fabric to begin with can be more comfortable, but perhaps not as practical for providing stability during athletics.
Velcro is used to fasten most braces into a secure and tight fit. This velcro needs to be placed precisely on a matching end or else it may prove to be uncomfortable. The dependency of this velcro to secure most braces makes them crucial to apply correctly. If the velcro is hanging over the designated placement area, it may rub against exposed skin or even cause abrasion inside the shoe. A great way to mitigate against this type of discomfort is by wearing socks.
What purpose will this brace serve
The intent of the ankle brace can vary between users. Many will be wearing them to prevent injury. These braces can differ than those that are intended for recovery, as they can be bulkier, offer less mobility, and be made of more rigid material. The braces intended for recovery tend to have less compression throughout the foot and are more intended to provide stability.
Those using the braces that have rigid stirrups but not much else in terms of compression often use other wraps to provide compression. Braces that have softer material can help with compression and stability, but may not have enough rigidity for all types of recovery. It is highly recommended to consult with a medical professional to find out which type of brace is appropriate for recovery and injury prevention.
Tips
Not sure which ankle brace is right for you? Here are some guidelines that may help make your purchasing decision easier:
How much are you willing to spend?

Ankle braces can range in cost between only a handful of dollars to several factors higher than that. Durability and complexity are two common factors that can increase the cost of braces. The rigidity of certain components can help with extra support, but not all users will need this stability.
The complexity of the wrap can also affect the bottom-line. Wraps that have extra straps that wrap around different parts of the foot can provide compression and support. The location and severity of the injury may be such that a certain type of wrap may be needed to help stabilize or recover that area. The wraps with more complexity tend to cover more surface area and potential injury spots.

Are you recovering from an injury or trying to prevent an injury?

Depending on the severity of the injury you have sustained, it may be advised to get an ankle brace that offers not only a high degree of compression, but one that also buttresses your joints so there is less stress put on them. Some ankle braces may provide great compression along the whole foot, but won't provide as much structural support.
Ankle braces that can be adjusted to the level of tightness the user needs on an affected part of the foot might be the best bet for those with acute foot problems. For example, tightening the brace at the ball of the foot extra tight is possible with ankle braces that have straps or laces, but not possible with ankle brace stirrups.