Calf compression sleeves are designed to provide comfort and support for athletes of all levels. Though more research is needed to fully understand the role of compression in performance, there is some evidence that sleeves may aid in running performance (1). Additionally, other studies have shown that calf compression sleeves may help cut down on post workout soreness and improve recovery, even if part of that effect is psychological (2) (3).
Whether you're an experienced athlete looking to shave a few seconds off your P.R. or a weekend warrior trying to feel less banged up at the office, calf compression sleeves may be worth a shot. Folks who spend all day on their feet or suffer from circulation issues while traveling may also benefit from calf compression sleeves. We rounded up some of the top options on the market and took a look at how to distinguish between them.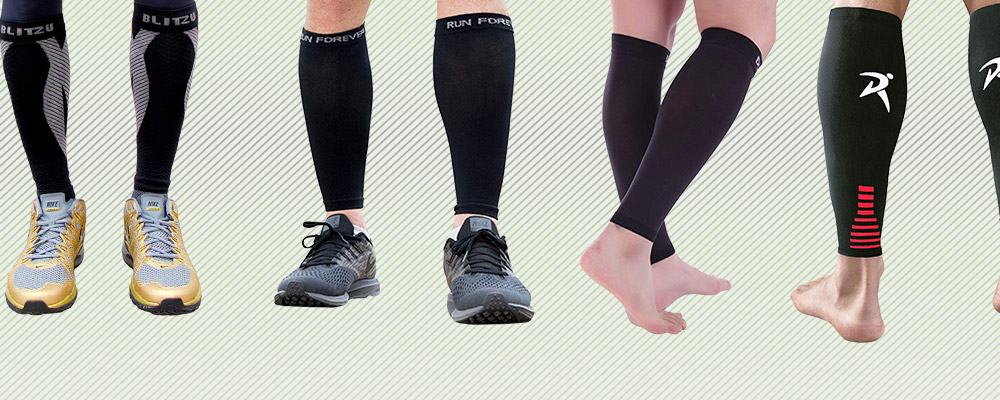 Best for Long Term Standing
The safe bet.
Pros:
Made with breathable, quick-dry fabric.
Seamless design incorporates a non-slip cuff.
On the more affordable end of the market.
Cons:
Sizing tends to run small.
May acquire holes after multiple washes.
Great for Day-to-Day
Helps prevent swelling.
Pros:
Breathable and meant to be worn for long periods of time.
Functions during both casual work and rigorous activity.
Double stitched.
Cons:
Sizing tends to run large.
Rubber lining in the top cuff may irritate skin.
Editors' Choice
Comfort above all.
Pros:
Available in four sizes and 10 solid colors, plus one with American flag design.

These sleeves are designed to keep muscles warm and relieve shin splints, offering a graduated compression strength of 20-25mmHg.

Fabric is 75% nylon and 25% spandex. 

Run Forever's sleeves are competitively priced and come with a lifetime guarantee.
Cons:
These are only designed to accommodate users up to 6' 3".
Contender
For cramp prevention.
Pros:
In addition to being marketed toward athletes, Rymora claims their compression sleeves can help pregnant folks alleviate swollen feet. 

Sleeves provide 18-25mmHg compression and are made of 54% nylon, 39% polyester, and 7% elastane. 

Very competitively priced.

Available in six sizes.
Cons:
These compression sleeves are only available in four colors – black, white, neon pink, and neon yellow, with the logo featured prominently on the backside of each sleeve.
Also Consider
For shin splint relief.
Pros:
Marketed toward athletes and anyone who spends all day on their feet for their job, such as nurses. 

Compression technology is designed to promote blood circulation, graded out at 20-30mmHG.

These sleeves are available in 8 colors, each of which has a sort of racing stripe-equse design on the side. 

Competitively priced. 
Cons:
These sleeves are only available in two sizes, fewer than some of the competing compression sleeves on the market. 

Fabric is 100% nylon.
Methodology
Calf compression sleeves are intended to increase blood flow and cut down on muscle soreness. While these are commonly used by athletes, they may also be beneficial for folks who spend all day on their feet, pregnant women, or those who suffer from circulation issues during travel. Before checking out a pair for yourself, take a look at some of the key features of calf compression sleeves.
Compression
Compression is quantified by the amount of pressure applied to a body part, measured in millimeters of mercury (mmHg). Folks dealing with particular medical conditions will be prescribed a particular level of compression to help improve circulation. Typically, calf compression sleeves fall somewhere in the 20-30mmHg, with the lower end representing less compression, and the higher value meaning more pressure.
Style
This one's a bit more subjective. But if you think having a fun color on your leg will help improve your mile time, who's going to tell you it won't?
Fabric
The most common materials used in calf compression sleeves are nylon and spandex, while a few companies will utilize polyester and elastane as well. On the whole, nylon is a bit more sturdy, while spandex offers more give.
Fit
Not all Mediums are created equally. Take a look at the sizing chart for each brand. Then, do the work and take a measuring tape to ensure you're getting a sleeve that fits properly. You don't want to end up with a pair of sleeves that are so tight they cut off circulation or so loose that they slip down while you're exercising.
BarBend Tips
If you're plagued by lower leg pain during or after exercise, you may also want to pay attention to how much – or little – you're stretching your lower legs. Warm up and cool down with some calf raises or calf stretches. If you're suffering from lasting pain or discomfort, consult a medical professional.

Look for a compression sleeve that has a band underneath the knee – this will help ensure that the sleeves stay in place while you're working out.

If you're intending to use compression sleeves while sitting or traveling, it may be a good idea to find one that offers slightly less compression.
Calf compression sleeves are designed to increase blood circulation and may help some athletes increase performance and cut down on post activity soreness and swelling. If you have consistent, chronic lower leg pain, it's probably wise to consult a medical professional.
References
Kemmler W, von Stengel S, Köckritz C, Mayhew J, Wassermann A, Zapf J. Effect of compression stockings on running performance in men runners. Journal of strength and conditioning research. 2009;23(1):101-105.‌

Ali A, Caine MP, Snow BG. Graduated compression stockings: physiological and perceptual responses during and after exercise. Journal of sports sciences. 2007;25(4):413-419. ‌

Jakeman JR, Byrne C, Eston RG. Lower limb compression garment improves recovery from exercise-induced muscle damage in young, active females. European Journal of Applied Physiology. 2010;109(6):1137-1144.

‌