As a strength athlete, I'd compare walking into a new gym or getting new lifting gear similar to walking into a candy shop as a kid. Everything is new, and it would be shame to let a piece of equipment go without at least trying it once. There's a certain aura that surrounds my grown up muscle building curiosity.
Maybe that's an extreme, but I know I'm not alone when it comes to new gym and new gear excitement. For example, when I order new gear and it arrives on my doorstep in the mail, it's like a mini adult Christmas, minus the awkward family interactions. When you visit a new gym, it's like running onto a newly built playground for the first time. That's why I'm incredibly envious of Mark Bell's latest video lifting in the Rogue Fitness Headquarters in Columbus, Ohio.
If you've ever wondered what the inside of Rogue HQ looks like, then check out the video below. I guarantee this video leaves you envious of the space Rogue has and their endless equipment readily available.
Everything in the gym looks brand new and so well-kept that it's hard not to drool a little bit. The plates, bars, racks, and even floor panels looks like they was made placed yesterday, which they actually could have been. Possibly the most interesting part of the video is at 1:30 when Bell is deadlifting.
Checkout the 50kg plates and new Rogue deadlift jack. Could we be seeing these released in the near future?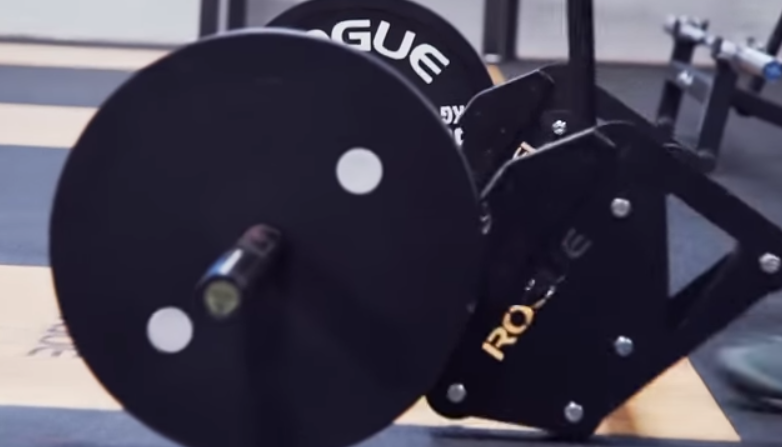 Image screenshot from Supertraining06 YouTube channel. 
In the final two-minutes of the video, Bell talks about how this will probably be his last time in the Rogue Fitness Headquarters. Next year, Rogue Fitness will be opening their new 500,000 square foot location, Rogue University, in downtown Columbus.
Bell also gives a little background into the beginning of Rogue Fitness with founders Bill and Caity Henniger. In 2006 Bell explains, Bill was making his wife Caity a pair of simple gymnastics rings, then after began things began to blow up. Bell concludes with, "He took small steps, but always dreamed big."
Feature image screenshot from Supertraining06 YouTube channel.