Days One and Two of the 2022 NOBULL CrossFit Games contained their fair share of chaos. From weather-related delays and miscounted laps to the now-infamous double-under crossovers, the Games have certainly had an exciting start.
Amidst the upheaval, there have been a fair share of withdrawals thus far, with Emily Rolfe and Masters athlete Tom Muhlbeier pulling out on Day One. On Day Three, Semifinal champ Kealan Henry also announced his withdrawal from the 2022 Games.
Henry took home an impressive victory at the 2022 CrossFit Fittest in Cape Town Semifinal. He won the third event, snagged third in both the first and last event, and never logged a finish lower than 10th throughout the entire competition. In locking down that victory, Henry secured the only spot awarded to the continent of Africa for the Individual Men's Division.
On Day Three of the Games, Henry took to his Instagram stories to explain to his fans the series of injuries that led him to withdraw: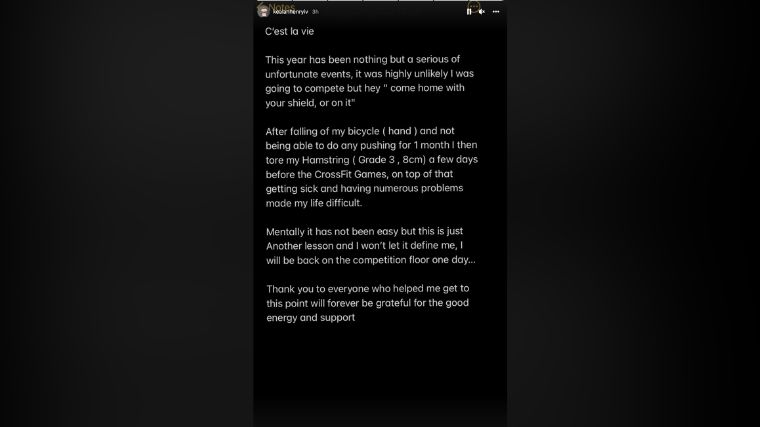 [RELATED: 2022 CrossFit Games Day One Results — Garard and O'Brien Lead]
After falling of[f] my bicycle (hand) and not being able to do any pushing for 1 month, then tore my hamstring (Grade 3, 8 cm) a few days before the CrossFit Games… it has not been easy.
Henry wrapped up his thoughts on the matter by thanking his fans and teammates for their support leading up to the Games.
Kealan Henry at the 2022 CrossFit Games
According to his Instagram story, Henry had to push himself hard to even battle through to Day Three due to his pain levels.
View this post on Instagram
[RELATED: Ricky Garard and Mal O'Brien Hold Their Leads After Day Two of the 2022 CrossFit Games]
He wrote that he got sick and faced numerous other unspecified problems as well. Still, Henry fought his way to 28th place in Event One, Bike to Work, which wound up being his strongest finish of the Games.
I will be back on the competition floor one day.
The 28-year-old ranked 24th worldwide in the 2022 CrossFit Open and took home first in South Africa and Africa as a whole. He also ranked third in the 2022 CrossFit Quarterfinals across Africa.
More 2022 Games Withdrawals
Alongside Henry, Masters athletes Dave Rempel, Clint Paddock, and Dustin McWilliams also withdrew on Day Three, and Adaptive athlete Alyssa Kobela also withdrew. Day Two of the Games also saw its share of athletes pulling out, including Masters competitors Sam Dancer (35-39), Darius Boockholdt (50-54), and Andrew Livingston (50-54). On Day Four, Masters athlete Giulia Roggio and Teams CrossFit Yas and KT CrossFit withdrew.
To keep up with who's on top of the Games — which continues through Sunday, Aug. 7 — check in on the action at BarBend's 2022 CrossFit Games leaderboard and results page.
Featured Image: @kealanhenryiv / Instagram