As we head into the spring and summer, it only seems fitting that Nike drop a new color scheme for the Nike Romaleos 3 geared towards representing the USA. We're not sure if this was done in an attempt to be relevant with the Fourth of July, but it sure does seem convenient.
Since their release on January 21st, a lot of athletes have turned in their old lifters to pick up a new pair of Nike Romaleos 3s. Many athletes have been happy with the Nike Romaleos 3's in-gym performance, but there have been a few durability concerns worth considering before buying (such as the tongue ripping).
[Read our full Nike Romaleos 3 review!]
Earlier in the year, I wrote an article on the coolest custom Nike Romaleos 3 color schemes we've seen thus far, which featured a ton of creative Romaleos 3 designs. Custom painted shoes are great, but they can be an added expense on top of an already fairly expensive shoe. This is why myself and many other lifters are pretty excited about the newly released Nike Romaleos 3 Freedom shoe because…'Merica.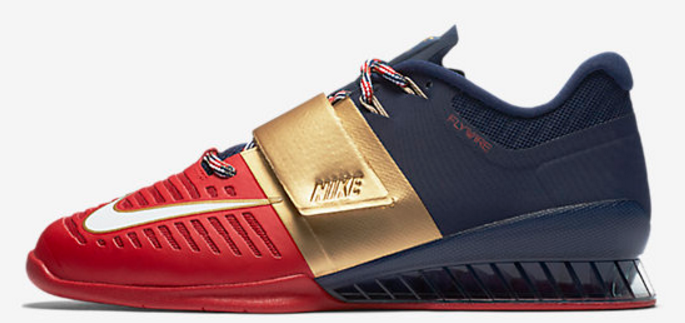 Image courtesy of Nike.com. 
This new shoe features patriotic colors, much like its "Freedom" name suggests. I am curious about the mid-foot though, would it have been cooler with white instead of gold? Either way, the shoe looks great, but the gold may turn off a few athlete due to its flashy nature.
Another cool aspect of the Freedom shoe is the attention to detail Nike put into it. It comes with shoelaces that also resemble the color scheme, which I thought was a nice subtle touch.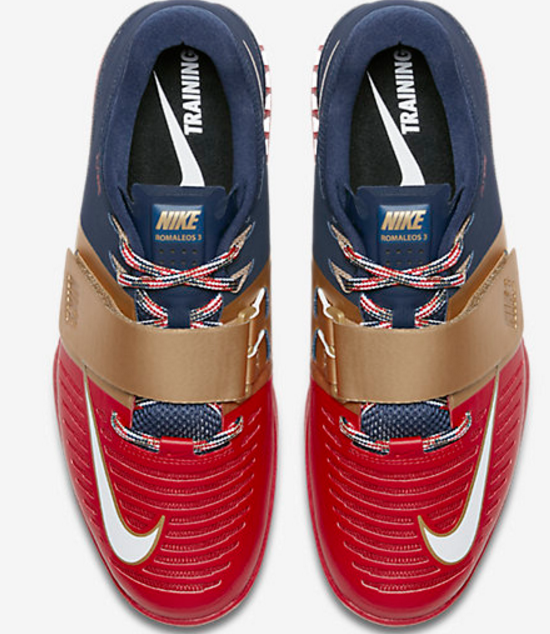 Image courtesy of Nike.com. 
This Freedom model still comes with a price tag of $200, so I'd recommend reading into what other's have thought about this shoe before investing. Also, consider the characteristics that make this model different from others on the market to ensure it's a good fit for you and your sport.
Regardless what lifting shoe you prefer, it's pretty cool to see Nike attempt to be creative and represent the good ol' USA.
Feature image from Nike.com.