On Aug. 9, 2022, Reebok announced the release of the latest iteration of their Nano cross trainer franchise — the Nano X2 Adventure. According to Reebok's press release, the Nano X2 Adventure "features an all-new
upper design and upgraded materials built to withstand the rigors of outdoor training."
The Nano X2 Adventure cross trainers are designed for those who train outdoors. The updated design is meant to help those athletes handle all the elements they might endure while training outside the confines of their home gym or CrossFit box. This is the first evolution of the Nano X2 Adventure cross trainer, as the original version was released in 2021. The following upgrades have been designed into the Nano X2 Adventure to handle expected terrains of training with mother nature:
The Nano X2 Adventure Cross Trainers
Nylon Ripstop Upper — intended for improved breathability
Screen Prints and Reflective Materials
Floatride Energy Foam — intended for additional responsiveness in the forefoot
Rugged Lug Outsole — intended to maximize traction and durability
The Nano X2 Adventure cross trainers will be available for purchase on Aug. 24, 2022. There will be three launch colorways on Reebok.com/NanoX2 and select retailers worldwide.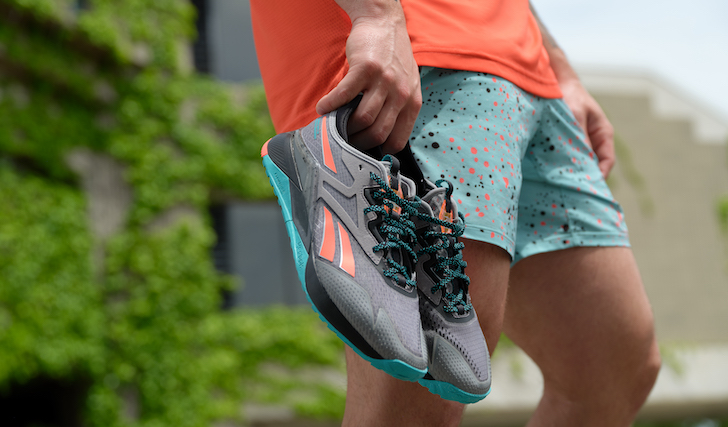 [Related: Rebecca Fuselier Shares How She Felt During Her Iconic Moment in "The Capitol" Event at the 2022 CrossFit Games]
Senior Product Manager at Reebok Design Group Tal Short suggested the Nano X2 Adventure is designed to support any outdoor activity from "a driveway workout [to]…a weekend hike."
The release of The Nano X2 Adventure cross trainers comes just a few weeks after the conclusion of the 2022 CrossFit Games, won by six-time Fittest Woman on Earth®, Tia-Clair Toomey, two-time Fittest Man on Earth®, Justin Medeiros, and Team CrossFit Mayhem Freedom, captained by 10-time Games champion Rich Froning. Reebok's bonus program — monetary rewards for athletes who win an event while wearing Reebok footwear — was in effect at the Games in Madison, WI.
The Nano X2 Adventure cross trainers cost $140 USD and are available "in men's and women's sizing." Reebok UNLOCKED members will be able to get their hands on the new footwear six days sooner, as they will be granted early access starting Aug. 18, 2022.
Featured image courtesy of Reebok.