Over the last ten years, Rogue Fitness has continually been upping their weightlifting game. Late in 2016, Rogue Fitness was named USA Weightlifting's official manufacturer. Then earlier this year in June, their equipment was approved for USA Weightlifting National Competitions.
Recently, Rogue Fitness worked with three-time Olympic gold medalist Pyrros Dimas to develop a new barbell. On their site, they discuss how they enlisted Dimas to help them create the perfect weightlifting barbell. One that has a slightly more aggressive knurling, along with better controlled spin. All of these attributes would help a weightlifter feel more connected to the weight.
On their site, Rogue Fitness writes, "When we showed him what we'd come up with, his response was better than we could have imagined. "It's Perfect," he said. "You should call it the Pyrros Bar." And so we did."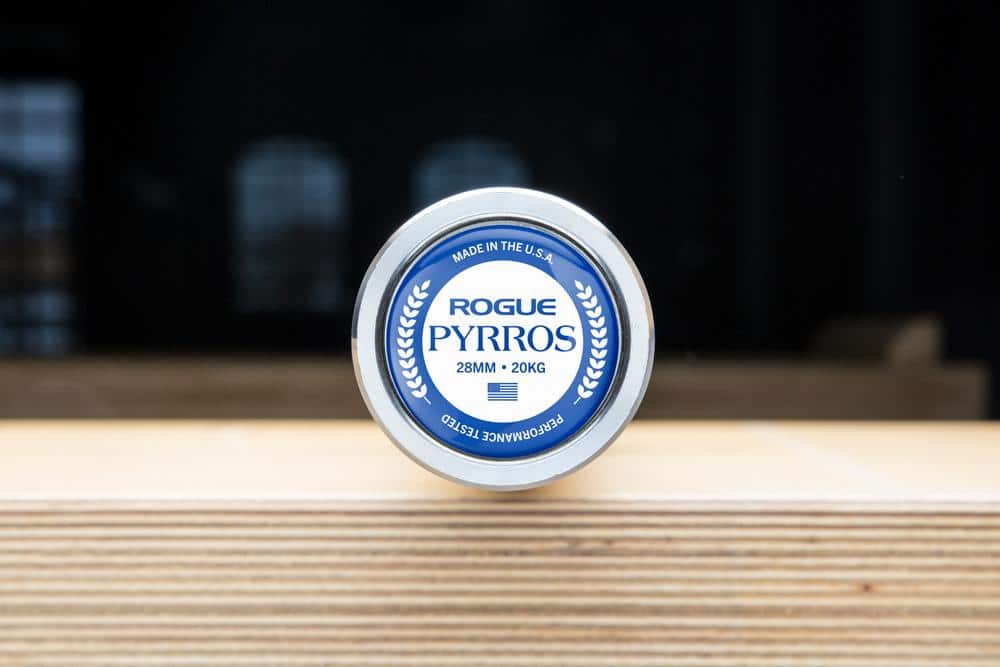 Image courtesy Roguefitness.com. 
When creating a bar designed for weightlifters, it only makes sense to enlist one of the best athletes the sport has ever seen. This bar is slightly different than other weightlifting barbells Rogue Fitness currently makes, and not to mention, it has Dimas' name on the end, which is a nice style touch.
Below are a few of the more in-depth specifications Rogue Fitness states that come along with this barbell. The price of the men's Pyrros barbell currently starts at $695.00, though it's not yet available for public purchase (as of November 29th, 2017).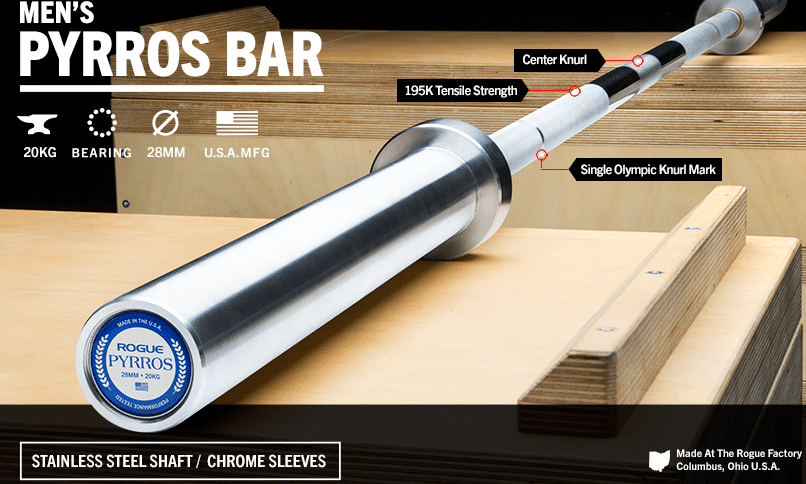 Image courtesy Roguefitness.com.
Made in the USA
20KG Olympic Bearing Bar (International Weightlifting Federation standards)
Co-Developed with 3-time Olympic Gold Medalist Pyrros Dimas
Stainless Steel Shaft, Chrome Sleeves
Diameter: 28mm
5 Needle Bearings per sleeve
Olympic Knurl Marks with Center Knurl in aggressive but non-abrasive pattern
Loadable Sleeve Length: 16.3"
Tensile Strength: 195,000 PSI
Exclusive Pyrros Dimas Endcap Design
Now the question remains, will this barbell be adopted for weightlifting competitions equipped by Rogue Fitness anytime soon? If this barbell provides athletes with even an ounce of Dimas' touch, then you can sign us up.
Feature image courtesy Roguefitness.com.