Four-times CrossFit Games athlete Sean Sweeney has withdrawn from the 2021 Games due to medical reasons. CrossFit announced the news after Event Five on day two. Prior to his Withdrawl, Sweeney was sitting in 30th place overall out of 38 total competitors.
Sweeney is the second athlete to step down on Friday, July 30, 2021, and the fifth athlete overall to be medically withdrawn. Kara Saunders, Kari Pearce, Dan Bailey, and Larissa Cunha have all been removed from the competition — the first three athletes due to COVID-19 tests and Cunha due to a Doping violation. Also, Russian athletes Roman Khrenniko, Stas Solodov, and Svetlana Kubyshkina are not at the Games due to travel issues.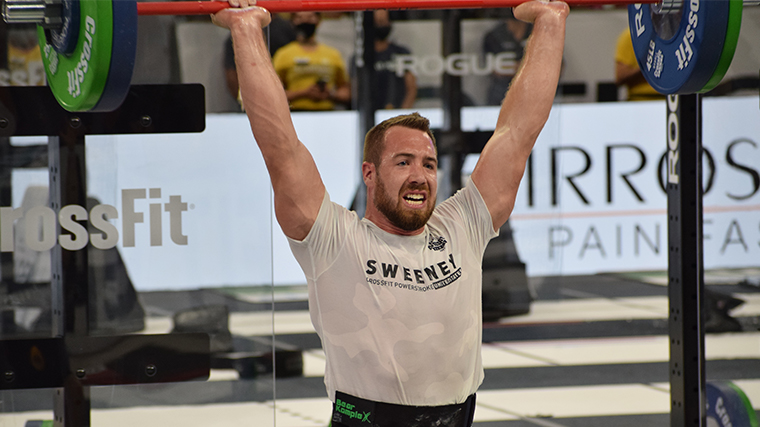 At the time this article was written, Sweeney's medical issue hasn't been disclosed. CrossFit also says that Sweeney was tested for COVID-19 twice, and both results were negative. Sweeney has yet to issue a statement on his withdrawal.
Sean Sweeney's 2021 CrossFit Games Performance
At 30th place overall, it's unlikely that Sweeney would be able to mount the comeback needed to secure the top spot. After Event Five, he accumulated 146 points, 276 points behind current Men's leader Brent Fikowski. Here is how Sweeney performed in all five CrossFit events that he competed in.
In the 2021 CrossFit Open, Sweeney finished in 157th place overall. Then, Sweeney logged a 34th-place finish in the Quarterfinals — notably ahead of Jayson Hopper and Brent Fikowski. To qualify for the 2021 Games, Sweeney placed third at the West Coast Classic, behind Noah Ohlsen and Cole Sager.
Related Withdrawals at the CrossFit Games
On July 26, 2021, CrossFit announced that Bethany Shadburne and Dan Bailey would not compete at the Games after testing positive for COVID-19. Then, on July 28, American Kari Pearce, the third-place finisher for the Women at the 2020 CrossFit Games, tested positive for COVID-19 and medically withdrew from the competition. Russian athletes Roman Khrennikov and Stas Solodov, and Svetlana Kubyshkina are not competing due to travel and visa issues. Larissa Cunha violated CrossFit's Doping Policy (though she's appealing) and was removed from the competition. In total, there are now seven Individual athletes out of the competition.
Featured Image: Ben Garves