It is straight up bonkers how few people are aware of the benefits of slow cookers. When I mention it to people – and I preach this sh*t like a religion – what enters most of their minds is the dusty pot in a forgotten corner of their mom's pantry, the vessel that's used twice a year for greyish stews that all taste the same. But it's the most underrated tool for saving money on protein, plus it saves a lot of prep time for high protein meals. Here we're delivering the easiest recipes for brisket, pulled pork, and pulled chicken.
Because the widespread association of crockpots with "bland stews" is a grave injustice, and a costly one at that. Here's the truth.
Why Crockpots Are the Best Tool for High Protein Recipes
1) They Save Money
Think of steak versus brisket or pork loin versus pork shoulder; the second option is much cheaper because it's tough and requires more "labor" to be palatable. By making that labor a snap (see the next point), crockpots let you eat more meat for less.
Because you can cook such large portions at a time, you can also save more money by purchasing ingredients in bulk, plus crockpots use very little energy so you can even shave some money off your electricity bill.
2) They Save Time
Forget the words "slow cooker" and switch them for "time saver." I'll often drop some meat in the crockpot at night so that it's ready for lunch the next day, and a lot of the time that's all I'll do: drop in some meat, maybe rub it with a pre-made spice rub or pour on some salsa, set it and forget it.
Ten seconds of prep time ain't half bad, especially if you're cooking seven pounds of meat at once for a dozen future lunches. Pro tip: freeze individual portions in sandwich bags and nuke 'em whenever. Just make sure to eat it within three months.
3) They're Cheap
Maybe I'm spending a little too much time on the money aspect, but as an avowed cheapskate, you should also know that this is one life-changing gadget that you won't need to pay in installments. You can buy a big, six-quart slow cooker with a thermometer probe and a programmable timer for less than fifty bucks.
If, say, your typical lunch is twelve-dollar pulled pork from Chipotle and instead you start making your own for about four dollars a serve, it'll pay for itself in no time.
Let's get down to brass tacks: these are the easiest crockpot recipes you should know about.
1) Easy Pulled Pork Recipe
Ingredients
3 to 4 pounds of pork shoulder (a.k.a. Boston butt)
6 to 8 cloves of garlic
2 to 3 teaspoon of salt
Liquid smoke or smoked paprika (optional)
Directions
Use a knife to make holes all over the meat and insert the garlic cloves.
Rub the pork with the salt.
If you like a smokey flavor, add a few splashes of liquid smoke or a few tablespoons of smoked paprika all over the pork.
Cook on "low" for 3 to 4 hours per pound, or half that on "high." That's 10 hours on "low" for this recipe.
When it's finished cooking, pour out the fatty liquid that has collected.
Take two forks and shred your meat.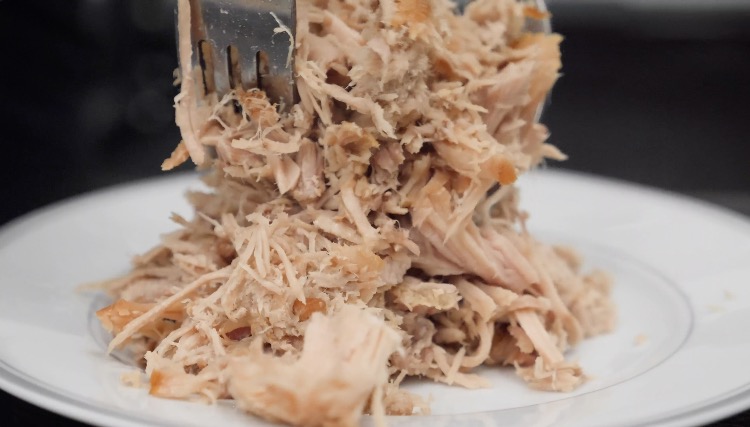 Everyone will say it's the best meal they've ever had.
This recipe is inspired by Nom Nom Paleo's outstanding Kalua pork recipe, which recommends using smoked salt and cooking the pork on top of a few strips of bacon. To get a pretty similar effect, I just splash the meat with a few drops of liquid smoke or rub it with the paprika.
Feeling tropical? Throw in a few chopped bananas or some pineapple before you press "cook." Feeling Southern? Empty a bottle or two of cheap BBQ sauce on top. Remember that those calories will be pretty hard to track when everything's shredded up, but given the varying fat content of these meats, it's going to be hard to be ultra precise with calories no matter what.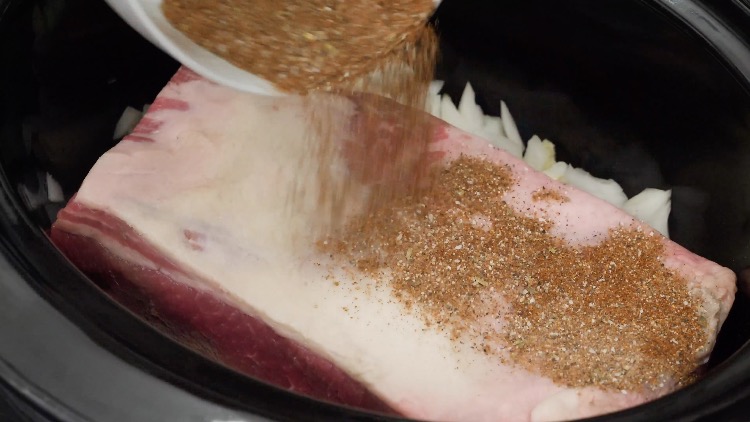 2) Easy Crockpot Brisket Recipe
Ingredients
2 brown onions
3 to 4 pounds of brisket
4 tablespoons of paprika
4 teaspoons of pepper
4 teaspoons of salt
4 teaspoons of garlic powder
1 or 2 teaspoons of cumin
1 or 2 teaspoons of cayenne
Directions
Chop the onions and line the bottom of the crockpot with them.
Mix all the spices together and rub them all over the brisket.
Place the brisket fatty side up on top of the onions.
Cook on "low" for 3 to 4 hours per pound, or half that on "high." That's 10 hours on "low" for this recipe.
When it's finished cooking, pour out the fatty liquid that has collected.
Take two forks and shred your meat.
My brisket recipe needs about ten seconds of my time: I rub four or five pounds of meat with a pre-made spice rub, drop it in the pot, set the timer, and walk away. If you don't have a spice rub, it's totally fine to use nothing but the brisket and a few teaspoons of salt. It'll still wind up amazing.
Some might insist that you throw in a cup or two of water or beef stock, and there's no harm in doing that. But since over time, the meat will release a lot of fat and cook itself in that, I've never found it necessary. All that fat and time and heat cooks the onions down to deliciously savory morsels that make any plate of anything taste better.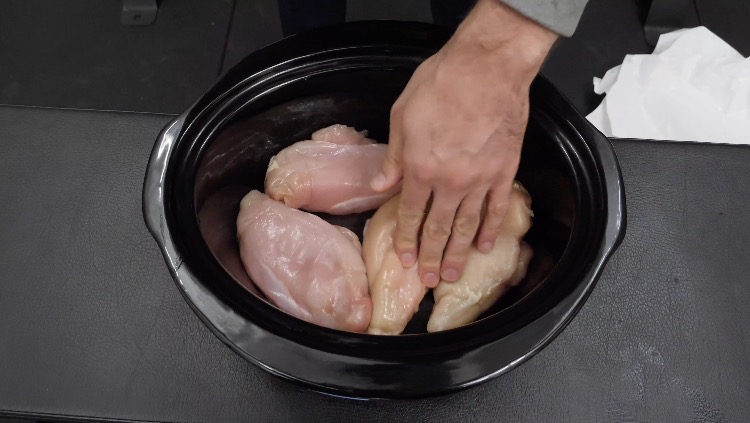 3. Easy Crockpot Pulled Chicken Recipe
Ingredients
4 boneless, skinless chicken breasts (technically two breasts that have been split)
1 pound of salsa (that's just one jar)
Half a cup of water or chicken stock (optional, if you're using the salsa)
Directions
Put chicken in crockpot.
Pour salsa over it so that the breasts are covered. (Throw in some water or stock if the salsa isn't covering the chicken.)
Cook on "low" for 2 hours per pound (or 1 hour per pound on "high")
When it's finished cooking, shred everything with two forks.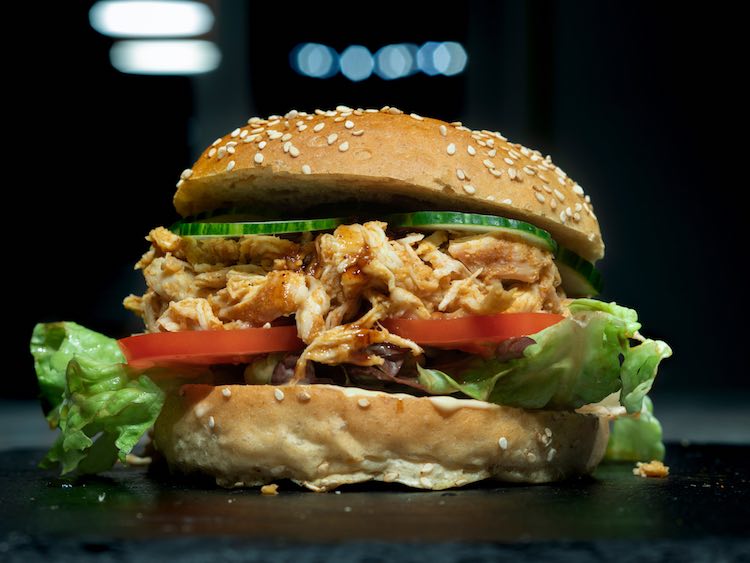 Because it's so low in fat and prone to drying out, chicken can be a little trickier in a slow cooker, but that's also why it's so versatile—it can work with low-fat meals or low-carb meals. You just need to make sure it cooks with some liquid.
Your basic pulled chicken is just a couple of lightly salted chicken breasts in a half cup of water, cooked on "low" for five or six hours. It's incredibly bland, but when it's finished I usually douse it in sauce or drop it in a stew that contains a decent amount of fat (like this one) and it works great.
A better idea is to buy an array of salsas and enchilada sauces: sweet, smoky, spicy, fruity, green, red, you name it. Then you just pour a jar of sauce over two or three chicken breasts and let things cook. Remember, salsa is very low in calories (about 100 calories per pound) and packed with vitamin C.
When everything's finished, shred with two forks and presto: as much delicious, low-fat, low-calorie protein as you can eat. This works great on its own, in a burger or on top of rice or beans if you need carbs, or with a big pile of avocado and sautéed peppers and if you're after something more low-carb and fat-rich.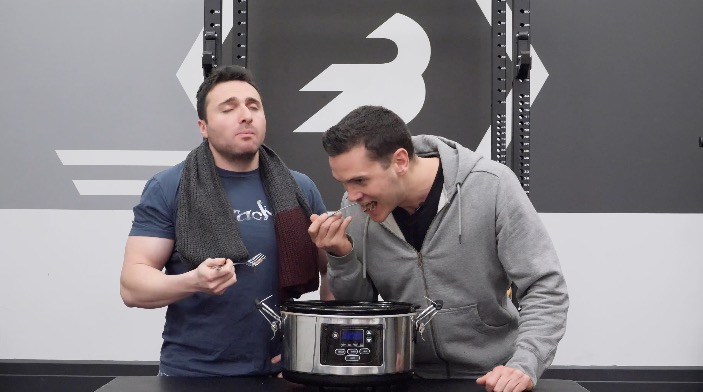 Wrapping Up
Hitting your protein is always the hardest, costliest, and most laborious part of dieting. Whether you're a fan of gourmet, long-and-slow cooking or if you don't even like cooking and just want something tasty with minimal effort, the slow cooker is an indispensable part of an athlete's toolkit.
Editors note: This article is an op-ed. The views expressed herein are the authors and don't necessarily reflect the views of BarBend. Claims, assertions, opinions, and quotes have been sourced exclusively by the author.