In 2016, New England strongman Elliot Storey and his wife Giana became the North American champions in the unusual sport of wife carrying, a race that's part obstacle course, part strongman, and part bonding exercise. In 2017, he returned to Maine to see if he could repeat as champion. This is his story.
If you're thinking you'd like to enter a wife carrying competition, there are many aspects you have to understand before you even begin to train. The first thing to know is the composition of the course you're going to face. The international standard course length is 253.5 meters (278 yards), and contains one wet obstacle and two dry obstacles.
The winning times are around one minute.
That means you will be sprinting.
Some courses are flat (World Championships) and some courses are on the side of a mountain (North American Championships). What makes the most sense to me is to prepare as specifically as possible, so if your course is flat, practice flat; if it's hilly, practice hills.
If you've never sprinted for one minute, establish a baseline. On a track, the closest event to one minute is the 400m dash, so time yourself sprinting one lap around a track. Chances are, you're in decent shape, but there are generally two types of 400m runners – the 800m distance-type and the 200m sprinter-type.
[Not convinced? Here are 7 reasons every strength athlete should try obstacle course racing.]
Depending on your runner-type, you'll have different weaknesses that you'll want to focus your training around in order to bring your best. An 800m type will likely feel the burden of his wife more than the 200m type and will need to focus on power output. The 200m runner-type is likely much faster through the first half of the course and will need to focus on cardio and lactate threshold in order to finish strong.
Check out this short documentary about the author's experience at this year's championship
The next and perhaps most important component of preparing for a wife carrying competition is actually practicing with your wife. Whether or not you incorporate regular runs with your wife into your training, you're going to want to devote special sessions simply to working out the proper hold, especially going over obstacles.
Not only will the extra weight and style of hold affect your normal running gait, but practice for the wife is crucial as well. Placing 50% or more of your bodyweight on your shoulders is going to raise your center of gravity. This creates an instability that requires lots of practice to be able to control. The fastest ride is a smooth ride. The wife can't see the course to know what comes next, so she needs to be in tune with your body in order to smooth the bumps. A surefire way to lose a race is to fall, and the most common fall seems to be an overcorrection by a pair towards the end of the race, when the husband's legs are jello.
The Strength Training
Now that you know what to expect, it's time to lay out a program to get yourself in peak condition for race day. As I said before, I like to prepare as specifically as possible. For me, being a bigger guy, I need to focus on my cardio and lactate threshold. The competition I have done the most is the North American Championship, so hills are always part of my training, especially as the event gets closer. My typical week has high-intensity days on Monday, Wednesday, and Friday which would be my typical gym sessions with compound movements and/or hill sprints with or without added weight.
On Tuesday, Thursday, and Saturday, I will do 20 rep squats as my recovery and also to continue training lactate threshold. I consider 20 rep squats the single most important component of any training cycle besides getting better at the actual movement your competition entails, i.e. wife carrying.
In reality, especially for this past competition, things don't always go to plan. I try to anticipate that by trying to schedule multiple sessions per day (which is even tougher obviously) where I will run hills on lunch break at work or go for a run in the morning. The key to your success is figuring out what will work for you and tailoring your training cycle in order to reach your peak. Not to be too redundant, but if you're a 200m type, work on your cardio by doing long runs or cycling and lactate threshold by doing one minute sprints or 20 rep squats, and if you're an 800m type, focus on raw power in order to improve acceleration and top speed by doing heavy squats and deadlifts, shorter sprints, and plyometrics. Once you've put in 100% for weeks (being sure to incorporate a de-load week if your prep is longer than 4 weeks), make sure you taper for at least one week before the contest.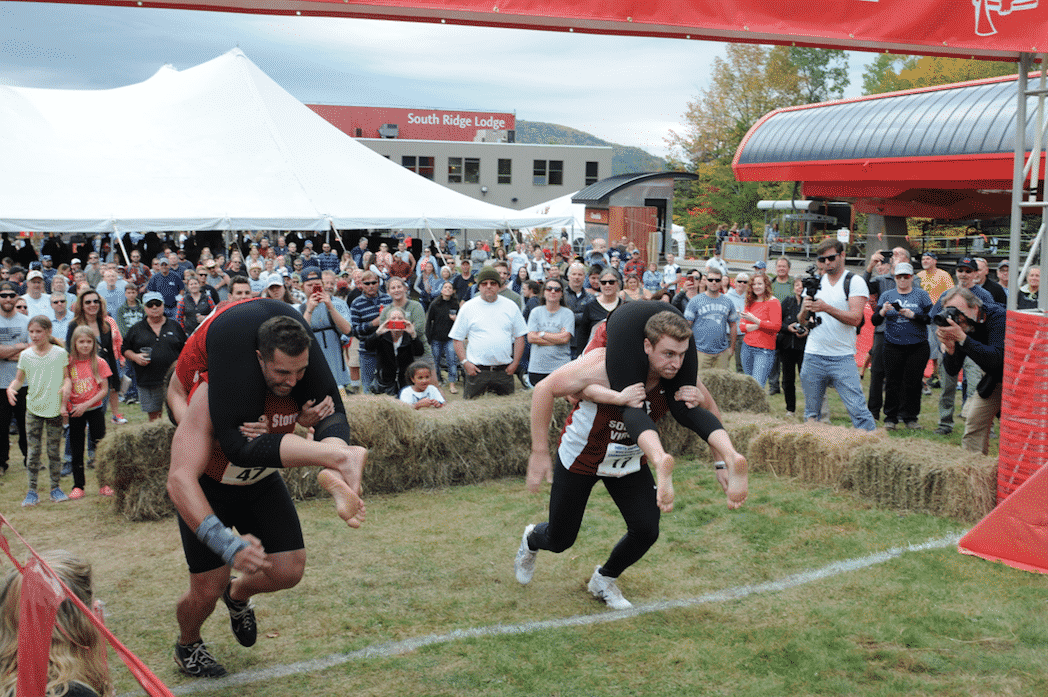 Image courtesy of Sasha Chipman
Race Day
It's finally race day! This year was very different for us in a lot of ways. I have been working in California for the past year, taking on more responsibility and living out of a hotel for the most part, and Giana somehow took on even more work while being the best mother to our four children. Adding to the difficulty of preparation for us was the fact that we were defending champions. There was so much pressure to repeat, but despite less-than-ideal prep conditions, I felt confident that we could do it.
We rented a condo as usual at Sunday River, where the race was being held, for the night before the race. This was in order to see the course and not have to rush in the morning to get there and get ready (we live about 2 hours away).
The course this year looked very difficult. It was similar in 2014, which was the year we posted our worst-ever time. Instead of one log hurdle, there was two. The Widowmaker looked deeper than ever, seemed to have more soft mud on the bottom, and had a steep entrance. I thought to myself that if I found myself behind in the final heat, I would jump in just like at World's and take the lead. This turned out to be prophetic.
In the hours leading up to the race, the feeling of anxiety and adrenaline spikes is completely overwhelming. I think an essential part of the process is not only managing those feelings so you don't waste energy, but also feeling them in the first place as I think the thrill of competition (and hopefully winning) is fueled by "getting into the zone". I try to run the race in my head as many times as possible while combatting the inevitable pangs of my fight-or-flight system that thinks I'm being chased by a saber-toothed tiger.
Adding to all this pressure is the presence of not only Sunday River's film crew, but 3 separate documentaries, one of which (60-Second Docs, embedded above) is focused entirely on us. One of the others is a mockumentary in which I think we snagged a cameo, and the other is a serious film following a fellow competitor John Lund and will culminate in July at the 2018 World Championships.
As the race begins with couples numbered 1 and 2, we check out the competition to see how deep the mud is and any other tips we can pick up. Last year's 4th place couple posts a time of 1:13 which for me confirmed my suspicions that this year's course was tougher. Perennial competitor John Lund then posts a 1:05, only to get pushed to 3rd place by "Crossfit Couple" and last year's runners-up Jake and Kirsten Barney, who blew everyone away with a 58 second run.
This was really good for us because all I had to do was run under 1:05, and I could save something for the finals against Jake who went all out in his heat. It's finally time for our heat and we're going against Team Gauvin, who got engaged at last year's contest. They struggled through the aptly-named Widowmaker as we ran 59 seconds to qualify for the finals.
After a short break during which it is both crucial and next to impossible to stay loose, it was time for the finals. A rematch of last year: Team Blueridge from Virginia versus Team Storey, the defending, home-grown champions.
Out of the gates, it seemed like an exact repeat of last year where I got to the first hurdle first and never looked back, except this time, something happened that had never happened before. As I vaulted over the log at full speed, my feet weren't there. As my face hit the ground, there was no time to lose as Jake and Kirsten went bounding off up the mountain. By the time we reached the second hurdle, I knew I could catch them. We entered the water almost back together, but Jake fell on his face right in front of me. I could no longer use my jumping tactic without potentially killing somebody, so I tried to go around, but I ended up falling again! As we both got up, we were neck-and-neck in the water with the finish line in sight. I urged my body with all of my being to go faster, but Jake pulled away step-by-step. The adrenaline boost that caught me up now belonged to Jake as he powered over the finish line and I resigned myself to second place and jogged home with nothing left.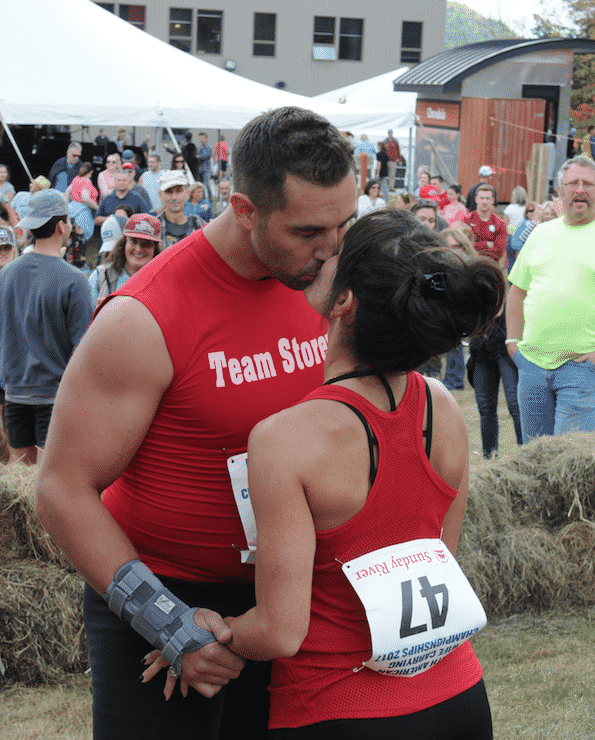 Image courtesy of Sasha Chipman
The repeat was not to be, but it was the second-best possible outcome and we're happy for Jake and Kirsten. We know we'll get a rematch sooner or later as we both now set our sights on the 2018 World Championships.
Featured image via @sunjournal on Instagram and Sunday River.
Editor's note: This article is an op-ed. The views expressed herein and in the video are the authors and don't necessarily reflect the views of BarBend. Claims, assertions, opinions, and quotes have been sourced exclusively by the author.