This week's CrossFit Performance of the Week comes from 14-year-old rising star Allie Rothenberger. Competing in her third-ever CrossFit competition, the Clarks Summit, PA, native won the GOAT Youth Fitness Competition title in the 13-14-year-old girls RX division.
The GOAT Youth Fitness Competition was a one-day event held on Feb 4, 2023, and featured six divisions catering to athletes ages 10 to 17. CrossFit Vertex, Rothenberger's home gym, hosted the competition.
[Related: Check Out Fittest Man on Earth® Justin Medeiros' Latest Gym Tour: "The Shred Shed"]
Allie Rothenberger at the GOAT Youth Fitness Competition
In 2022, Rothenberger placed third at the GOAT Youth Fitness, competing in the 15-17-year-old RX girls division at just 13 years old. Compared to the other youth athletes in her field, Rothenberger's advanced CrossFit ability excelled her in the upper division. In the 2023 season, she competed in the appropriate Age Group division. The contest featured six athletes, including Rothenberger.
Five events in Rothenberger's division were named after homages to American sitcom television series The Office. The opening event, "Fit Farm," was an 8:00-minute AMRAP that featured 40-foot shuttle runs, 12 wall balls, and a 40-foot kettlebell farmer's carry. Rothenberger won the event with 201 reps — 14 more reps than the next closest competitor.
Rothenberger won the "Sleigh Ridin" event, which included rope climbs, rowing, and burpees over the rower, with a time of 5:26 — 30 seconds ahead of the runner-up. The 4'11" high school freshman won the event despite disliking it the most.
"The second event was definitely the hardest," Rothenberger told BarBend over the phone. "It was the rowing. Rowing is difficult for me because I'm small. So I knew I had to push the pace on that one and try to get to the rower before everyone else."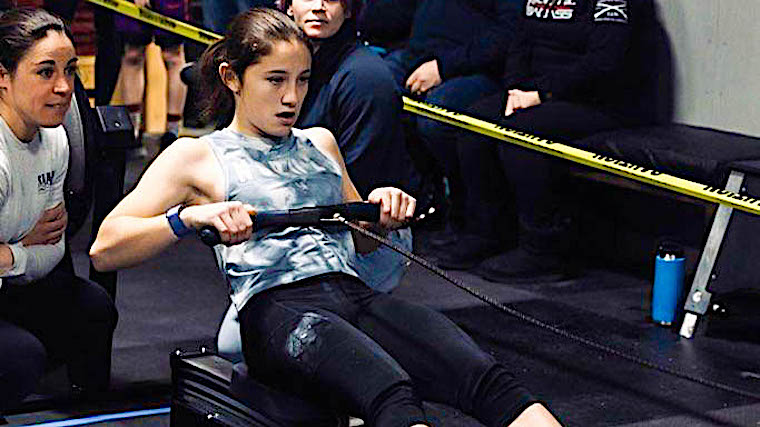 [Related: Explaining the New CrossFit Worldwide Ranking System]
Rothenberger's third-straight event win came in part one of a two-part workout. "Dunder" was four rounds (for time) of 30 double-unders, six handstand push-ups, six deadlifts, three hang power cleans, and one shoulder-to-overhead. She finished her rounds way ahead of the seven-minute time cap before starting the second part of the workout, "Mifflin." It consisted of four minutes to achieve a one-rep max ground-to-overhead lift.
Rothenberger hit 150 pounds, nearly 60 pounds more than her body weight, tying her for second place — her worst finish of the weekend.
The third event was my favorite. I just love bodyweight movements, and the bar complex was light.
The final event of the day pitted the top three athletes in the division against each other in a workout called "Battlestar Galacticam." It consisted of the following:
Rothenberger ended the competition as she started it, winning the event with a time of 4:59, almost two minutes ahead of runner-up Gabriella Deyo. Rothenberger finished with six points on the overall leaderboard via her four event wins and one second place. That was five points ahead of Deyo and six points ahead of third-place finisher Brooke Buzzell.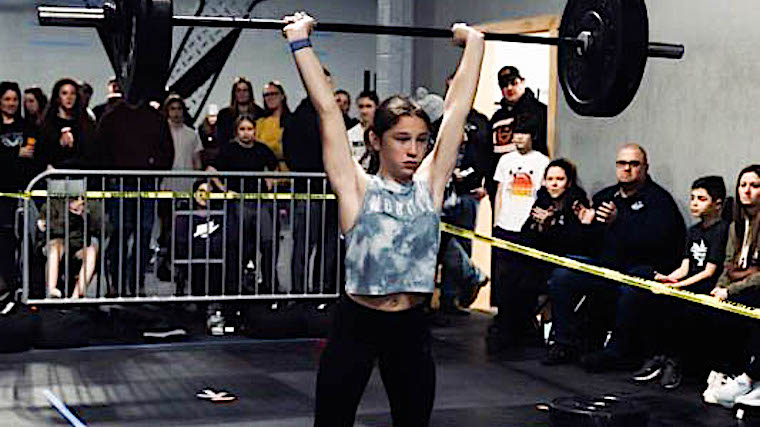 [Related: Rogue Echo Hammer Challenge Results — Zach Vogel and Gabby McClelland Victorious]
Who Is Allie Rothenberger?
Rothenberger discovered CrossFit in the fall of 2020 at the age of 12, looking for a physical activity she could do in the height of the COVID-19 pandemic. Less than two years later, she placed 16th in the worldwide CrossFit Open in the 14-15-year-old Age Group division. That performance earned Rothenberger an invite to the Age Group online Quarterfinals, where she ranked 34th, four spots out of a Semifinal invite typically reserved for athletes who are 15 years old.
Rothenberger turns 15 in June, but the two-sport prep star isn't stressing about the upcoming 2023 CrossFit Games season:
"I would like to make it to Semifinals," said Rothenberg. "I'm not too worried about making the Games. There's been a lot of stress lately and a lot of things going on in my life. This year is more about having fun and seeing where I am compared to everyone else. I'll try for the Games in 2024."
As a freshman at Abington Height high school, Rothenberger started on the varsity soccer team at midfield. She starts her lacrosse season in spring 2023 when she hopes to make the varsity team.
[Related: An Inside Look at the Underdogs Athletics' Open Prep Athlete Camp in Las Vegas]
Rothenberger uses CrossFit to maintain her fitness during the offseason. She does CrossFit classes three times a week, sometimes attending the 6:00 am classes before school. In the winter of 2022, she trained four to five days a week at her affiliate. She found role models to help her along the way, including two-time North America Quarterfinalist Makenna Enslin and four-time Games veteran Paige Semenza. She learned the importance of accountability and hard work from the latter.
"They are there every day," said Rothenberger. "Even on days they don't want to be. They are both so humble, hard-working, and always there to give me tips. They stay calm, help me control myself, and stay calm when I'm nervous."
Outside of CrossFit Vertex, Rothenberger aspires to be like two-time 14-15-year-old division Games podium finisher Lucy McGonigle. The Ireland native won the division in 2022 with a dominating performance.
She's really amazing. She can lift her body weight. She can do it all, and she can do it well.
Rothenberger is convinced that CrossFit will be a part of her future because of what she has learned from the sport and the community. "It's different from any other sport. Even though the workouts you do are as an individual, everyone else is doing them," Rothenberger said. "Everyone is suffering the same as you. That creates a bond, and that makes it so fun."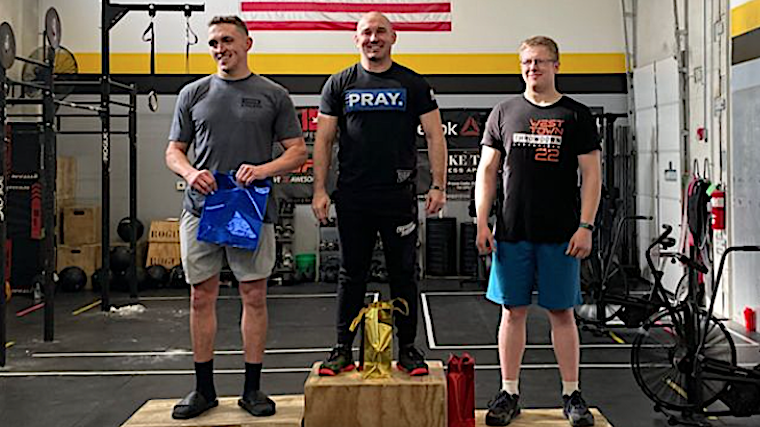 [Related: What Is the CrossFit Open?]
Other Notable Performances
Paul Gobble, a 19-year veteran and active duty Navy Chief stationed at Great Lakes Naval Base in Chicago, won the scaled division at the CrossFit630 Open Prep Solo competition in Naperville, IL, on Feb. 4, 2023. It was his first career Individual win. Gobble won three of the four events, including the final workout by just one calorie. He trains out of his home gym under the Mayhem Athlete affiliate programming.
Know a Great CrossFit Athlete?
If you'd like to submit an athlete to be considered for BarBend's CrossFit Athlete of the Week, please email Patrick Clark at [email protected]. For athletes to be considered, it must be for accomplishments for the preceding week (Monday-Sunday) and must be received no later than 5:00 p.m. EST the Monday after. Please include any verifiable results, links, and a brief explanation of why that athlete should be considered.
Featured image: @crossfit360 Instagram