His coach, Rayford Jones, told me in no uncertain terms to leave him well alone until he'd gone to the stage and finished all six of his attempts — the man needs to focus, now — but right after watching him win three silver medals for Team USA, I was lucky enough to sit down with CJ Cummings in Peru.
His 150-kilo snatch, 187-kilo clean & jerk, and 337-kilo total didn't break any records, but the IWF Grand Prix had still given Cummings one of the most important milestones in his career: the 19-year-old became the first US weightlifter to secure a spot to compete at the Tokyo Olympic Games.
BarBend: Congratulations on the medals, CJ!
CJ Cummings: "Thank you, I appreciate it."
The way you and (gold medalist) Julio Mayora kept increasing your attempts to best one another was nail-biting to watch, I think you your final snatch moved from 151 to 153 to 155 in like ten seconds. Were those moments backstage really tense?
"For the most part, me and (Mayora) were calm, but it was like a battle of the coaches. They were strategizing on what they were going do, so I mean it was intense, but at the same time it was calm. So it was pretty cool."
You're functionally in the Olympics now, right?
"Yes."
The first US weightlifter to qualify?
"I would believe so."
The IWF now ranks you as second worldwide in your weight class, after Shi Zhiyong. I think something like six other weightlifters would need to break the World Record total by dozens of kilograms to kick you out of your spot at the Olympics, so Tokyo is practically guaranteed for you.
"Yeah."
[Related: Watch Team USA's Shacasia Johnson win gold in Peru]
https://www.instagram.com/p/BwAaH9Che20/
You've been competing fairly regularly and consistently for a while, like one competition every two or three months now. Will you be competing again before Tokyo?
"Yeah, so starting in 2018, my coach told me going in I was going to be competing a lot because with me being a Junior and competing at so many competitions, that was to get the Robi points up. That's why I've been traveling to this place and that place this year. But now I can relax, I know all I have is the Junior Worlds next year. And that's the only competition before the Olympics.
"This competition was actually a surprise. One day my agent called me and was like, 'Hey, you want to do this?' It was like a month before coming down here, but it would guarantee me a spot for the Olympics. And now I'm here."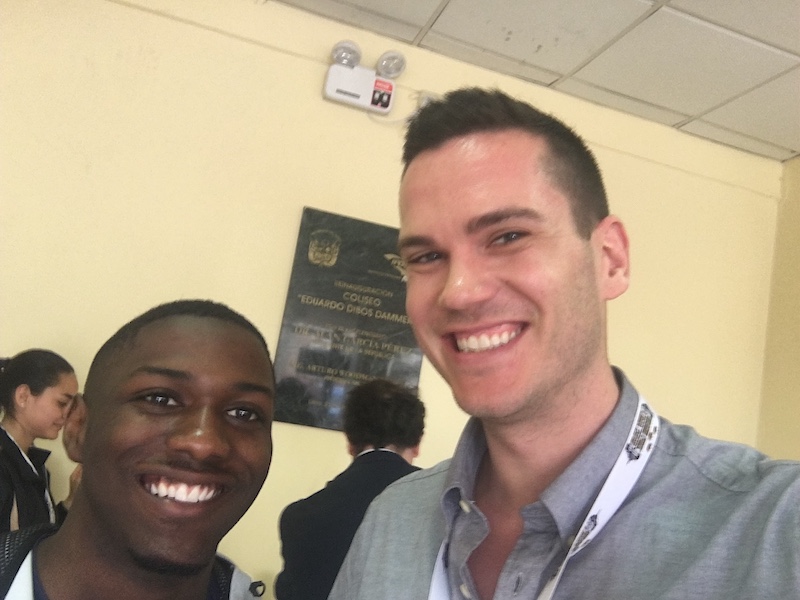 BarBend editors: Not great at selfies
I was talking to Dr. Kyle Pierce in the stadium, he's trained weightlifters for over 40 years and he wanted to know about your preparation. What are some ways you get ready for a competition that you don't see many other weightlifters do?
"Stay calm. I don't really like to think about it too much. Relax. Do something I do at home. At this competition I brought my Playstation, so all day yesterday I was playing video games just trying to keep my mind off the lifting. And then when the time comes, just focus."
What about on the day of a competition, how do you prepare?
"Just visualizing the first attempt, second attempt, third attempt. Usually my coach would give me a guideline: 'We're looking to hit this.'
"It depends on how I'm feeling, but visualizing the attempts and going by how I feel and keeping a clear heard. And just going through it."
I saw you've had your headphones on all day, what are you listening to?
"I just listen to music to get me pumped. I like a lot of different genres: hip hop, rap, pop."
What's one of the songs you like to listen to to get pumped?
"Suge, by Dababy."
What about diet, what do you eat before you compete?
"After I weigh in, all bets are off. The good thing about being -73kg now is that when I was -69kg, I used to cut weight a lot. Being a -73 I have a lot more room. Now I don't have to stress and worry so much about what I eat. But when I weigh in all bets are off, I can have burgers, fries, I can be healthy or unhealthy."
You eat burgers and fries before going on stage?
"Not today. Today I had cookies, a ham and cheese sub from Subway. It all depends."
What about during a normal week, what do you like to eat to fuel a workout?
"I'd probably eat some fries. Or like a sub. Or a protein shake or something."
https://www.instagram.com/p/Bt_0v2FhFHi/
I wanted to ask something a lot of our readers are interested in: what do you think is the most underrated accessory for weightlifters?
"I do something called a trio. It's a shoulder mobility exercise, I don't see a lot of people actually work on it. They just, you know they put the equipment on, they go to the bar, and start lifting. To do the trio, you take two 2.5-pound plates…"
At this point, CJ mimicked movements that would be more easily shown in a video — fortunately his coach, Ray Jones, shared this video with us so you can see exactly what they are:
https://youtu.be/NcEW-KCMhec
[Related: 3 shoulder prehab exercises that will improve all your lifts]
Last question: What's your least favorite exercise?
"I don't know, my least favorite used to be squats but my coach drilled it into me. So I hate them, but at the same time I do like them because you see the improvement in it. But I would have to say squats. Back squats. Not a fan."
Alright, well enjoy the break from competition and good luck at Junior Worlds in March!
Editor's note: BarBend is the Official Media Partner of USA Weightlifting. The two organizations maintain editorial independence unless otherwise specified on partner content.
Featured image via @teambeaufort_weightlifting on Instagram.