When it hit 1pm in Lima today, American weightlifting fans turned their eyes to the IWF Grand Prix at the Eduardo Dibos Coliseum. (It's streaming.) Here in the stadium, there was electricity in the air as the men's -73kg event began.
It's Day 2 of the competition and despite a lot of expectation for athletes like America's Alyssa Ritchey (who didn't make weight), Iran's Kianoush Rostami (who didn't turn up), and Romania's Loredana-Elena Toma (who missed all her snatches), nobody had broken any world records yet.
As the -73kg athletes were announced and the crowd's eyes swiveled to the scoreboard to see the roster and the opening lifts, two things were immediately clear:
CJ Cummings would make a run at a new Junior World Record,
He'd be slugging it out for first place against Venezuela's 23-year-old Julio Mayora
Cummings, the only junior in his weight class, had the Junior World Records for the snatch (154 kilos), clean & jerk (193 kilos), and total (347 kilos).
Only five -73kg athletes were competing (Oscar Figueroa was meant to, but he didn't end up arriving for the competition) and three of them would finish their third attempts before Cummings and Mayora would open with their first.
Their weights were far ahead of their competition, and it was clear they both wanted gold.
[Here's how to watch the IWF Grand Prix]
https://www.instagram.com/p/Bbp4FndBmip/
The Snatches
Junior WR to beat: 154kg
Cummings opened with a 145-kilo snatch. Nailed it.
Mayora hit 147 kilos.
Cummings had 148 planned, but moved his second attempt up to 150 kilos:
He made the lift, clean as a whistle.
Mayora snatched 151 kilos and at first it looked victorious — two white lights and one red — but the judges then reversed their decision due to a pressout.
After two attempts, Cummings was in the lead and was planning to finish the snatches with 151 kilos, until Mayora moved up his planned third attempt. Cummings changed his to 153. Mayora switched to 154.
Then, finally, it was confirmed: Cummings would try for 155 kilograms, which would be a new Junior World Record.
Finally, it was time for the two to actually attempt their third snatches. With the lower weight, Mayora went first and with no small amount of struggle and a lot of bulging neck muscles, he managed to finish the 154-kilo snatch.
All iPhones were on Cummings as 155 went on the bar and he went for a new Junior World Record, but it fell behind him. No lift.
Mayora wins gold for the snatch with 154 kilos.
Cummings came second with 150, and Uzbekistan's Doston Yokubov was third with 142 kilos.
The Clean & Jerks
Junior WR: 193kg
The clean & jerks went about the same: it was all about Mayora and Cummings, who started lifting after everyone else was finished.
With barely a dip in the jerk, the junior American made 182 kilos. Mayora moved his first attempt up to 185, so CJ moved his second attempt up from 183 to 187.
The Junior World Record was 193. The audience looked at one other knowingly: he's going for the 194 record.
CJ nails 187.
Mayora hits 188.
And as fast as the announcer could keep up, the two athletes changed their third attempts: 189, 190, 192, and then Cummings made it official: he wanted 194 kilograms on the bar. He was taking a run at the record. Mayora sat at 192.
"For the most part, me and (Mayora) were calm, but it was like a battle of the coaches," Cummings told BarBend of the final moments of their event. "They were strategizing on what they were going do, so I mean it was intense, but at the same time it was calm. So it was pretty cool."
In the end, neither made their third attempts and the placings looked like this:
Snatch
Gold: 154kg, Julio Mayora
Silver: 150kg, CJ Cummings
Bronze: 142kg, Doston Yokubov
Clean & Jerk
Gold: 188kg, Julio Mayora
Silver: 187kg, CJ Cummings 187
Bronze: 183kg, Doston Yokubov – 183
Total
Gold: 342kg, Julio Mayora
Silver: 337kg, CJ Cummings
Bronze: 325kg, Doston Yokubov
Here are CJ's best lifts.
The Kicker
Besides winning silver while being the only junior in his weight class, Cummings has another thing to celebrate: he's now essentially guaranteed a spot at the Olympics, the first Team USA weightlifter to receive the honor.
"This year, my coach told me going in that I was going to be competing a lot because with me being a Junior and competing at so many competitions, that was to get the Robi points up, that's why I was traveling this place and that place all year," Cummings explains. "But now I can relax. I know all I have is the Junior Worlds next year, and that's the only competition before the Olympics."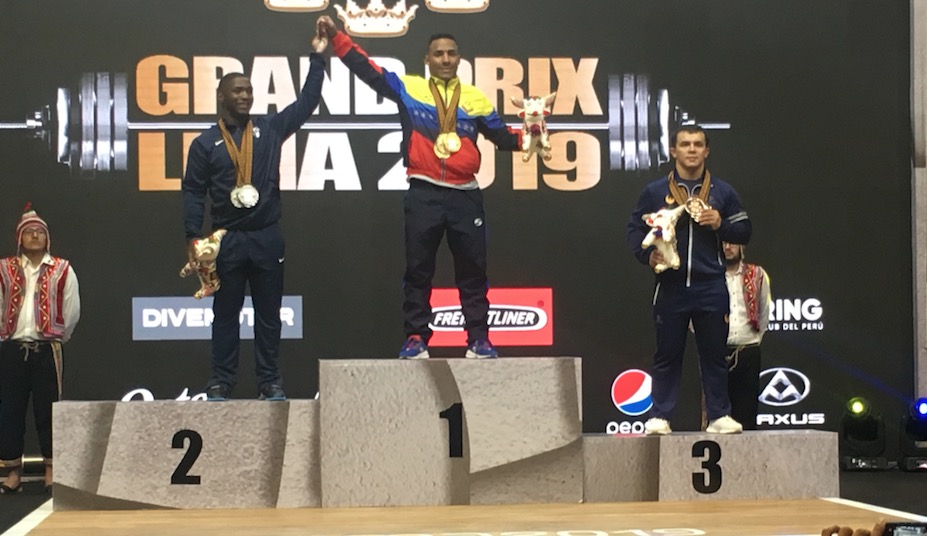 Olympic bureaucracy is enormously complicated, but Cummings is currently ranked second worldwide in the -73kg class after China's Shi Zhiyong.
In order for him to lose his spot in Tokyo, USA Weightlifting's CEO Phil Andrews explained to BarBend that six other -73kg weightlifters would need to break the world record total, by dozens of kilograms, before next summer.
So it's technically possible that CJ won't be going to the Olympics, but practically speaking: we'll see him in Tokyo.
Editor's Note: BarBend is the Official Media Partner of USA Weightlifting. The two organizations maintain editorial independence unless otherwise specified on partner content.
Featured image via @cj__cummings on Instagram.