This week, dozens of the world's best weightlifters will be competing in one of the most exciting weightlifting events of the year: the IWF Grand Prix, which is being held in Lima, Peru.
Hosted by the Peruvian Weightlifting Federation and in partnership with the International Weightlifting Federation, CSLP (The South American Weightlifting Confederation) and ODESUR (the organization that manages the South American Games), this is an Olympic qualifying event that awards prize money to athletes who podium in their weight class, with bonuses for breaking junior and senior world records.
Where Is the IWF Grand Prix?
In the Peruvian capital of Lima. While it was originally going to be held in the Villa Deportiva Nacional (VIDENA), where the 2019 Pan American Games were held, the venue has been moved to the Eduardo Dibos Coliseum in the city's San Borja District.
Which Weight Classes Are Competing When?
The event starts at 11am local time (GMT -5, the same as Eastern Standard Time in the US) on Friday November 8, Saturday November 9, and Sunday November 10.
The precise schedule has shifted a little in the previous weeks, but here is what looks like the final timetable. Note there are ten weight classes (5 for men, 5 for women) that will be competing.
Friday, Nov 8
11am – 12:30pm: -61kg Men
1pm – 3pm: -49kg Women
3:30pm – 5:30pm: -67kg Men
6pm – 8pm: -55kg Women
Saturday, Nov 9
10:30 – 12:30pm: -64kg Women
1pm – 2:30pm: -73kg Men
3pm – 4:30pm: -81kg Men
5pm – 6:30pm: -76kg Women
Sunday, Nov 10
11am – 1pm: -96kg Men
1:30pm – 3:30pm: -87kg Women
5:30pm – 9pm: Closing Ceremony
https://www.instagram.com/p/Bn1LkanBEzF/
Who Is Competing?
Invites were extended to the top 12 athletes in each country according to their IWF ranking.
"Countries we are expecting in Peru are, basically, the best in the world in weightlifting," says Renzo Manyari, the President of Peru's weightlifting federation. "Spain, Russia, China, Uzbekistan, Chile, Colombia, USA."
Here's the current list:
Men
-61kg
Luis Alberto Garcia Brito (Dominican Republic)
Francisco Antonio Mosquera Valencia (Colombia)
Otto Felix Oñate Araujo (Cuba)
Cristhian David Zurita Vallejo (Ecuador)
Josue Brachi Garcia (Spain)
Antonio Vazquez Mendez (Mexico)
Marcos Antonio Rojas Concha (Peru)
-67kg
Huang Minhao (China)
Luis Javier Mosquera Lozano (Colombia)
Acoran Juan Hernandez Mendoza (Spain)
Edgar Ismael Pineda Zeta (Guatemala)
Jonathan Antonio Muñoz Martinez (Mexico)
Ronnier Zaed Martinez Castillo (Panama)
Luis David Bardalez Ruisima (Peru)
Jacob Christian Horst (USA)
Adkhamjon Ergashev (Uzbekistan)
-73kg
Oscar Albeiro Figueroa Mosquera (Colombia) Edit: Figueroa appears to be a no show
Jorge Adan Cardenas Estrada (Mexico)
Oscar Adrian Terrones Miranda (Peru)
Clarence "CJ" Cummings (USA)
Doston Yokubov (Uzbekistan)
Julio Ruben Mayora Pernia (Venezuela)
-81kg
Zacarias Bonnat Michel (Dominican Republic)
Brayan Santiago Rodallegas Carvajal (Colombia)
Addriel La O García (Cuba)
Andres Eduardo Mata Perez (Spain)
Santiago Daniel Villegas Fernandez (Peru)
Rejepbay Rejepov (Turkmenistan)
Christian Angel Rodriguez Ocasio (USA)
-96kg
Marco Tulio Gregorio Machado (Brazil)
Arley Mendez Perez (Chile)
Tian Fuxuan (China)
Jhonatan Rivas Mosquera (Colombia)
Paul Alexander Ferrin Arroyo (Ecuador)
Kianoush Rostami (Iran) Edit: Rostami appears to be a no show
Ronald Alberto Arzamendia Vatteone (Paraguay)
Amel Karim Atencia Priou (Peru)
Don Opeloge (Samoa)
Jason Jermaine Bonnick (USA)
Angel Jose Luna Marin (Venezuela)
Women
-49kg
Nathasha Rosa Figueiredo (Brazil)
Amanda Melissa Braddock (Canada)
Zhang Rong (China)
Ana Iris Segura Segura (Colombia)
Maria Alejandra Navaroo Mejia (Nicaragua)
Fiorella Francesca Cueva Uribe (Peru)
Lely Berlitt Burgos Ortiz (Puerto Rico)
Kristina Ivanovna Sobol (Russia)
Yulduz Dzhumabayeva (Turkmenistan)
Hayley Marie Reichardt (USA)
Alyssa Lynn Ritchey (USA)
-55kg
Yenny Sinisterra Torres (Colombia)
Maria Alexandra Escobar Guerrero (Ecuador)
Ana Gabriela Lopez Ferrer (Mexico)
Shoely Mabel Mego Contreras (Peru)
Svetlana Ershova (Russia)
Stephanie Kristin Lemmen (USA)
Muattar Nabieva (Uzbekistan)
Genesis Lourdes Rodriguez Gomez (Venezuela)
-64kg
Maude G Charron (Canada)
Mercedes Isabel Perez Tigrero (Colombia)
Angie Paola Palacios Dajomes (Ecuador)
Janeth Gomez Valdivia (Mexico)
Eldi Jhasmin Paredes Vasquez (Peru)
Loredana-Elena Toma (Romania)
Mercedes Noemi Portela Milichio (Uruguay)
Danielle Marie Roberts Gunnin (USA)
-76kg
Kristel Ngarlem (Canada)
Leidy Yessenia Solis Arboleda (Colombia)
Melisa Maida Aguilera Peña (Cuba)
Neisi Patricia Dajomes Barrera (Ecuador)
Aremi Fuentes Zavala (Mexico)
Estrella Belen Saldarriaga Dioses (Peru)
Shacasia Masha Johnson (USA)
-87kg
Eileen Cikamatana (Australia)
Jaqueline Antonia Ferreira (Brazil)
Maria Fernanda Valdes Paris (Chile)
Ao Hui (China)
Valeria Rivas Mosquera (Colombia)
Tamara Yajaira Salazar Arce (Ecuador)
Anacarmen Torres Wong (Mexico)
Angie Milagritos Castro Abad (Peru)
Jenny Lyvette Arthur (USA)
Naryury Alexandra Perez Reveron (Venezuela)
How Much Do Athletes Win?
Here's the prize money for each weight class, in US dollars:
1st place: $5000
2nd place: $3000
3rd place: $2000
In addition:
a $2000 bonus is provided for athletes that break a junior world record total and,
a $3000 bonus applies for breaking senior world record totals.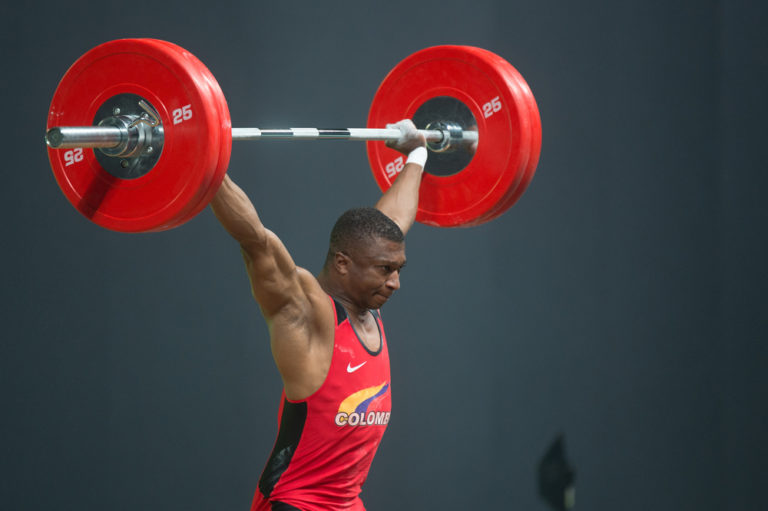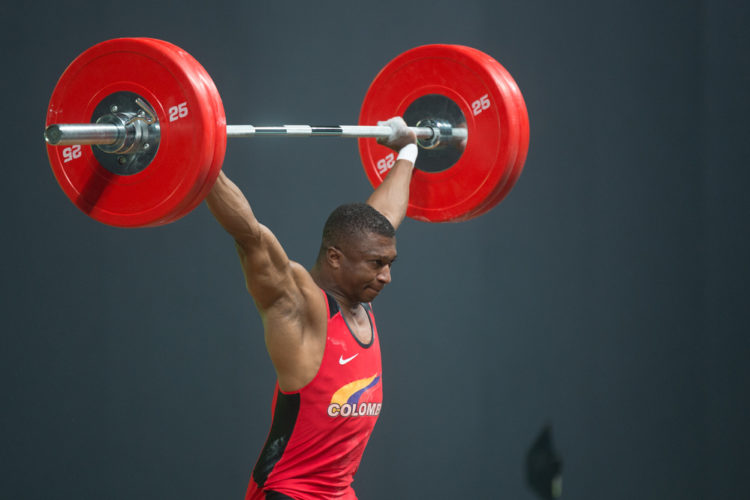 Who Should We Watch For?
Speaking to BarBend, Team USA's Alyssa Ritchey (-49kg) said that she expected her weight class to be one of the most hotly contested.
Ritchey herself won the 2019 Pan American Games with a 190-kilo total (a Pan American record) but she's in the most stacked weight class of her gender. She's competing against ten other athletes, like Canadian record holder Amanda Braddock and China's Zhang Rong, who took two medals at the 2019 Asian Weightlifting Championships.
"I'm super excited to be here," Ritchey said at a press conference for the Grand Prix in Lima. "I came right off of Worlds, probably as many athletes did, and trying to get in shape very fast and do another weight cut and mentally be ready for some hard training, that was difficult."
But she's optimistic about her chances, noting that she visualizes her lifts for months leading up to an event.
American fans will also be watching the performance of junior world record holder CJ Cummings (-73kg), who competes on Saturday afternoon, and Iranian favorite Kianoush Rostami will continue his Olympic bid on Sunday morning as a newly minted -96kg lifter. Edit: Rostami appears to be a no show.
Also from central Asia, Uzbek junior world record holder Adkhamjon Ergashev (-67kg) is sure to make a mark on Friday afternoon and 2017 World Champion Loredana-Elena Toma (Romania) is definitely a favorite for her -64kg class.
Colombian medalist Luis Javier Mosquera (-67kg) tends to draw plenty of attention when he competes, while the IWF's Director General Attila Adamfi told BarBend he was quietly optimistic about Australian 20-year-old Eileen Cikamatana (-87kg), who he thinks might be capable of setting a junior world record.
But this is anybody's game — and we can't wait to see what kind of numbers these athletes put up. Keep an eye on BarBend for an upcoming guide for how to watch the IWF Grand Prix live online.
Editor's Note: BarBend is the Official Media Partner of USA Weightlifting. The two organizations maintain editorial independence unless otherwise noted on specific content projects.
Featured image via @cj__cummings and @kianoush_rostami on Instagram.