On the second day of the IWF Grand Prix in Peru, Team USA took home six medals: three silver medals from CJ Cummings and three from Shacasia Johnson, a -76kg athlete who put on a stellar performance and brought home the United States' first gold medal from the event.
The 23-year-old Missouri native faced stiff competition from the other -76 kilo women:
Kristel Ngarlem (Canada)
Leidy Yessenia Solis Arboleda (Colombia)
Melisa Maida Aguilera Peña (Cuba)
Neisi Patricia Dajomes Barrera (Ecuador)
Aremi Fuentes Zavala (Mexico)
Estrella Belen Saldarriaga Dioses (Peru)
Shacasia Masha Johnson (USA)
But she managed to go six for six at her meet, beating out Colombia's Leidy Solis for first place in the snatch with a mighty 107-kilogram lift, which she completed with just one second left on the clock. Watch it below:
https://youtu.be/_22RkrYO1IY
As a side note, if you can believe it, this isn't even the heaviest snatch Johnson has made in the last month. On October 22, she made a 112-kilogram snatch in training, which is 4 kilos over Quiana Welch's current American record in the lift:
Back to Lima.
When it was time for the clean & jerks, Johnson came in second with this powerful 134-kilogram lift, seen below:
https://www.youtube.com/watch?v=zqUdbyXzqr4
But in this portion of the event, she was no match for Leidy Solis, who finished with a tremendous 145-kilogram clean & jerk, earning her gold in this lift and the total.
The final placings for the event were:
Snatch:
Gold: Shacasia Johnson, 107kg
Silver: Leidy Solis, 106kg
Bronze: Aremi Fuentes, 105kg
Clean & Jerk
Gold: Leidy Solis, 145kg
Silver: Shacasia Johnson, 134kg
Bronze: Aremi Fuentes, 131kg
Total:
Gold: Leidy Solis, 251kg
Silver: Shacasia Johnson, 241kg
Bronze: Aremi Fuentes, 236kg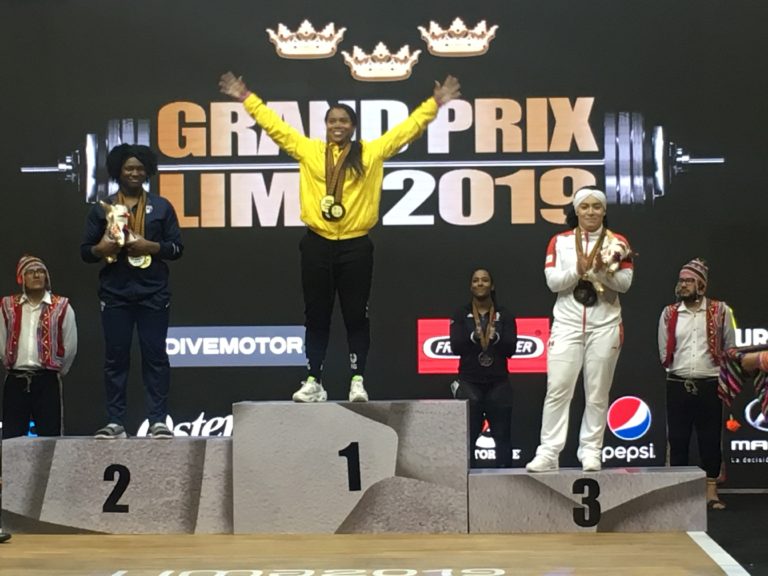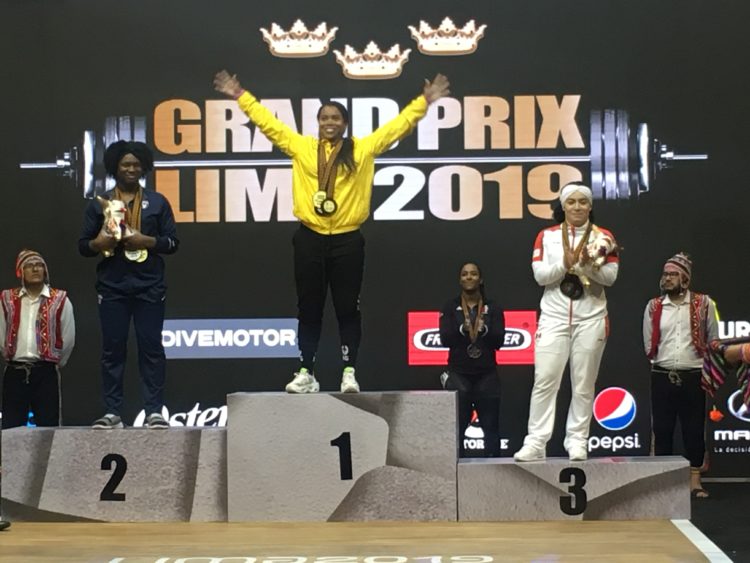 Colombia, in general, has had a terrific showing at the Grand Prix thus far, winning the -61kg Men's, -67kg Men's, -55kg Women's, and now the -76kg women's divisions.
We're looking forward to seeing how the event wraps up on Sunday with the heaviest divisions, the -96kg Men (11am EST) and -87kg Women (1:30pm EST). You can stream it all here.