Editors note: This article is an op-ed. The views expressed herein are the authors and don't necessarily reflect the views of BarBend. Claims, assertions, opinions, and quotes have been sourced exclusively by the author.
Since 2009, Nike Weightlifting Shoes have been making a resurgence as a go to shoe for Olympic Weightlifters and other strength sport athletes. The driving force behind their return has been a company called Athlete Performance Solutions (APS), a company based out of the Austin, Texas, area that licenses and distributes shoes and apparel with the Nike brand for Olympic sports.
APS is the company that sets up booths at USA Weightlifting (USAW) events, they provide outfitting for USAW athletes going to international competitions, and they organize sponsorships with National Federations of many sports to use Nike as an official business partner. In a nutshell, APS is the matchmaker that helps Nike do business with smaller Olympic Sports where it may not otherwise be profitable for them to do so. As of today, the core sports they concentrate on are (according to their website) Boxing, Volleyball, Fencing, Wrestling, Rowing, and Olympic Weightlifting.
As a company, Nike makes almost every type of shoe imaginable under the sun, from boxing to sailing to dancing. Up until the early 1990's, Nike had a presence in the weightlifting shoe market. However, around that time — presumably due to low sales volume — they got out of that avenue. If you fast forward to around the 2009, Nike got back into weightlifting shoes with the release of the first version of the Romaleo shoe.
It's pretty easy today to buy weightlifting shoes; all you need is an internet connection, and any number of websites will sell you a pair. When I started out back in 2002 that was not the case; for as much of a fringe sport as it is today, back then, weightlifting was far less mainstream. In my hometown of Buffalo, NY, my club at the time trained in the back room of a commercial gym. When I joined, the gym owner pulled out his rolodex and gave me the number of a man who distributed Adidas weightlifting shoes. I bought my first pair of shoes over the phone, the "Adidas Power Perfect 1," in white with blue finish.
At that point in time, the options of brands were limited to Adidas and a few smaller companies. Color choices were any color you wanted, as long as you wanted primarily white or primarily black. I would say up until 2011, America seemed like an "Adidas" country, where a majority of weightlifting shoe owners wore Adidas. Today, Adidas is still a big player in the market, though their stranglehold on the American, and international, market has been replaced by a very loose grip. One main reason for this is that Nike decided to have a larger involvement in the Olympic sports; and that includes Nike's weightlifting shoes.
Today, Nike's weightlifting shoes are available in at least 14 different colors, and that list is continuously evolving. As per the APS website, they have official partnership agreements with 7 federations in the International Weightlifting Federation (IWF) – including USA Weightlifting – where they supply outfitting (shoes, apparel, and accessories) for team members that will compete in international competitions.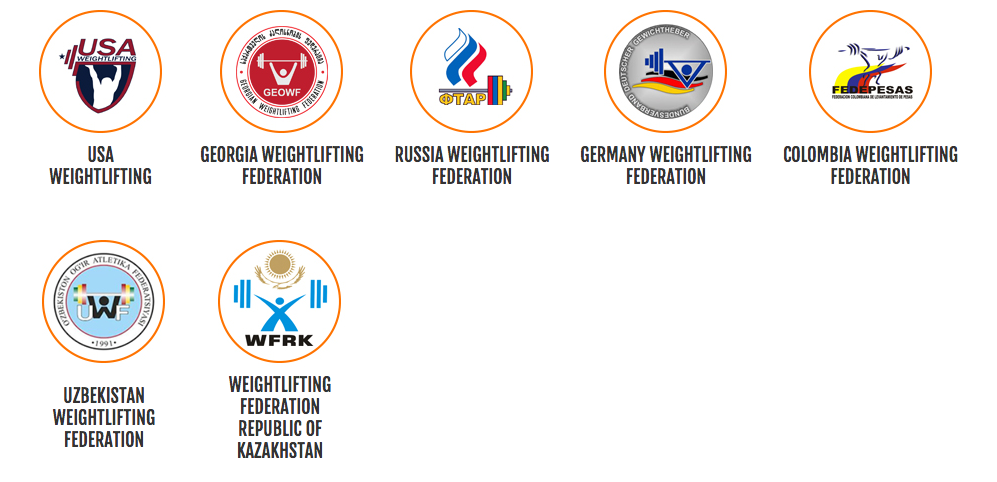 Image: https://www.athleteps.com/nike-weightlifting/
These types of sponsorship arrangements are nothing new; the federations and athletes are provided with value in kind (VIK) through shoes, apparel, gear, and other necessities. In return, Nike gets great marketing of their brand and that leads to increased brand awareness in these countries and overall in the weightlifting world. If athletes are successful wearing Nike (or any other company's) brand, then the success of that athlete and that brand as being identifiable will theoretically increase together.
Two of the countries that Nike Weightlifting is a direct sponsor of had quite a controversial year in 2016. The weightlifting teams of Russia and Kazakhstan were heavily featured in allegations and multiple doping offenses based on re-analysis of Beijing 2008 and London 2012 drug testing samples. Ilya Ilyin, the two-time Olympic Champion and World Record holder from Kazakhstan, was a public proponent and wearer of Nike weightlifting shoes due to their stability. However he was at the center of re-testing controversy as the International Olympic Committee (IOC) determined that he had utilized Performance enhancing drugs (PEDs), and they stripped him of his Olympic medals. The Russian Federation was barred from competing at this past summer's Olympics due to the IWF's ruling based on the severity of their doping allegations.
The reality is that sponsors generally like winners. While in the past decade USAW typically is not winning medals at international events like the Olympic Games (though this seems to be changing), there are over 360 million people in the country, and it has the largest economy in the world.
While Russia is one of the largest countries in the world based on population, APS also has a sponsorship agreement in place for Uzbekistan – a country that boasts a dominant weightlifting program. Uzbekistan also has a population of 31 million people, and their weightlifting federation was not allowed to send a female Olympian based on multiple doping violations.
That being said, Nike Weightlifting and APS have had success with sponsoring successful Olympic Weightlifting Programs. The 7 weightlifting federations they have official sponsorship agreements with won 9 medals overall at the 2016 Olympic Games. This included gold medals won by Oscar Figueroa, Lasha Talakhadze, Nijat Rahimov and Ruslan Nurudinov.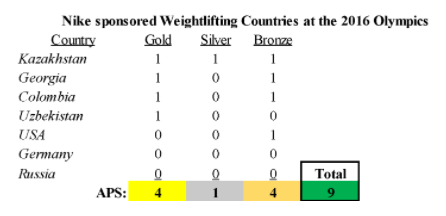 Personally, I would consider America to be a "Nike" country when it comes to weightlifting, and it is not just weightlifters who wear Nike weightlifting shoes. More and more, I am seeing functional fitness athletes, powerlifters, and strongmen choosing to wear the Romaleos in their training and competition.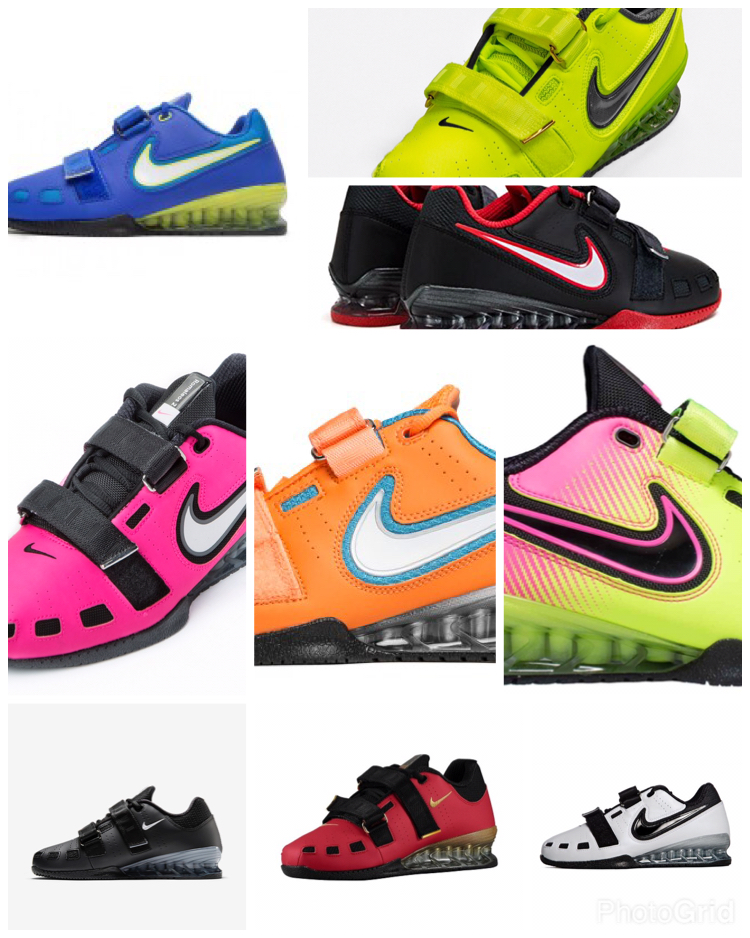 Worldwide, I am seeing the same scenario occur where Nike is earning market share in markets traditionally dominated by Adidas. I believe it is quite remarkable that Nike has an official sponsorship with the German federation, because Adidas is a German company. To me, this speaks volumes to how Adidas has fallen in the weightlifting world and Nike has blossomed. In 2014, when the Spanish team competed at the Arnold Weightlifting Championships, their shoe preference was Adidas. Today, I see many of their athletes wearing shoes made by Nike.
One of the first countries that had a sponsorship agreement with Nike and APS was the Chinese Federation, right after the Beijing Olympics of 2008. However, around 2014, the sponsorship agreement ended and China was sponsored by Anta, a Chinese sporting goods company. When I was at the 2014 World Championships, the Chinese team's singlets were branded with the Anta logo, and most of the athletes wore Anta shoes.
However, there were several high level athletes who still wore the Nike weightlifting shoes due to personal preference. The compromise with the Chinese Federation was that a piece of tape was required to be placed over the traditional Nike "Swoosh" logo, however no one was fooled. In the below photo you can see Yue Kang of China, who won a silver medal at the 2014 World Championships in the 75KG category.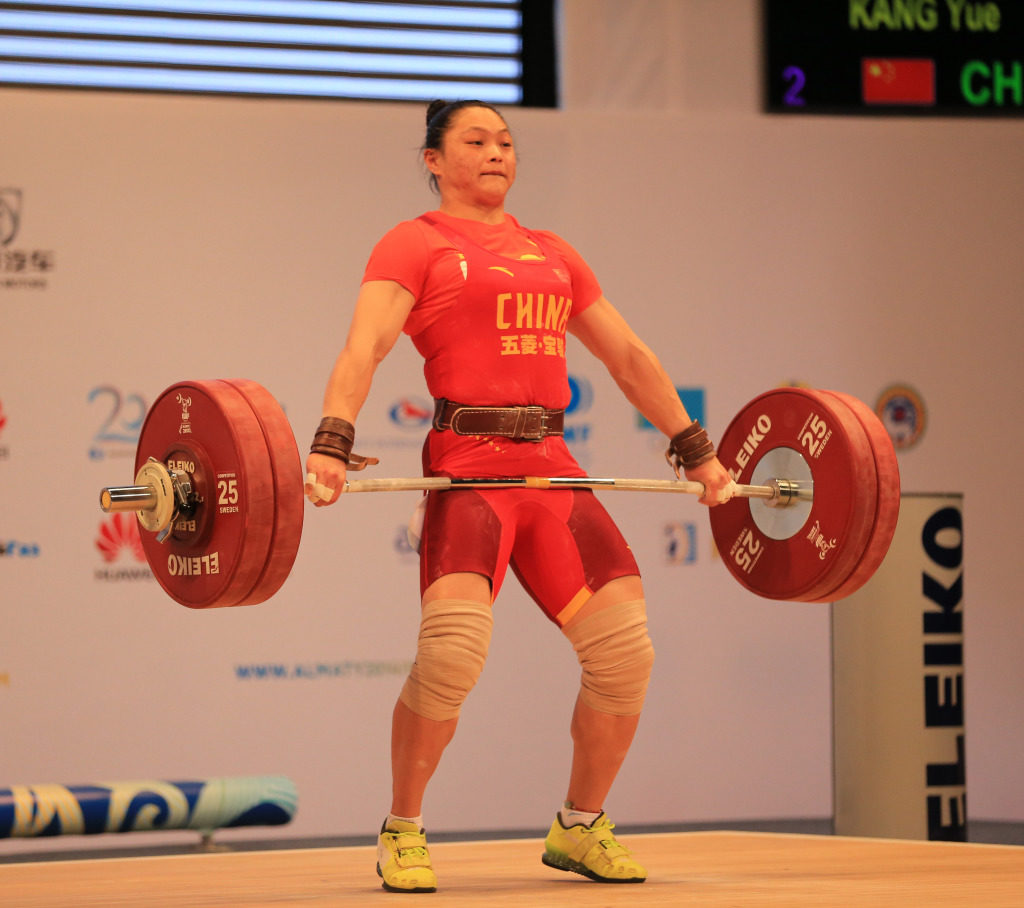 China's Yue Kang lifting in Nike shoes at the 2014 World Championships in Almaty, Kazakhstan. Tape is placed over the Nike logo. Photo by Bud Charnega
Recent buzz has been with the release of the Romaleo 3, the latest weightlifting shoe manufactured by Nike. Last week, I talked over the phone with Anthony Pomponio, a former resident athlete at the US Olympic Training Center (USOC). Several athletes who had trained at the USOTC have been testing out the new shoe for several months already, including Pomponio.
In his own words:
"They are the best weightlifting shoe I have ever worn in my six years in the sport. I have tried a lot of shoes; Adistars, Adipowers, Romaleo 1s and Romaleo 2s and up to date they are my favorite shoe. They mold to your foot, they are nice and light- very good flexibility of the toes in front. They fit like a shoe."
Going forward, the world of weightlifting seems to be becoming the playground of Nike and APS. My personal opinion is that their presence makes weightlifting more of a legitimate sport that deserves respect. I also really enjoy the Nike shoe; years ago when I won a national championship in USAW, I was wearing Nike Romaleos. It is similarly priced to other brands of shoes in the marketm and Nike produces a high quality product that is fashionable and will provide years of wear out of. Everyone from Mattie Rogers to Olympic Champion Kianoush Rostami is wearing Nike shoes – and they are pretty good athletes themselves.