Nick Walker is a visionary. Not just in the grandiose, philosophical sense — he seems pretty capable of literally seeing the future. In September 2021, Walker predicted publicly that he would finish in the top five at the 2021 Mr. Olympia contest. A few weeks later, he finished fifth in his first appearance at bodybuilding's most prestigious competition.
For fans of the sport, it may be unclear whether Walker's rapid ascension in professional bodybuilding is an act of providence or the result of sheer willpower. At only 27 years old, Walker's stellar Olympia finish — coupled with his winning debut at the 2021 Arnold Classic and win at the 2021 New York Pro — might herald him as the next big thing in bodybuilding.
To get to the bottom of how Walker rose to the top, BarBend caught up with "The Mutant" to reflect on his triumphant year, his lessons learned from 2021, and how he's going to outperform himself — and everyone else — in 2022.
View this post on Instagram
From the Arnold to the Olympia
Confidence is vital in any sport, especially competitive bodybuilding. Walker echoed the importance of maintaining pride in himself and his stage presence, stating that he never really doubted his ability to place in the top five at his first Mr. Olympia event. That said, he truly wasn't certain of how things would shake out on the day.
But the 2021 Arnold Classic, where Walker edged out Iain Valliere and third-place finisher Steve Kuclo, proved to be a significant milestone for the New Jersey native:
Once I won the Arnold, I thought I had a legitimate shot at top three at the Olympia.
That level of self-assuredness isn't an act, either. Fans of Walker's know that he doesn't posture for the camera or the microphone — presenting himself authentically to the world is something Walker believes to be an asset to his career. His YouTube channel has experienced exponential growth throughout 2021. "People want to see the real Nick Walker," he believes.
Nick Walker's Training
Making first callouts at the Olympia takes a lot more than luck. One of Walker's hallmarks that sets him apart from many of his peers is his ludicrous muscularity — a trait he pushed hard to develop throughout his preparation.
When prompted to describe his three most high-value exercises, Walker revealed that he's doing a lot more cable movements and chest-supported rows to help him "really connect with his back."
Bringing out more detail in my back is a goal of mine for 2022.
For leg work, Walker admits that he's been chewing on a lot of hack squats and machine moves to grow his quads while paring down his use of the barbell and other free weights.
"The judges at the Olympia told me I need to bring up my quads, so I'm working hard to dial them in."
To the Olympia and Beyond
Despite his size being a massive asset, Walker isn't as interested in continuing to grow as he looks forward to future competitions. "I already have plenty of size, and I grow naturally," he remarks.
For 2022, I want to bring out the detailing in my back and quads and look more aesthetic.
Walker is a man that values control. To get where he wants to be, he recognizes the importance of getting in front of potential pitfalls to his training or recovery.
"If I'm dealing with joint pain, I'll adjust my weights accordingly to stay on track," he says, but "sometimes you just have to tough it out."
Walker also mentioned how important having the right pre-workout supplement is. Before a gym session, he'll often grab a can of CELSIUS Heat — the strong caffeine content paired with performance-enhancing ingredients like L-citrulline and green tea extract help him "really feel a difference."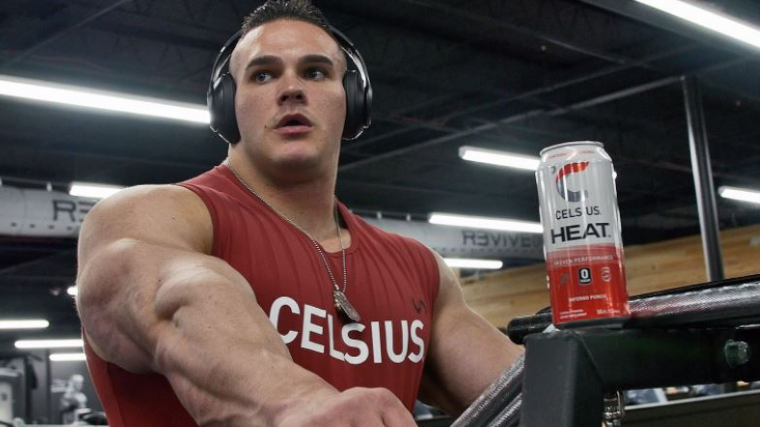 While some of his contemporaries may be more interested in adding inches to their biceps or bringing up lagging pecs, Walker is focusing on the art of bodybuilding itself. If he can make his posing picture-perfect, especially breathing properly with all the mass he carries, he'll be all the better for it on stage.
If I can get my posing down, competition time will be a breeze.
In particular, Walker mentions that he doesn't feel particularly connected to his lats: "Even though they're wide, I feel I have difficulty spreading my lats, so I'm working on that with some massage work," he adds.
Nick Walker's Off-Season Leg Workout
Bodybuilding shows may be won from the back, but an impressive set of quads can carry you far on the stage. That's no secret to two-time and current Mr. Olympia Mamdouh "Big Ramy" Elssbiay, and it's something Nick Walker knows as well.
To make sure his legs are even more of an asset to the package he brings to each competition, Walker is showing some extra love to his quads during the off-season. Below is his current approach to quadricep-focused leg training.
Quad-Focused Leg Workout
Leg Press*: 3 x 12-15 with ascending weight on each set
Hack Squat: 3 x 10-12
Hip Press Machine: 3 x 12-15
Leg Extension: 3 x 12-15 with a triple drop set at the end
Note: Walker emphasizes the importance of using the leg press for quad activation and mind-muscle connection.
Onwards and Upwards
Nick Walker has a long career ahead. Few athletes in bodybuilding history have made such significant strides in the professional circuit before their 30th birthday. Far from resting on his laurels, Walker seems more dedicated than ever to maintaining his momentum going forward and securing a Sandow of his own.
BarBend asked Walker what his fans should expect from him in 2022, and he made it very clear that he's going all-out at the 2022 Mr. Olympia.
If you're hungry for more interviews with some of the biggest names in strength sports, check out some of these other pieces from BarBend:
Featured Image: @nick_walker39 on Instagram