The 2021 Kern US Open, which took place on April 24, 2021, was a highlight reel full of world record lifts, big personalities, and rowdy fans. One of the lifters fans were pumped up to see was Nick Best. The 52-year-old strongman and powerlifter stepped on the platform with hopes of breaking his own deadlift world record of 370 kilograms (815.7 pounds) in the Over 50, 140-kilogram category. Unfortunately, his record-setting attempt of 372.5 kilograms (821 pounds) didn't go as planned.
"When I pull, if the bar comes off the ground, I've got it. I almost never miss," Best tells BarBend. "I felt like it was going to go, and [my] lat gave. It felt like I got shot in the arm or something."
I knew right away as soon as I lifted my arm straight over my head with no resistance, that yeah, the lat is off.
Best's left lat tore at the tendon. Since there aren't many nerves or arteries in the tendons, he wasn't in too much pain. Nonetheless, he hung up his lifting belt for the day and then promptly scheduled surgery.
"[The surgeon] used the tendon that was left, and he put a graph on it as well," says Best, who had surgery on May 13, 2021. "To make sure it held, he drilled two holes into my humerus. Then he used sutures that had to be the size of shoelaces to pull through to connect my lat to the humerus."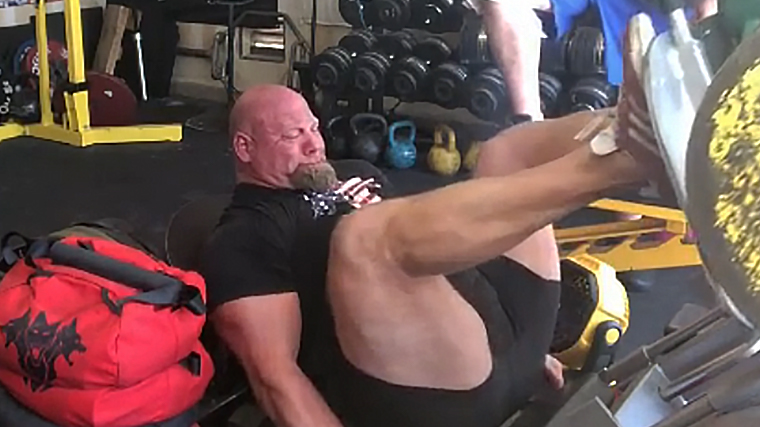 According to Best's physician, the surgery was expected to take about an hour. But the sheer amount of muscle on Best's 6'2″, 305-pound frame was a curveball for the doctors.
"It actually took three hours and 45 minutes," Best says. "I think he said it was the longest surgery of that type that he had done. He said that he hadn't seen a lat that big. It looked like a slab of roast beef."
For many people, recovery from a surgery of this type could take between 12 to 16 weeks. Armed with decades of experience, Best knows a lot about his body and muscle recovery. He employed some strategies that allowed him to return to training faster than expected. After a three-day checkup, his physician asked him to come back in two weeks. Best got to work immediately.
"During that time, I was doing (sled) drags to get my heart rate up…but nothing that would engage my lat," he says. Best also performed step-ups and other bodyweight movements in a pool to keep his heart rate up. After two weeks, the bruising from his tear had cleared out, and his incision was healed. Best was given the green light to start engaging his lats.
Whereas most people would start physical therapy in 12 weeks, the former star of Strongest Man in History was back in the gym in much less time. His workouts are far less intense than what he is known for, but Bests activity makes a difference. He trains on average around three times a week.
Below is what a week of training looks like for Best during his rehab. Specifically, he gave us his schedule for the Week of July 8, 2021, about three months after his injury. It may not be heavy — the weights he is using for all upper body training require less than 50 percent effort — but the elite lifter is making every set count.
July 8, 2021 — Deadlift & Legs
Best starts with deadlifts — his first time deadlifting since the injury occurred. He didn't go any heavier than 120 kilograms (265 pounds) for two sets of 10 reps. The heaviest he went on the safety bar squats was 235 kilograms (520 pounds) for an easy single.
View this post on Instagram
Deadlift: 2 sets of 15 reps
Safety Bar Squat: Work up to 1 set of 1 rep
Leg Press: 1 set of 10 reps/1 drop set of 20 reps/15 more after reducing the weight
Hyper Leg Curl: 2 sets of 10 reps
Leg Extension: 2 sets of 10 reps
July 12, 2021 — Chest, Triceps, & Biceps
Best trains at his home gym and in local gyms. On this day, he opted to go to a gym for this workout. He begins his chest training with the bench press. At the Kern US Open, he successfully lifted 220 kilograms (485 pounds). He was working with 84 kilograms (185 pounds) for five reps in this session. He followed that up with incline pressing with only one weight plate on each side of the bar (so 135 pounds).
View this post on Instagram
To get a lot of blood to the chest, he also performs presses and flyes with dumbbells back-to-back. The triceps and biceps work is all accessories for him at this point.
As tempting as it may be for Best to increase the loads he is working with, patience wins out. "Rome wasn't built in a day. Same thing here," he says. "I don't want to go through this again."
Flat Bench Press: 5 total sets of 5 reps
Incline Bench Press: 3 total sets of 5 reps
Flat Dumbbell Press: 3 sets of 10-20 reps
Superset with
Flat Dumbbell Flye: 3 sets of 10-20 reps
Incline Dumbbell Press: 3 sets of 10-20 reps
Superset with
Incline Dumbbell Flye: 3 sets of 10-20 reps
Triceps Extension: 3 sets of 15/10 reps
Superset with
Triceps Bar Push-Up: 3 sets of 15/10 reps
Alternating Dumbbell Curl: 3 sets of 10-20 reps
Triset with
Dumbbell Hammer Curl: 3 sets of 10-20 reps
Triset with
Dumbbell Reverse Curl: 3 sets of 10-20 reps
July 13, 2021 — Shoulders & Upper Back
Best trained the next day again. Though the Instagram post doesn't reflect it, Best added more upper back exercises into this specific day of training than what is shown.
View this post on Instagram
"I think for the row machine, I used 40 pounds," Bests says. "I only went to 50 pounds on the lat pulldown — just to get in the range of motion."
Seated Behind-the-Neck Press: 2 sets of 5 reps
Isolated Shoulder Press: 2 sets of 7 reps
Machine Lateral Raise: 2 sets of 10 reps
Dumbbell Lateral Raise: 2 sets of 10 reps, 2nd set with a drop set for 10 more reps
Dumbbell Front Raise: 2 sets of 10 reps, 2nd set with a drop set for 10 more reps
Reverse Pec-Deck: 2 sets of 12 reps
Seated Row Machine: 2 sets of 10 reps
Lat Pulldown: 2 sets of 10 reps
Looking Ahead
Best will follow up again with his doctor at the 16-week post-operation mark (Sept. 2, 2021). If he is given the green light, he hopes to increase the weights he's been working with. He already has a couple of potential dates in mind that he wants to return to the platform.
"That Kern (US Open) was the 25th year that I squatted over 800 [pounds] and totaled over 2,000 [pounds]," Best says. "I want to do 30 [years]." There's also talk of Andy Bolton breaking the Over 50 world deadlift record, which Best plans to snag back if Bolton does break it.
Still, record or no records, Best doesn't plan on stashing his lifting shoes in the closet any time soon: "To be honest with you, I love [training]. I live it. I breathe it inside and out."
Featured Image: @nickbeststrongman on Instagram