Brandon Hendrickson is feeling absolutely wavy headed into 2022. In October of 2021, the native Chicagoan clinched his third Men's Physique Olympia title, chowed down on some celebratory Brazilian cuisine, and jetted to Italy, where he won the Yamamoto Pro just a week later. He's now $54,500 richer between the two shows, continues to hold sponsorships with notable brands like CELSIUS and Yamamoto Nutrition, and runs a coaching/apparel company titled Big Waves LLC.
View this post on Instagram
And though he's leveraged his world-class physique to become an entrepreneur, bonafide fitness influencer, and world champion, Hendrickson has his sights set on more.
I'm definitely going to compete in Classic Physique. I'm going to be the first multi-division Olympia champion
"My priority right now is tying or beating Jeremey Buendia's record of four Men's Physique Olympia titles," Henrickson continues, "and then I'll start considering the change."
For context, Hendrickson won his first Olympia in 2018, lost to Raymont Edmonds the year after, and then stood his ground at the top of the podium in 2020 and 2021, The most winningest Men's Physique Olympia is Buendia, who won four titles from 2014-2017 and then retired.
So how does one of the top physique athletes in the world train and eat to achieve such lofty goals? BarBend caught up with Hendrickson to discuss his training, diet, thoughts on the state of the division, and more.
Transitioning to Classic Physique
Hendrickson admits he has some work to do before trading board shorts for posing trunks and taking the stage next to fellow three-time Olympia Chris Bumstead in Classic Physique.
"I'm going to have to take like six, seven months off, completely off, and really focus on training my legs and my back," Hendrickson says. "I'm not a big guy. I'm 5'9″. I'm 205 pounds in the off-season and get down to about 193 pounds in shape. For me, it's about the shape, conditioning, and quality of muscles on the bone."
Don't Call it an Offseason
With his competitive season in the rearview for now, Hendrickson's diet and training shift into a different gear. Most bodybuilders refer to this phase as the offseason, but Hendrickson quickly shut that term down.
"I don't have an offseason," Hendrickson says. "It's more of an improvement season. One of my new quotes is 'Stay ready, stay wavy'. It's a mentality, and I say that quote every single day, which has kept me on point. Stay ready, and you don't ever have to get ready."
When it comes to Hendrickson's offsea…er, improvement season, his adjustments are minimal. Instead of eating 100% clean (meaning adhering to his meal plan), Hendrickson allots 20% of his total calories to eat whatever he wants.
View this post on Instagram
Pre-workout, Hendrickson consumes 180 grams of cooked white meat (chicken or shrimp) and 150 grams of cooked white rice. Instead of a pre-workout supplement, Hendrickson grabs a can of CELSIUS Heat (Blueberry Pomegranate and Strawberry Dragonfruit are his two favorite flavors), which packs 300 milligrams of caffeine and L-citrulline for enhanced performance.
The State of Men's Physique
"We're not getting the [hype] or the marketing for our division," Hendrickson says. "I see a lot of pages that talk about Open bodybuilding and Classic Physique, but Men's Physique competitors do the same work. We make the same sacrifices. I'm not an upper bodybuilder — I'm a bodybuilder. I just wear board shorts.
To be clear, Hendrickson trains legs. He routinely posts photos of himself flexing his quads to his one million Instagram followers. And his quads are pretty impressive. There's a sharp separation between the main heads of the quadriceps, with veins forming a roadmap across the four-headed muscle group. For a guy whose paycheck depends on his upper half, you can tell he spends just as much time on his lower-body training.
That said, the Men's Physique prize pool saw a significant increase compared to 2020, with Hendrickson receiving $15,000 more dollars for winning in 2021. That, of course, made Hendrickson pretty happy — especially when he considers that his cash-prized match that of Classic Physique, which is one of the fastest-growing divisions in the IFBB Pro League.
"It would be nice to see more men's physique guys highlight and showcase their legs so that we get that respect," Hendrickson says. "I'm not going to expect us to be making $200,000 right now. The division started in 2012. So where we are as a division right now, I'm happy."
Hendrickson's Gym Bag Essentials
So what does one of the top bodybuilders in the world never leave to hit the gym without? Lifting straps? His weightlifting belt? Maybe a grip trainer?
"Walgreens chapstick. Chapstick nation, bro," Hendrickson quips. "I remember one year I was competing, and during one of my back poses, you could see my chapstick in my back pocket on stage. It was so embarrassing."
Hendrickson also keeps one of his Wavy Waist Trimmers in his gym bag at all times, and he's quick to dispel any ideas that this particular tool burns fat. (You need to track your macros and train consistently to lose fat; there's no way around it.)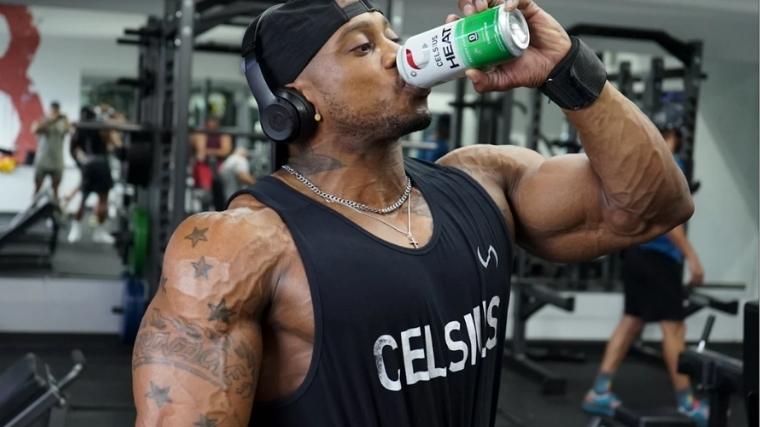 The way Hendrickson explains it, people store subcutaneous water in their waist region. By wearing a waist trimmer — akin to a polyester belt — you accumulate heat in the waist and therefore sweat out more water. If you're already very lean, then excreting that extra water may help reveal sharper abdominals.
Don't Make This Beginner Mistake
"People think you need to eat a whole bunch of calories — like through pizza and burgers — to grow, and it's not even about that," Hendrickson says. "You can still eat clean and grow."
Toning down the cheat meals, Hendrickson implies, will keep the core tight. Otherwise, you risk a soft core." "And once the [core] is out, the physique starts looking sloppy."
Brandon Hendrickson's V-Taper Workout
No physical asset is more prized in Men's Physique than the V-taper — defined as broad shoulders and back muscles that just out and down into a tight waist. And as the king of the Men's Physique division, no one is more qualified to give you a "V-taper workout" than Brandon Hendrickson. Here is his current back and shoulders routine.
Note: Due to the immense volume — 29 sets for the back and 28 for the shoulders — only perform each workout once per week to start.
Back
Pull-Up: 5 x 15-20
Machine Pullover: 4 x 12-15
Reverse-Grip Lat Pulldown: 4 x 12-15
Lat Pulldown: 4 x 12-15
Hammer Strength Row: 4 x 12-15
Rack Pull: 4 x 12-15
Assisted Pull-Up: 4 x AMRAP
Shoulders
More BarBend Profiles
Hankering for more insights from the industry's biggest and strongest? Check out these other interviews/profiles from BarBend:
Featured Image: @brandon.d.hendrickson on Instagram