Despite what has been one of the strangest years in recent memory, the 2020 Games are still on — but not without a dramatic shift in format. This Games will be two stages. Stage one (Sept. 18-19) will be a virtual competition that takes place over two days. The top five men and women will then travel to California to compete in stage two (Oct. 19-25) for the title of Fittest on Earth and a sum of $300,000 each.
Every athlete is different. While they're physical and mental beasts, this virtual format will have an impact — either positive or negative — on their performance. According to CrossFit Games veteran Steph Chung, who's also on the executive committee of the Professional Fitness Athlete's Association, one benefit for athletes could be a home-field advantage.
[Related: 2020 CrossFit Games Results and Leaderboard]
"Competing in your home box provides the comforts of knowing your equipment and space, sleeping and recovering in your own home, and potentially having a support crew up close and personal throughout the WODs," Chung told BarBend. "This format eliminates a lot of the unknown elements of competition and provides a less stressful environment, particularly for those that can be overwhelmed by the "on the floor" feeling."
That "on the floor" feeling, however, is also what drives a lot of athletes to perform harder than they may in isolation. A virtual event means that athletes won't know their placing until CrossFit HQ reviews their tape. Also, some competitors thrive off of being roused by a crowd of cheering fans and engaging in a little trash talk with fellow competitors.
View this post on Instagram

Recently, James Newbury, a fifth-place finisher at last year's Games, spoke with BarBend and elaborated on two athletes he thought may benefit and suffer from this new format.
"You can't look past someone who is, one, good at absolutely everything no matter what you give them…and then crushed the open — Patrick Vellner," Newbury says. "He'd be my pick. He's a freak athlete, has a good head on his shoulders, and he knows how to wrap his head around a little bit of adversity."
As for who may have a more challenging time with the virtual format, Newbury thinks that Brent Fikowski is a competitor who fairs better in live competition.
"Brent is super smart and super cerebral, but he is much better in face-to-face competition," Newbury explains. "Given the online format and not knowing what you're going to get, not being able to see everyone's times and play those on-the-field mind games, it won't favor him as much. But I still wouldn't put money on him not doing well."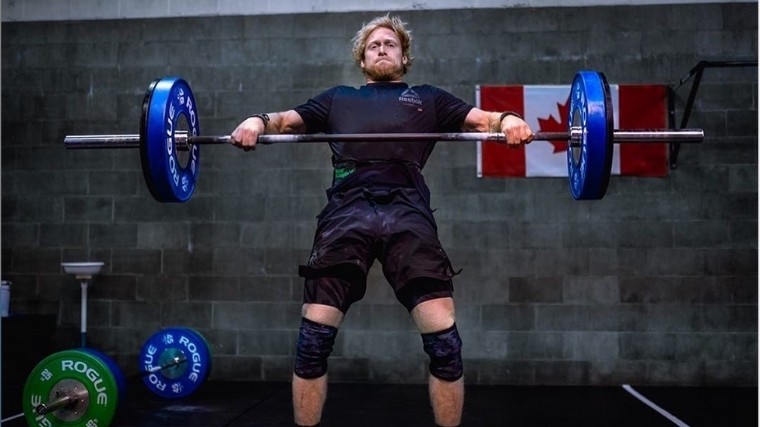 [Related: No Crowd, No Competitors: The Virtual CrossFit Games Is A Mental Challenge]
Athletes who competed in the Rogue Invitational — which took place on June 13-14 — already got a taste of virtual competition. Workouts were completed from the location of the athlete's choice. The main difference is that the competitors had to perform at odd hours, depending on where they live, since Rogue streamed the competition live. CrossFit instead chose a more athlete-friendly approach, as competitors will record their workouts and then send them to CrossFit HQ to be streamed hours later.
For fans, not having a live stream for the first half of the games may be disappointing. But remember that the athletes competing are putting it all on the line, so making their lives easier, even by just a little, will ensure better performances overall. After all, isn't that what it's all about?
Feature image from @pvellner on Instagram/Shelly Fey