Adrian Bozman has been full of surprises during his first year programming the 2022 NOBULL CrossFit Games. The introduction of variations of familiar movements has been an homage to the early CrossFit Journal.
Bozman seems to emphasize the fundamentals — parallel bars, a pool swim, and handstand push-ups (HSPU) with a twist. In Echo Press, the deficit wall-facing HSPUs appeared for the first time in CrossFit Games history.
Facing the wall during the HSPU (handstand push-up) with a deficit at the bottom challenged athletes not only to keep their bodies steady but also to know where their reps ended. Pressing up too early resulted in missed reps, but going deeper than necessary burned precious energy.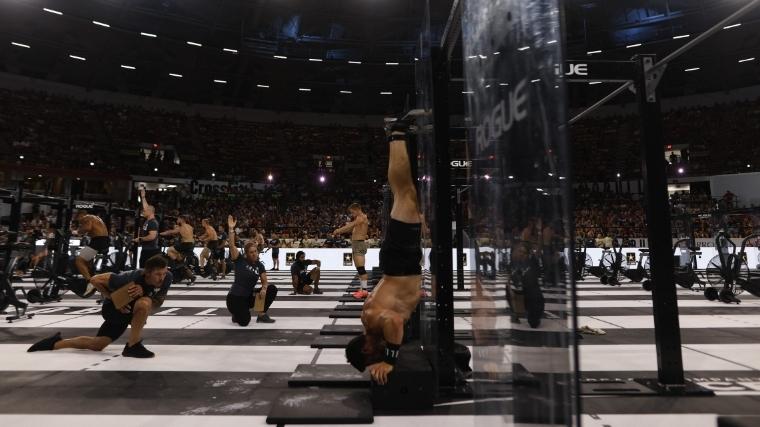 This HSPU variation proved too much for Ricky Garard, who ended the event with his worst finish of the 2022 year's Games up to that point. Alexis Raptis and Will Moorad figured out a workable technique, crushing the event and ranking first in their respective divisions.
Check In: [2022 CrossFit Games Results & Leaderboard]
View this post on Instagram
[Related: This One Exercise Tripped Up 10 Of The Fittest People On The Planet At The 2022 CrossFit Games]
HSPU in Event Seven
The deficit, wall-facing variation of the HSPU challenges even the fittest athletes on the planet for a multitude of reasons. Typically, competitors can kick up into position to start their push-ups, spending relatively little energy in the process. The variation seen in Event Seven forced athletes to wall-walk up blocks to begin each set, adding extra fatigue after every break.
The athletes are used to having their backs against the wall so they can squeeze their glutes and bring their midline into a stable, inverted position. Since the Echo Press forced them to face the opposite way, the athletes in Event Seven were caught off guard, and many struggled to maintain a proper hollow body position.
Event Seven Workout
For time:
Echo Bike — Men: 30 calories | Women: 25 calories
10 block Handstand Push-Up
Echo Bike — Men: 20 calories | Women: 15 calories
10 block Handstand Push-Up
Echo Bike — Men: 20 calories | Women: 15 calories
10 block Handstand Push-Up
Echo Bike — Men: 30 calories | Women: 25 calories
Women: two-inch deficit
Men: 3.5-inch deficit
Time cap: Men, 10 minutes, Women, 12 minutes
How to Build Up to a Deficit Wall-Facing HSPU
An altered HSPU may seem like an impossible gold standard for new CrossFitters and experienced athletes alike, but the movement can be modified to accommodate different fitness levels. Just make sure to progress slowly and only move on when you've truly mastered each version of the movement.
Below is a simple roadmap for building up to the version of the movement that Raptis and Moorad crushed during Event Seven:
Pike Handstand Push-Up (feet on the floor)
Box Handstand Push-Up (low box, 12 to 20 inches)
Box Handstand Push-Up (high box, 24 to 30 inches)
Wall-Facing Handstand Push-Up
Deficit Wall-Facing Handstand Push-Up (2022 CrossFit Games variation)
It's difficult to bail on a failed rep without a spotter, so pair up for this one. Be sure you have the prerequisite strength before attempting the next level of this progression. You should be able to perform eight to 12 unbroken reps with control before progressing to the next level.
It's important to be comfortable and competent with wall walks, as it is critical to assume the proper starting position for steps five and six of the above progression.
Event Seven Echo Press Results
Here are the full results of this technically-demanding workout:
Individual Women's Results
Alexis Raptis — 6:41.18
Tia-Clair Toomey — 7:45.28
Emma McQuaid — 8:01.72
Caroline Conners — 8:36.64
Dani Speegle — 8:57.34
Paige Powers — 9:24.43
Seungyeon Choi — 9:31.93
Alex Gazan — 9:39.33
Emma Lawson — 9:43.37
Arielle Loewen — 10:04.54
Individual Men's Results
Will Moorad — 6:30.15
Jayson Hopper — 6:57.82
Roman Khrennikov — 7:02.22
Enrico Zenoni — 7:07.08
Justin Medeiros — 7:29.07
Spencer Panchik — 7:38.91
André Houdet — 7:44.44
Colten Mertens — 7:55.89
Patrick Vellner — 8:08.35
Guilherme Malheiros — 8:10.35
Day Three Excitement
Day Three kicked off for the Individuals with Event Five — The Capitol; a combination of pig flips, distance running, farmer's carries, and a heavy Husafell sandbag carry up the Madison, WI, Capitol stairs. This grueling event was 30-plus minutes in the August heat, without the safety net of a time cap.
Rebecca Fuselier, a rookie at the Games, ground her way to finishing the workout. As she battled through the final carry up the Capitol steps, she was surrounded and cheered on by the spectators and volunteers, who followed her up the last flight and celebrated her crossing the finish line.
Tia-Clair Toomey used the events of Day Three to re-established her dominance, reminding the field why she's the reigning five-time Fittest Woman on Earth® — and that she's looking for a sixth consecutive title.
Though Raptis figured out the HSPU for the Echo Press win, Toomey blazed to a second-place finish, putting more distance between herself and runner-up Mal O'Brien after nine events.
The 2022 CrossFit Games So Far
Saturday, Aug. 6, 2022, is the final day of competition for the Age Group and Adaptive divisions. Both will see their Fittest on Earth® crowned on that evening. This day also marked the penultimate day of competition for the Teams and Individual divisions.
On Saturday night, 10 athletes from each Individual division and 16 teams from the Team Division will be cut. Only the top 30 athletes in each Individual Division and the top 20 Teams will move on to the final day of competition. With an entire day's worth of events not yet announced, which athletes will stand atop the podium is far from clear.
Featured Image: William Johnson (@barbellstories on Instagram)