Defending Arnold Classic Champion William "The Conqueror" Bonac is out of the 2021 Arnold Classic. This development comes just one day before the contest takes place in Columbus, Ohio, on Saturday, Sept. 25. According to the Arnold Sports Festival, who confirmed to BarBend that Bonac is officially out of the contest, they were exhausting every option to get Bonac into Columbus (even after the news broke a day earlier).
Bonac is currently in the United Arab Emirates following a quarantine process to travel to the United States. He can't attend the AC due to travel issues. There is no word officially if this also rules him out of the 2021 Mr. Olympia, scheduled in Orlando, FL, on the weekend of Oct. 7-10. Bonac released a statement on his Instagram on Sept. 24, 2021.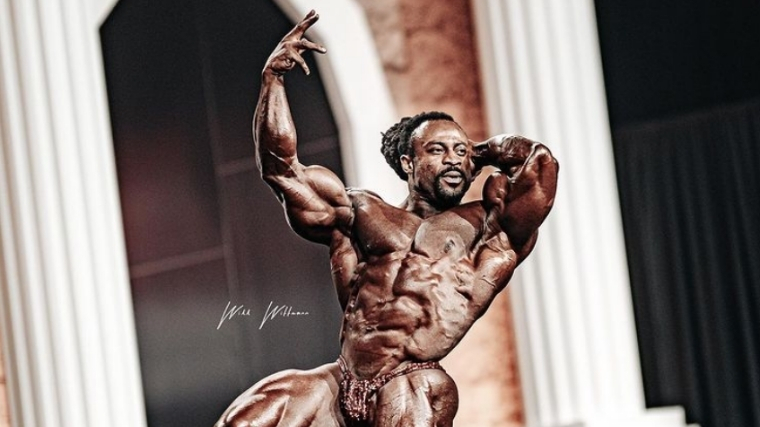 "Unfortunately, William [Bonac] ran into travel delays in Abu Dhabi and could not make it to Columbus to defend his title," the ASF wrote to BarBend. "William is a great champion and while he is devastated that he will miss the show, we are already looking forward to seeing him on the Arnold Classic stage in 2022."
With the defending champion out of the lineup, bodybuilding fans are guaranteed a new Arnold Classic champion as well as a first-time champion. None of the 10 men remaining in the lineup have won the Arnold Classic in their careers. The lineup as it stands now is as follows.
2021 Arnold Classic Roster
Maxx Charles
Mohamed El Emam
Steve Kuclo
Seung Chul Lee
Hassan Mostafa
Sergio Oliva Jr.
Justin Rodriguez
Iain Valliere
Nick Walker
Akim Williams
Bonac is the fourth man to be removed from this contest in the last few weeks. 2017 Arnold Classic winner Cedric McMillan withdrew due to injuries. 2016 San Marino Pro winner Lionel Beyeke withdrew due to travel restrictions in his home country of France. On Sept. 20, the ASF confirmed that 2018 Arnold Classic Australia winner Roelly Winklaar is out due to an undisclosed medical issue.
About Bonac
Bonac, who is from the Netherlands, is one of the most accomplished pro bodybuilders competing today. According to musclememory.com, he has been competing professionally since 2012, and he has won nine pro titles in his career. His name received a lot of attention at the 2015 Mr. Olympia when then-champion Phil Heath recognized him as a future threat for that title. He finished eighth in that contest.
As he's developed over time, Bonac has gained attention for his overall aesthetic look and symmetry as well as his biceps development and back width and thickness.
Among his nine victories are two Arnold Classic titles. Bonac claimed his first AC victory in 2018. He followed that up by placing second to Brandon Curry in 2019 in the Arnold as well as that year's Mr. Olympia. He then won the 2020 Arnold Classic over second-place finisher Dexter Jackson and third-place finisher Mamdouh "Big Ramy" Elssbiay (who is currently the reigning Olympia champion). Bonac's last onstage appearance was in the 2020 Mr. Olympia where he placed fifth.
Featured Image: @william_bonac on Instagram | Photo by @uniq.framed.memories