On Jan. 4, 2023, the Buttery Bros — Heber Cannon and Marston Sawyers — host some of the biggest names in strength sports and other athletes in the first-ever Buttery Games Show. The competition, hosted on the Buttery Bros YouTube channel, paired the athletes (one male and one female) to battle across events that test their speed, skill, and strength. The official roster of 14 athletes is below — teammates are listed together:
2023 Buttery Bros Show Roster
CrossFit Games athlete Allison Scudds also competed as an individual in the second event before subbing for Turner. While Medeiros participated here, he is not competing at the 2023 Wodapalooza contest, scheduled for Jan. 12-15, 2023.
The Buttery Bros Show will take place over three parts on the Buttery Bros' YouTube channel. Part one was the "Speed" episode, which consisted of a 400-meter relay race, the "beep test, and a trophy truck race. Check it out below:
[Related: Who Can Win the 2023 CrossFit Games with Tia-Clair Toomey Out?]
400-Meter Relay
One member of each team began the race from the starting position on a track. They sprinted 200 meters and handed off the implement to their teammate, who ran the remaining 200 meters. The team with the fastest time won. Here are the results:
Licis/Wells — 59.63
Kearney/Gazan — 59.70
Medeiros/Rose — 59.79
Call/Turner — 59.83
Björnsson/Hensen — 1:05.83
Coyle/Marie — 1:10.78
Greene/Pearce — 1:39.75
Licis was in the first heat and surprised the Buttery Bros with unexpected speed. His pace enabled Wells to make up the deficit Gazan established over Licis. Wells crossed the finish line in a photo finish ahead of Kearney for the event win.
Beep Test
The beep test is an aerobic challenge that involves 20-meter shuttle runs under a time constraint. Once a shuttle run is completed, athletes wait for a beep and run another length.
The time between beeps gets progressively shorter each round. Athletes are eliminated if a beep occurs while they are within the bounds of a shuttle run.
Rankings were determined via total laps completed. Results below are listed as (completed shuttles:meters):
Medeiros — 11:2 | Rose — 5:7 — 138 Laps
Call — 6:4 | Turner — 10:0 — 122 Laps
Kearney — 3:2 | Gazan — 11:2 — 118 Laps
Licis — 4:0 | Wells — 10:0 — 104 Laps
Greene — 1:4 | Pearce — 10:0 — 93 Laps
Björnsson — 4:1 | Hensen — 5:0 — 77 Laps
Coyle — 3:0 | Marie — 3:1 — 49 Laps
Scudds — 9:0
Again, the strongmen struggled in the event as the CrossFitters excelled. The final athletes in the event were Medeiros, Gazan, Turner, Wells, and Pearce.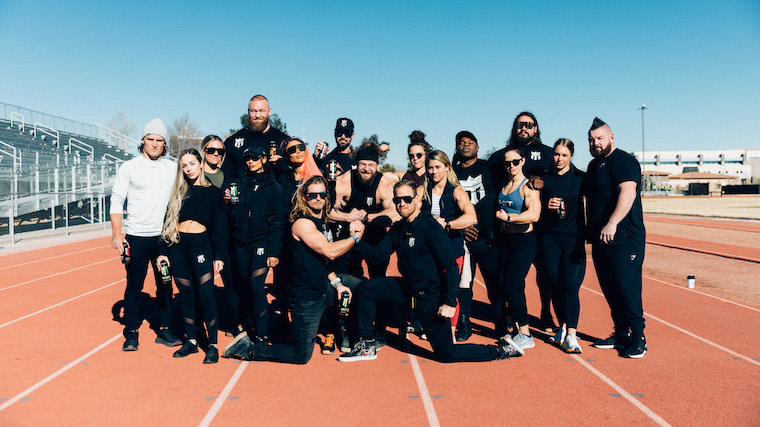 Trophy Truck Race
Each athlete drove a trophy truck around a race course for five laps. Each team's cumulative time (10 laps total) determined their score — the fastest team wins. During the results, only the following teams were announced:
Medeiros — 1:10.43 | Rose (Schaub) — 1:10:51 | 2:20.94
Björnsson (race car) — 1:08.09 | Hensen — 1:13.19 | 2:21.22
The rest of the results were clocked at the following but not made official:
Call — 1:16.43 | Turner — 1:20:60
Kearney — 1:13.01 | Gazan — 1:25.31
Coyle — 1:19.41 | Marie — 1:11.87
Sawyers — 1:06.48
Cannon — 1:08.03
Scudds — 1:10.15
Pearce — 1:20.25
Greene, Licis, and Wells did not have times shown — it is unclear if they ran the race. Rose did not appear to drive the course either, and her time was subbed by mixed martial artist Brendan Schaub, who drove the course. Björnsson drove a different course in a race car as he was too large to fit in a trophy truck.
Parts two and three of the Buttery Bros Show will air on Jan. 11, 2023, and Jan. 19, 2023, respectively.
Featured image courtesy of the Buttery Bros.