The CrossFit Performance of the Week comes from the land down under. The RFX Summer Showdown fitness competition occurred in Perth, Australia, where some of the top continent's top CrossFitters converged. Perth native Gracie Walton stood above the field and defended her 2022 Summer Showdown title.
The 22-year-old won four of the seven Individual RX division events during the three-day RFX Athletics competition on Jan. 20-22, 2023. Those four event victories garnered a one-point advantage and the top podium spot. Below is a closer look at Walton's performance: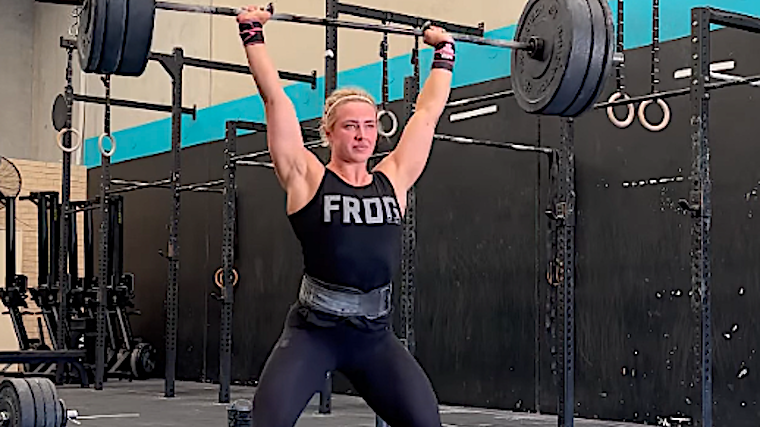 [Related: 2023 CrossFit Open Workout 23.1 To Be Announced On Feb. 16, 2023]
Gracie Walton at the 2023 Summer Showdown
Walton is an athlete worthy of attention in the Oceania region for the upcoming 2023 CrossFit season. She beat a 40-woman field filled with talented athletes, including four-time Individual Games athlete Maddie Sturt.
Sturt and Walton battled all weekend, separating themselves from the pack as they raced for the top of the podium. The 2022 Torian Pro Semifinalists clash came down to the final event as they were tied atop the leaderboard with nine points each. Walton gained the upper hand to win the last event by 12 seconds over Sturt to repeat as Summer Showdown champion.
That final event indicated how Sturt and Walton monopolized the top two spots in each event. Sturt won the opening event, "The Showdown Chipper," navigating through the six movements and finishing with 202 reps. Walton placed second with 179 reps.
Walton displayed her increased strength in the second event, "Bring On the Weights." The workout gave the athletes five minutes to attempt a one-rep max cluster — a squat clean into a shoulder-to-overhead thruster. Sturt and Walton separated themselves from the field with successful 185-pound lifts. Walton's final successful lift of 204 pounds was four pounds more than Sturt's.
Sturt won event three — a triplet that featured a 50-meter swim. However, Walton finished just two seconds behind the Games veteran.
The two continued to trade first and second-place finishes over the subsequent three events. Walton won two of them, including event five, "The Power Ball," to tie Sturt on the leaderboard heading into the final event.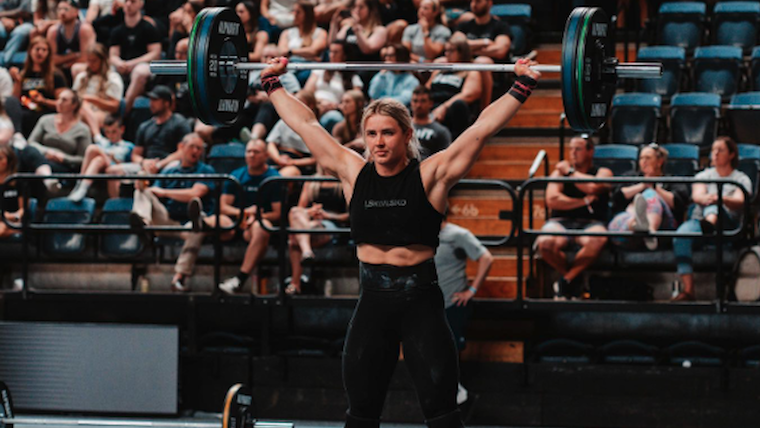 [Related: Reebok Nano X3 Training Shoes Available Worldwide on Feb. 10, 2023]
Who is Gracie Walton?
Walton made a massive jump in her CrossFit career during the 2022 Games season. She moved from her 847th Open rank (42nd in Oceania) in her debut as a competitor in 2021 to 184th in the 2022 Open (10 in Australia). She secured her second-straight Oceania Quarterfinals appearance, improving from 73rd to 19th to earn her first Semifinal invitation.
Competing at the prestigious Torian Pro Semifinal against some of the top CrossFit athletes in the world, Walton placed 15th overall. Her best event finish was in front of the packed finale crowd of the Pat Rafter Arena. She placed ninth, finishing a workout that featured a 1,000-meter row, 100 double-unders, and 10 heavy deadlifts at 275 pounds with a time of 5:28.79.
In November 2022, Walton competed as an Individual at the 2022 Down Under Championship, showing considerable improvements in her fitness with her fourth-place finish. She recorded three top-five event finishes, including a win against a field that featured five Games veterans.
The Aussie started her CrossFit journey during the COVID-19 pandemic when she moved back to her native country after living in Europe. Her background in gymnastics and cheerleading has her on the cusp of following in the footsteps of Aussie stars Tia-Clair Toomey, Kara Saunders, Sturt, and Ellie Turner after just three years of CrossFit training.
Know a Great CrossFit Athlete?
If you'd like to submit an athlete to be considered for BarBend's CrossFit Athlete of the Week, please email Patrick Clark at patrick@barbend.com. For athletes to be considered, it must be for accomplishments for the preceding week (Monday-Sunday) and must be received no later than 5:00 p.m. EST the Monday after. Please include any verifiable results, links, and a brief explanation of why that athlete should be considered.
Featured image: @graciewaltonn_ on Instagram