Very strong YouTube personalities John "Jujimufu" Call and Clarence "Harry Squatter" Kennedy have been collaborating this week, and the result is some of the funniest weightlifting content we've seen in a long time.
Kennedy, who resides in the Irish village of Tralee, has been traveling North America for over a month now, lifting heavy weights and collaborating with internet personalities as a wandering web-based weightlifter is wont to do.
About a month ago, he visited Toronto to participate in a a lift-off with California Strength's Spencer Moorman. Now he's stateside. And Jujimufu has found him.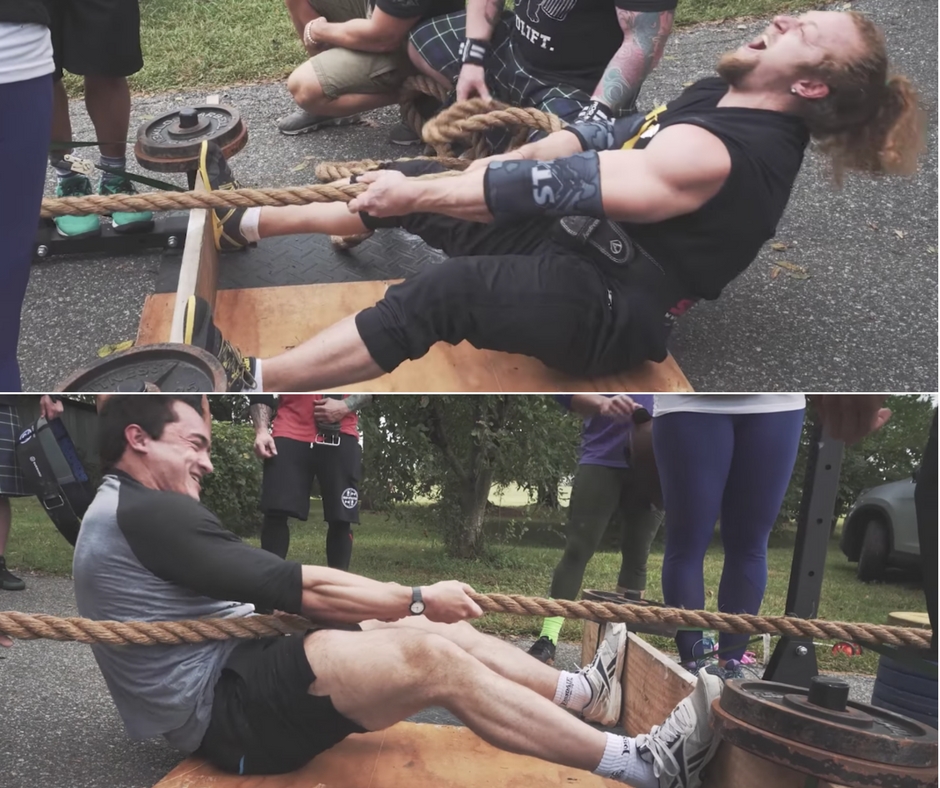 Trying their callused hands at truck-pulling. Image via Jujimufu on Youtube.
We wanted to highlight this pretty great video of the two strength athletes attending Travis Mash's second annual Strength Spectacular in Mocksville, North Carolina. The event featured a USAW-sanctioned weightlifting meet, a level 1 NAS-sanctioned strongman competition, and a raw powerlifting meet. Call describes it as "like a cross between a tailgate, a strength meet, and an expo."
[For more Clarence Kennedy, check out our interview with him on periodization, veganism, and reddit fans here!]
Kennedy and Call tried their hand at some good old-fashioned truck pulling, which you can see in the image above, but in our opinion the real highlight was a surprise pause squat battle between Kennedy, who weighs roughly 98 kilograms, and the -94kg Nathan Damron, who holds the junior American records in the snatch, clean & jerk, and total. The action starts at about 14:20 in the clip below.
Kennedy's final squat was 600 pounds, while Damron's was 615 pounds, but it's worth noting that Kennedy was pausing considerably longer than Damron, and he wasn't wearing a lifting belt. But of course, pause squats aren't competition lifts, and this meet wasn't sanctioned by anybody — it was just good, heavy, fun.
Other highlights from the meet include Call maxing out his two-finger deadlifts and a very Jujimufu set of three 500-pound deadlifts that included a backflip on each rep. (They start at 11:40.)
Afterward, Kennedy is subjected to a revealing Q&A while submerged in a very uncomfortable-looking ice bath, which is worth watching if you've ever wondered what he thinks of the "freaky" comments he gets on his videos.
Also well worth a watch: this second clip of Kennedy and Jujimufu working out with capes, ammonia, and horse masks. If nothing else, the scene of the two navigating the wilds of Wal-Mart at 17:30 had us in stitches.
Apparently, they'll have a third collaboration coming out later this week. If you've been entertained thus far, keep an eye out.
Featured image via Jujimufu on YouTube.