Garrison Redd is a para powerlifter vying to represent the United States at the 2020 Tokyo Paralympic Games as a member of Team USA.
As a high school football player, he had aspirations of going pro. But when he lost the use of his legs after being shot by a stray bullet in his neighborhood at the age of 17, his life took a different course. However, the loss of a dream in professional football did not stop his hunger to become a leader and an advocate for disabled rights.
He found his way into para powerlifting and his athletic background propelled his results to an elite level in the sport.
The 31-year-old Brooklynite was kind enough to sit down with us and share the details of how got into the sport, his training and diet, and what his future goals at and after the 2020 Paralympic Games.
Origins In Para Powerlifting
For Redd, a particular cliché helps sum up his introduction to para powerlifting.
"If you're good, then they'll find you."
Three and half years ago, Redd was discovered, so to speak. The coach of a wheelchair football league saw him training in the gym and invited him to give it a try. Once a week, the team would play in a park not far from where Redd lived. From there, he was introduced to President of the Wheelchair Sports Federation John Hamre who believed Redd could be a Paralympic athlete based on his body structure.
Hamre continued the string of connections by putting Redd in touch with the head of The New Jersey Navigators, a junior wheelchair racing team that already had three Paralympic athletes on their roster.
One day at Tri-States — a large tournament that involves field sports, wheelchair racing, and para powerlifting — Redd's coach inquired about his bodyweight.
"I weighed in at 120lb and I was able to lift 250lb without any training whatsoever."
A bench press over twice his bodyweight categorized Redd as one of the country's strongest lifters in the -56kg weight class.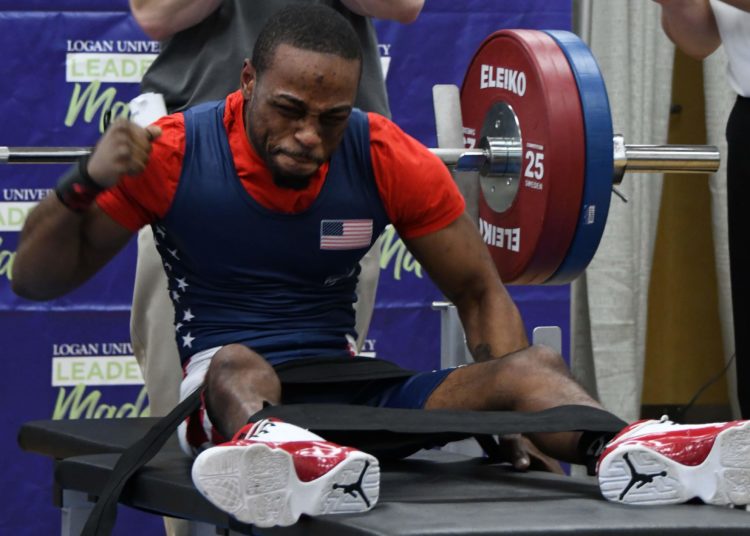 [Related: Para Powerlifter Donato Telesca of Italy: My Rivals Fuel Me]
Flashback a Decade and Half Earlier
Redd credited his natural prowess for the bench press to a weight set that his father gave him when he was 13. He and a friend would train with that weight set everyday.
"We used to just fill up the bar with [weights]. Sometimes it would just tilt over. At 16 years old, I was able to lift 315lb. I always had the strength."
Back to Present Day
Redd's results were good enough to receive a message from Team USA's Performance Manager to inform him that he should vie for a sport on Team USA's para powerlifting team immediately.
The first step in that process was an eight hour instructional course that taught the do's and don't's in the sport, as well as proper nutrition and recovery techniques. That course was being taught at Gaglione Strength, the gym of strength coach John Gaglione — who notably is coaches Larry Wheels. Redd was approached by Gaglione to see if he'd be interested in Gaglione as his trainer.
"He wanted to get into para powerlifting [coaching] as well, to add to his resume other powerlifting disciplines that he could coach. He was very knowledgeable."
The next national competition was six months later in January 2019 where he went 2 for 3 with a best lift of 127kg/280lb — over twice his competition bodyweight. For context, Redd's personal best lift at competition bodyweight is 140.6kg/310lb.
Redd qualified for his first World Championships in Kazakhstan although he was unable to attend due to "unforeseen circumstances". However, he re-qualified for the 2020 World Championships in Colombia, which was unfortunately postponed due to COVID-19.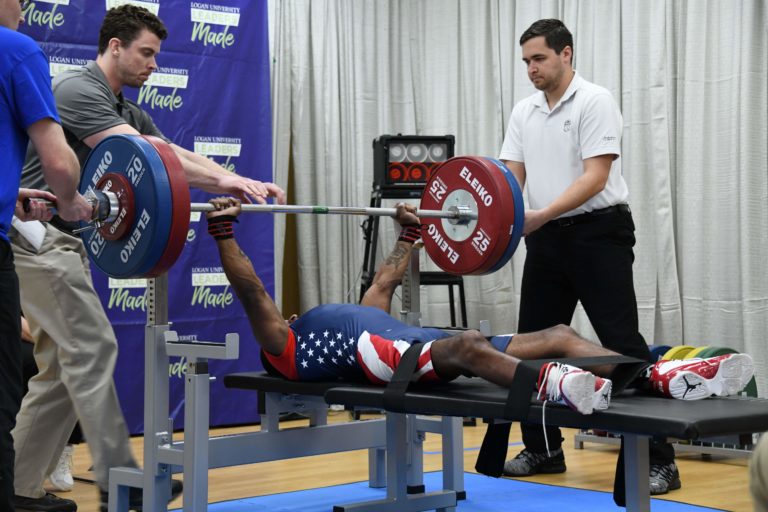 Training
Redd trains six days per week, often in group sessions. He dedicates three of those days specifically to build his bench press. He breaks them down like this:
The light day is similar to a deload — no weight above 50% of his max, lower reps. Accommodations, such as chains and resistance bands, are a staple in his workouts. Resistance bands are also a key component in his prehabilitation.
He also incorporates a suite of accessory movements that put a lot of focus on his lats, delts, and triceps. Much of the future Paralympian's cardio comes from a hand cycler that he'll take for rides that usually last around two hours and traverse eight miles. He also incorporates calisthenics, light dumbbell work, and general activity on days spent outside the gym.
"I notice that when I train more frequently, I gain strength faster."
Although high-volume training has proven effective for Redd, he is very aware to avoid strength imbalances. Recently, he has focused more on strengthening his back and less on his upper chest and shoulders which he finds gives him more control on the descent of the lift.
"My shoulders are pretty strong, and you want to preserve them. When you use a wheelchair all day, your shoulder fibers get broken down, your rotator cuffs, there's a lot of impact on them each and every day. We do less shoulders and more back muscles for stability."
Preparation for Para Powerlifting
In Para Powerlifting, Redd points out that judges in para powerlifting look for a consistent and precise pattern of movement during a lift.
"What's a good lift in powerlifting, may not be a good lift in para powerlifting because you have to be completely motionless when the bar is on your chest. I had to get accustomed to it."
Once a month, he hops on a video call with his performance manager so that Redd can have his lifting technique reviewed to ensure his technique would hold up in the eyes of a competition judge.
[Related: How Indonesia's Best Paralympic Powerlifter Overcame Polio to Medal in Rio]
Competition
Come competition day, Redd uses visualization and confidence to inform his strategy to decide his what lifts to go for and how to properly execute them. Here are the metrics that he uses to determine his three competition attempts:
Attempt 1 — a weight that is guaranteed to be a successful lift.
Attempt 2 — a personal record.
Attempt 3 — a competition-winning lift.
On first attempts, Redd feels strongly that it should be one that will be successful to give the confidence boost necessary to hit the next two attempts. He feels that with all the anxiety and stress factored into competition, that having a good opening lift is a key to success.
From there he will attempt a personal best, regardless of what the rest of the field is doing. Then for his third lift, if he still needs a bigger lift to win the competition, he'll call for whatever the requisite weight is.
Diet
Redd employs the vertical diet with some modifications to help him maintain his competition weight year-round. He keeps it high in protein and devoid of simple carbs like white bread, pasta, and sweets like doughnuts (his personal favorite).
Once or twice a week, he'll enjoy some red meat as per his nutritionist's recommendation, although he admitted that his trainer would prefer him eating it three to four times per week. Physically, Redd notices a positive impact on his training after eating red meat. Other main protein sources come from fish, which is an important source of Omega-3's. Give or take three days a week, he'll eat seafood.
He does manage how many calories he's taking in per day, staying conscious to not consume more than 2,000 per day. He is mindful to get at least 120g of protein per day — about 1g for each pound of bodyweight.
Here's what a typical day of eating might look like for Redd:
Breakfast
Half an English muffin with peanut butter
Three eggs
An apple
Lunch
Sandwich with meat of choice

whole wheat bread
one slice of cheese

Vegetable of choice

prefers the ease of raw carrots or cherry tomatoes
Dinner
White rice or potatoes
Meat of choice
Vegetable of choice
The last of his calories are filled with whey protein shakes or smoothies that include bananas, peanut butter, honey, and yogurt.
He will treat himself to a cheat meal once or twice a month, but on the whole, his diet is not particularly unique. He sticks to what works for him and his competitive results thus far prove that to be a smart decision.
Future Goals
Redd's current primary goal is winning gold at the 2020 Tokyo Paralympic Games, and hitting a world record along the way. However, those are not his only goals. He aspires to lead by example and prove that someone's dreams can still become a reality even in the face of incredible adversity. In his mind, the most effective way to do that is to become an ambassador of para powerlifting.
"The sport needs a face. Every sport has a face. Someone that people can look up to and I feel like…in para powerlifting there's no real face that someone can identify with. So that way kids that are disabled can aspire to be like Garrison Redd. The only way I can set that standard is by…setting world records, winning competitions…and showing people that this is what you can do if you believe in yourself."
Outside of competing, Redd founded The Garrison Redd Project, which aims to better the well-being of disabled individuals by providing resources and services such as adaptive sports programming.
"I know that if can I do it, that someone else can do it. And it can open the door for the next athlete that wants to be a powerlifter and feels like they could win a gold medal."
Feature image from Garrison Redd and Brent Celestine.