On Nov. 18, 2022, Reebok and Warner Bros. Discovery Global Consumer Products (WBDGCP) announced a footwear and apparel collection with designs inspired by DC Comics' iconic superheroes and villains. The collection will be available on Dec. 2, 2022, on Reebok.com/us/dc and retailers, including Finish Line, Hibbett Sports, and Amazon.
Six DC characters are getting the Reebok footwear treatment: three superheroes (Superman, Wonder Woman, and Batman) and three supervillains (Lex Luthor, The Joker, and Harley Quinn). The design of each character-inspired shoe references not only their recognizable colors but also utilizes materials similar to the suits that each hero or villain wears. The shoes each fall within a line of Reebok's shoes, including:
Reebok's DC Comics-Inspired Footwear Collection
Nano X2 — Wonder Woman | $150 USD
Shaq Attaq — Superman | $180 USD
LX2200 — Batman | $110 USD
Club C 85 — The Joker | $110 USD
Freestyle Hi — Harley Quinn | $100 USD
Workout Plus — Lex Luthor | $100 USD
Per Reebok's press release, "paired with the footwear is a line of unisex apparel featuring a collection of graphic t-shirts and hoodies. Each piece incorporates iconic logos from the world of DC and highlights the good vs. evil theme present throughout the collection."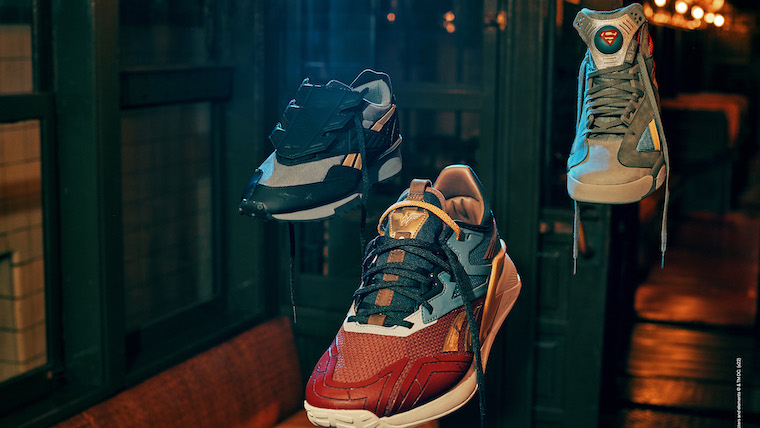 [Related: Best Cross Training Shoes — For CrossFit, Classes, and More]
This is not the first time that Reebok has released DC Comics-inspired training shoes. A month after the release of the blockbuster film Wonder Woman 1984 in 2020, Reebok and WBDGCP released a Wonder Woman Nano X cross trainer.
The Wonder Woman Nano X2 includes a heel clip, Floatride Energy Form in the sole for better responsiveness, and a Flexweave upper knit for improved breathability. The Lex Luthor Workout Plus shoe features a low-cut design for mobility and freedom of motion and an EVA foam midsole for shock absorption.
The Batman LX2200s also feature an EVA midsole as well as a leather upper with suede overlays and textile underlays. The Joker Club C 85s features a leather upper and a removable EVA foam sockliner to accommodate orthotics. It also has a die-cut EVA midsole for lightweight cushioning.
The Superman Shaq Attaqs are slip-on with a customizable fit and a synthetic upper. Finally, the Harley Quinn Freestyle Hi's are more for athleisure. The EVA midsole provides shock support, and the mid-cut design with an ankle strap closure provides enhanced ankle support.
Featured image courtesy of DC Comics and Reebok.