There are staple movements in strongman competition that are unlikely to ever go away — a deadlift, an overhead press, a carry or medley, and a loading event such as the Atlas Stones. However, there are some strongman events that have fallen out of favor and been left to dwell in decades past. Here are five events that two-time 105-kilogram weight class World's Strongest Man (WSM) Anthony Fuhrman believes should make a comeback to the strongman mainstage:
Fridge Carry
Anchor Events Variations — such as an anchor & chain drag or an anchor carry.
Cyr Dumbbell
Arm-Over-Arm Boat Pull
Natural Stone Press
Fuhrman shared his thoughts on why he chose these five events as the ones he would most like to see come back in the video below from BarBend's YouTube channel:
[Related: Strongman Anthony Fuhrman Announces Contest For 105-Kilogram Athletes]
The Spectacle of Strongman
In WSM history, the fridge carry dates all the way back to the late seventies. One of the more memorable, albeit gruesome, moments was when Franco Columbu's left leg collapsed mid-event while bearing the weight of the fridge on his back. As time passed, the event evolved into a yoke walk using two refrigerators rather than weight plates — this fridge-carry variant was used in WSM contests in 2004 and 2005.
In Fuhrman's view, using these types of items gave the sport more spectacle but also made them relatable to fans. A non-strongman spectator could see a fridge and have a better sense of just how heavy the weights the strongman were moving were. It gave strongmen a superhuman quality that helped pique audiences' interest. The same can be said for his choice of the arm-over-arm boat pull.
One of the more memorable boat pull events took place at the 2009 WSM when five-time WSM champion Mariusz Pudzianowski implemented the strategy of chalking the platform to help him slide easier when performing what were essentially leg presses to move the boat. This event is reminiscent of the truck pull event from the 2018 WSM.
That visual spectacle can leave a lasting impact on audiences. Recently, rapper Action Bronson shared his obsession with strongman on the hit YouTube chicken wing interview show Hot Ones. He even super-imposed his face on Magnus Ver Magnusson's face from the 1995 WSM contest — which included a fire truck pull event — in the music video for his hit single Latin Grammys.
[Related: Watch the BarBend Team Compete In Strongman Milk Hold Challenge!]
Strength Application
As strongman and WSM mainstay Robert Oberst pointed out in an interview with BarBend, the sport of strongman is not really about testing maximal strength the way a powerlifting meet is. Some events like a max deadlift are, but many events in a strongman contest are about, as Fuhrman puts it, strength application.
That is why he would like to see the return of events that make use of anchors. One of the best examples of an anchor event was at the 2004 WSM contest where competitors had to carry a 225-pound anchor 15 meters, attach it to a 441-pound chain, and then drag both 20 meters across the finish line.
[Related: What Strongman Will Look Like In 2025 (And Beyond)]
Play To Competitors' Strengths
The remaining events that Fuhrman would like to see back are Cyr Dumbbell, which has made a recent resurgence, and the natural stone press. These lean into the nostalgia of strongman events from the early days of the sport. The Cyr Dumbbell event is functionally a heavy dumbbell for reps or max dumbbell event that has come back into the recent competitive landscape because it is a strength of many current top-tier strongmen.
As Fuhrman noted, strongman contests will usually select events that play to competitors' strengths to ensure the best show for audiences. Rob Kearney, 2020 WSM champion Oleksii Novikov, and two-time WSM runner-up Mateusz Kieliszhowski are all excellent in this event.
The natural stone press fell by the wayside in favor of other overhead press events, in particular the log lift. As with the Cyr Dumbbell, the log lift played to the strengths of many strongmen including log lift world record holder Zydrunas Savickas, as well as Jerry Pritchett and Luke Stoltman.
Strongman History
The history of strongman events is rich with spectacle. WSM contests have seen strongmen sumo wrestle, arm wrestle, pull airplanes, and perform crucifix holds with baskets of bananas. Although the sport has skewed more towards more professional-looking equipment in recent years, the 2020 WSM did pay homage to the history of strongman with the loading medley using monster truck parts.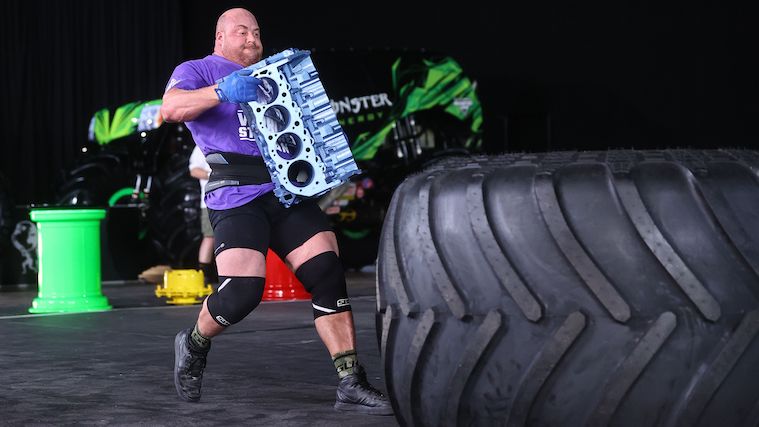 Will we strongman competitions bring back any of these iconic events? It certainly is in the realm of possibility and we look forward to their return.
Feature image courtesy of World's Strongest Man.