Floating in the hivemind of the fitness world is the adage that those who follow a vegan-friendly diet are unlikely to get the protein they need without consuming meat. That's not true. There are plenty of ways to get more than enough protein following a vegan diet. In addition to dairy-free protein powders and creatines, whole foods like legumes, tofu, quinoa, various seeds, vegetables, and grains can also provide sufficient protein for athletes. (1)
Although vegan diets tend to be lower in protein, calories, and fat than their omnivorous counterparts, they are usually higher in fiber and micronutrients. However, that doesn't mean that athletes can't achieve sufficient protein intake following a vegan diet. For example, consumers of animal proteins have shown no differences in bench press strength, leg press strength, or lean body mass compared to soy protein. (2)
Let's dive deeper into some of the better vegan protein sources available for those considering a vegan diet or those who already do who are looking for new options.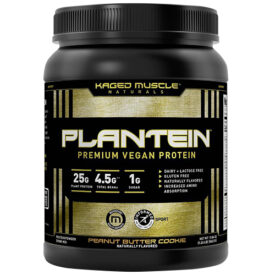 This vegan-friendly, plant-based protein powder packs 26 grams of protein per single scoop serving. Fifteen-serving tubs are available in three flavors: Peanut Butter Cookie, Banana Bread, and Cinnamon Roll.
Editor's note: The content on BarBend is meant to be informative in nature, but it should not be taken as medical advice. The opinions and articles on this site are not intended for use as diagnosis, prevention, and/or treatment of health problems. It's always a good idea to talk to your doctor before beginning a new fitness, nutritional, and/or supplement routine.
[Related: The Ultimate Workout Split to Build Strength and Muscle Mass]
How Much Protein Do You Need
Regardless of the source of protein, it is crucial to know how much protein is needed to reach your goals. According to the position of the American Dietetic Association, Dietitians of Canada, and the American College of Sports Medicine, 1.2 to 1.7 grams of protein per kilogram of body weight is the range to shoot for, with 1.6 grams per kilogram being ideal for active individuals. (3)
Increasing protein intake beyond that range is unlikely to have any additional benefits. If an athlete were to nearly triple that amount of protein intake, it would not have any meaningful effect on body composition but would be a significant increase in calories. (4)
Best Vegan Protein Sources
There are many options for vegan protein sources from whole foods and supplements. Although diets should primarily consist of whole foods, supplements can help reach specific macronutrient targets, particularly for protein.
Vegan Protein Powder
Arguably the most obvious option for a vegan-friendly protein source is vegan protein powder. It's essentially the same as whey protein, but without the use of any dairy products. Vegan protein powders that use pea protein and the like, can be just as effective for athletic performance.
Plant-based protein powders have lower anabolic potential than animal-based proteins but still promote comparable strength and performance gains. (5)(6) Additionally, vegan protein powder can deliver desired changes to body composition akin to what whey protein can.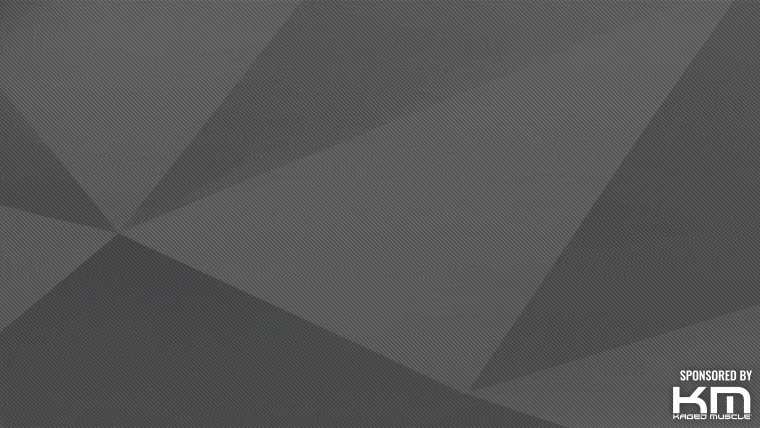 Most balanced diets should have the majority of their macronutrients comprised of whole foods. Although vegan protein powders are likely to be used primarily in shakes and perhaps in some baked goods as a flour substitute, the most notable benefit of powders is the amount of protein per serving.
For example, one scoop of Kaged Muscle's Plantein contains 26 grams of protein and 160 calories. Even some of the more protein-dense vegan options would require sizable portions of food to reach that protein-to-calorie ratio.
Legumes
There are many legumes on the market, making them a convenient choice to add variety to meals. Black beans, kidney beans, pinto beans, lentils, peas, and chickpeas are all examples of legumes. Here is the approximate amount of protein per 100-gram serving of each of those legumes according to the US Dept. of Agriculture: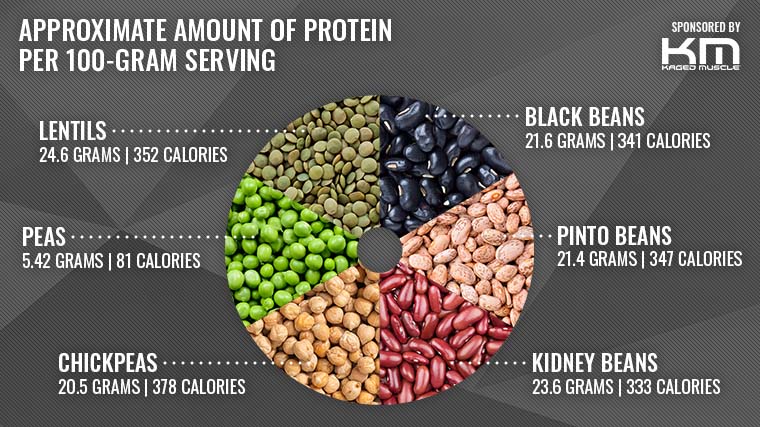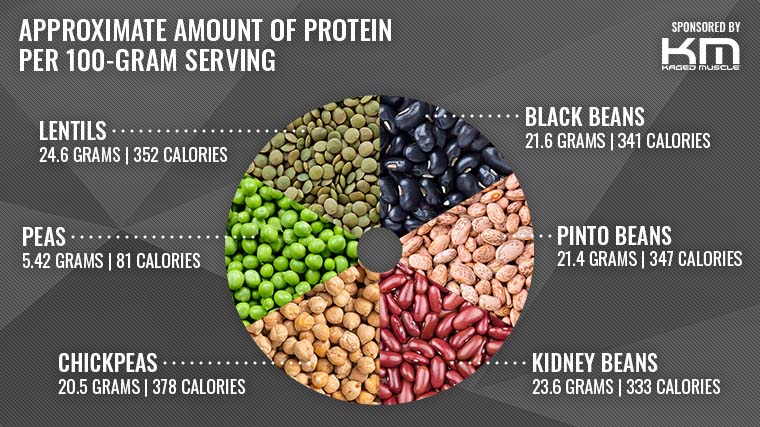 Roughly a quarter of the calories from a serving of legumes come from protein. For reference, one gram of protein contains four calories. Legumes have health benefits beyond providing a decent amount of protein per serving, too. They have been shown to reduce the risks of cancer, heart disease, high blood pressure, stroke, and type 2 diabetes. (7)(8) Public Health Nutrition attributes the correlation between the consumption of legumes and lower risk of cardiovascular disease to their use as a substitution for "unhealthy sources of protein," such as meats heavy in saturated fat. (9)
[Related: A Vegan Bodybuilder and Powerlifter Talk Eating for Strength and Muscle]
Tofu
Tofu packs about 12.7 grams of protein and 141 calories per 100-gram serving. That means just over a third of the calories are derived from protein — about half of the protein-to-calorie ratio of vegan protein powder. Tofu is part of the legume family and is used as a direct substitute for non-vegan proteins, such as chicken or meat, more often than the various beans or lentils.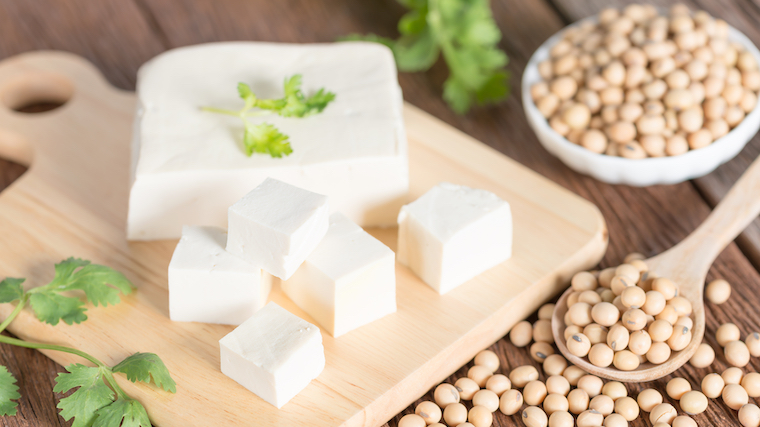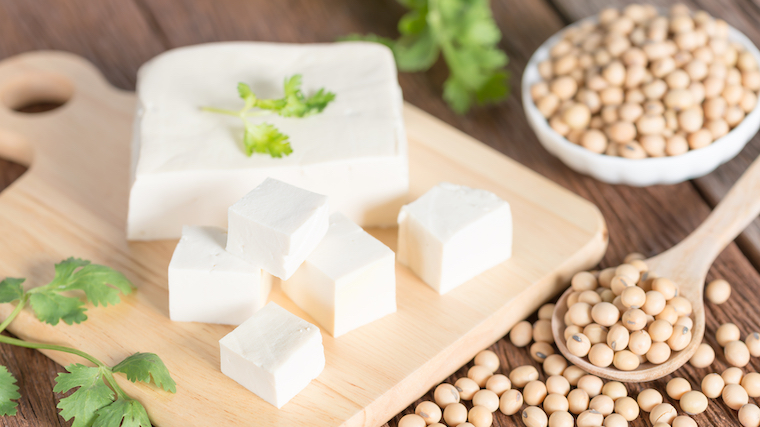 Diets that use tofu or meat as their primary protein have shown to be similar in terms of macronutrients — calories, protein, carbohydrate, total fat (saturated and unsaturated fat), and fiber. However, those who eat tofu rather than meat are likely to have significantly lower cholesterol and triglycerides, meaning a much lower risk of coronary heart disease. (10)
Quinoa
Usually, quinoa is used as an alternative to rice rather than an alternative to meat. In that regard, the boost in protein is substantial. A single uncooked 100-gram serving of quinoa provides approximately 14.1 grams of protein and 368 calories. That is more than double the protein found in white rice (6.9 grams) for nearly equivalent calories (359).
The essential amino acid (EAA) distribution in quinoa is higher than in other grains, making it an effective alternative for milk proteins. For reference, quinoa contains all nine EAAs. (11) The Food and Agriculture Organization of the United Nations (FAO) considers quinoa to exceed its EAA scoring pattern for eight of the nine:
Note: the following formatting is (FAO's EAA standard score/Quinoa's score)
Isoleucine — (3/4.9)
Leucine — (6.1/6.6)
Lysine — (4.8/6)
Methionine — (2.3/5.3)
Phenylalanine — (4.1/6.9)
Threonine — (2.5/3.7)
Tryptophan — (0.7/0.9)
Valine — (4/4.5)
According to a review in Plant Foods for Human Nutrition, the physical benefits of quinoa consumption include "decreased weight gain, improved lipid profile, and improved capacity to respond to oxidative stress." (12)
Vegan Friendly, Vegan Fit
There are plenty of alternative protein sources for individuals who prefer to follow a vegan-friendly diet, whether it be in the form of supplements like protein powders or whole foods like legumes, tofu, and quinoa.
The science is pretty clear — vegans tend to have lower cholesterol, lower blood pressure, a lower risk of heart disease due to vegan diets being higher in dietary fiber, folic acid, Vitamin C, Vitamin E, potassium, and magnesium. Additionally, the fat content of vegan diets is usually more unsaturated. (13)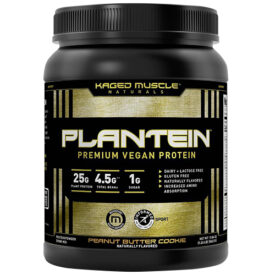 This vegan-friendly, plant-based protein powder packs 26 grams of protein per single scoop serving. Fifteen-serving tubs are available in three flavors: Peanut Butter Cookie, Banana Bread, and Cinnamon Roll.
If you are worried that there aren't sufficient protein sources available for vegan diets, leave those concerns in the past. There are plenty of vegan protein sources on the market and the future of protein alternatives is bright.
According to the 2021 Protein Alternatives Global Market report, the global market for protein alternatives is projected to reach $4.7 billion by 2027. With a multi-billion-dollar industry on the rise, the future is looking very vegan-friendly indeed.
References
Rogerson D. (2017). Vegan diets: practical advice for athletes and exercisers. Journal of the International Society of Sports Nutrition, 14, 36. https://doi.org/10.1186/s12970-017-0192-9
Hertzler, S. R., Lieblein-Boff, J. C., Weiler, M., & Allgeier, C. (2020). Plant Proteins: Assessing Their Nutritional Quality and Effects on Health and Physical Function. Nutrients, 12(12), 3704. https://doi.org/10.3390/nu12123704

Rodriguez, N. R., DiMarco, N. M., Langley, S., American Dietetic Association, Dietitians of Canada, & American College of Sports Medicine: Nutrition and Athletic Performance (2009). Position of the American Dietetic Association, Dietitians of Canada, and the American College of Sports Medicine: Nutrition and athletic performance. Journal of the American Dietetic Association, 109(3), 509–527. https://doi.org/10.1016/j.jada.2009.01.005

Antonio, J., Peacock, C. A., Ellerbroek, A., Fromhoff, B., & Silver, T. (2014). The effects of consuming a high protein diet (4.4 g/kg/d) on body composition in resistance-trained individuals. Journal of the International Society of Sports Nutrition, 11, 19. https://doi.org/10.1186/1550-2783-11-19

Berrazaga, I., Micard, V., Gueugneau, M., & Walrand, S. (2019). The Role of the Anabolic Properties of Plant- versus Animal-Based Protein Sources in Supporting Muscle Mass Maintenance: A Critical Review. Nutrients, 11(8), 1825. https://doi.org/10.3390/nu11081825
Banaszek, A., Townsend, J. R., Bender, D., Vantrease, W. C., Marshall, A. C., & Johnson, K. D. (2019). The Effects of Whey vs. Pea Protein on Physical Adaptations Following 8-Weeks of High-Intensity Functional Training (HIFT): A Pilot Study. Sports (Basel, Switzerland), 7(1), 12. https://doi.org/10.3390/sports7010012
Papandreou, C., Becerra-Tomás, N., Bulló, M., Martínez-González, M. Á., Corella, D., Estruch, R., Ros, E., Arós, F., Schroder, H., Fitó, M., Serra-Majem, L., Lapetra, J., Fiol, M., Ruiz-Canela, M., Sorli, J. V., & Salas-Salvadó, J. (2019). Legume consumption and risk of all-cause, cardiovascular, and cancer mortality in the PREDIMED study. Clinical nutrition (Edinburgh, Scotland), 38(1), 348–356. https://doi.org/10.1016/j.clnu.2017.12.019
Polak, R., Phillips, E. M., & Campbell, A. (2015). Legumes: Health Benefits and Culinary Approaches to Increase Intake. Clinical diabetes : a publication of the American Diabetes Association, 33(4), 198–205. https://doi.org/10.2337/diaclin.33.4.198

Marventano, S., Izquierdo Pulido, M., Sánchez-González, C., Godos, J., Speciani, A., Galvano, F., & Grosso, G. (2017). Legume consumption and CVD risk: a systematic review and meta-analysis. Public health nutrition, 20(2), 245–254. https://doi.org/10.1017/S1368980016002299

Ashton, E. L., Dalais, F. S., & Ball, M. J. (2000). Effect of meat replacement by tofu on CHD risk factors including copper induced LDL oxidation. Journal of the American College of Nutrition, 19(6), 761–767. https://doi.org/10.1080/07315724.2000.10718067
Angeli, V., Miguel Silva, P., Crispim Massuela, D., Khan, M. W., Hamar, A., Khajehei, F., Graeff-Hönninger, S., & Piatti, C. (2020). Quinoa (Chenopodium quinoa Willd.): An Overview of the Potentials of the "Golden Grain" and Socio-Economic and Environmental Aspects of Its Cultivation and Marketization. Foods (Basel, Switzerland), 9(2), 216. https://doi.org/10.3390/foods9020216
Simnadis, T. G., Tapsell, L. C., & Beck, E. J. (2015). Physiological Effects Associated with Quinoa Consumption and Implications for Research Involving Humans: a Review. Plant foods for human nutrition (Dordrecht, Netherlands), 70(3), 238–249. https://doi.org/10.1007/s11130-015-0506-5
Craig W. J. (2009). Health effects of vegan diets. The American journal of clinical nutrition, 89(5), 1627S–1633S. https://doi.org/10.3945/ajcn.2009.26736N
Featured Image: Anastase Maragos (@VisualsByRoyalZ on Instagram)