Over the last few years, paleo and healthy meal delivery services have grown substantially in popularity. This change in opting for meal delivery services over cooking makes sense when you consider busy lifestyles, limited time for meal prepping, and general lack of knowledge when it comes to composing health calorie and macro balanced meals.
With multiple meal services on the market that promise to help guide your dietary preferences and goals it can be incredibly tough to find the best paleo meal delivery service. In order to make the most educated choice, then it's probably a good idea to understand what we should be looking for.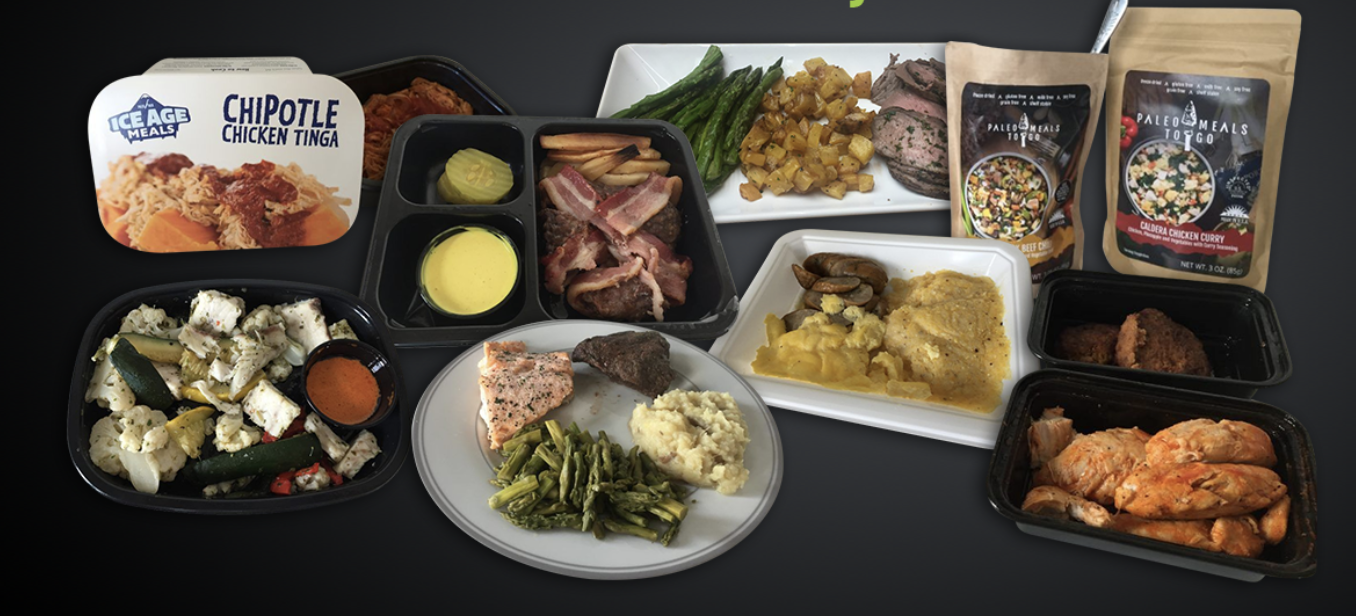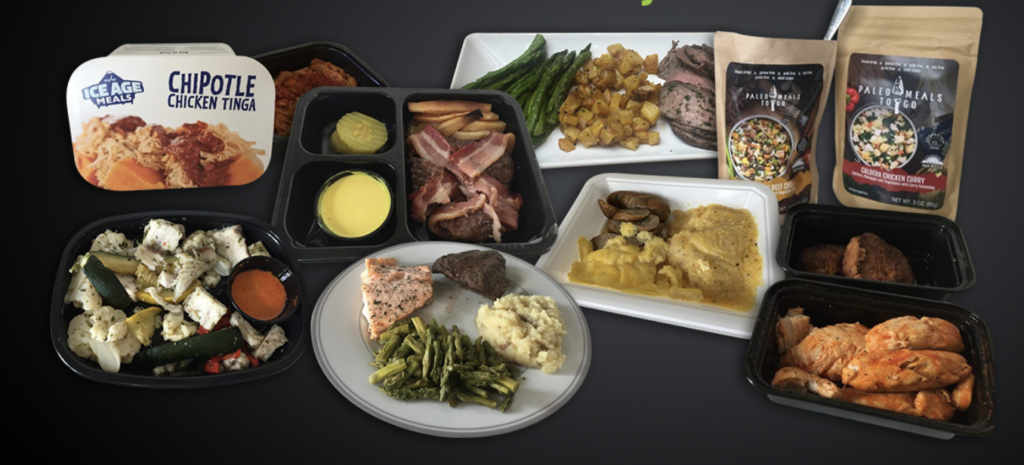 After all, paleo meal delivery services are slightly different than other products on the market. For many, eating is a slightly more intimate decision, as it's something that can influence how you feel on a day-to-day basis. Below, we've included the four biggest factors to look for in a paleo meal delivery service.
Four Things to Look for In a Paleo Meal Delivery Service
1. Ingredients and Sourcing
If you're looking for the perfect paleo meal delivery service, then more than likely you're interested in where each service is getting and sourcing their ingredients. When looking into meal delivery service this attribute is important for multiple reasons.
Premium Pricing: You're going to most likely pay a little more per meal with a service, so getting quality is increasingly more important.
Weekly Volume: Most of your weekly meals will probably come from the service you choose, thus making ingredients with limited processing even more important.
A lot — not all — meal delivery service companies make a strong effort to source whole, organic, and more natural ingredients. This also makes meals that have been previously cooked slightly more nutrient dense than some potential frozen options on the market. (In our review, we outlined that a good example of a service that does this is The Good Kitchen.) Both of these companies work to find grass-fed meat options, and locally sources produce.
When looking at different meal delivery services there are a couple details you can pay attention to that may provide a better idea about their ingredients. Will these always be the case? Not necessarily. Below we've listed consistent meal details we've noticed with all of the services we've reviewed.
How much attention does the company draw to their ingredients? 
Are the chefs and prepping processes main selling points? 
Do they list farms or other food services they work with in their FAQ?
Are they honest about using ingredients when they're available and when they're not?
These questions can be great starting points to note when looking into a service. After all, if you're going to pay a more premium price, then it's best to know exactly what you're getting.
Food allergies are another important consideration when looking into ingredients. We won't dive too deep into this area right now, but if you have an allergy to something like dairy or eggs, then make sure you check if the service offers plans without those ingredients. A lot of times, services will give you the option to check ingredients you never want to have in meals to ensure your safety and their meal selecting accuracy.
2. Calories and Macronutrients
Another important factor to consider when looking at different services is how they treat their meals' calories and macronutrients. This is an important consideration for nearly every demographic searching services, serious athlete or not. In reality, if you're looking into a meal delivery service, then you probably don't want to invest much thought into making meals work and fit into your goals and needs — that is their job.
For many, the main reason for investing in one of these services is to take the thought out of how much one in consuming to keep them on their goals. These calorie and macronutrient goals could be bodyweight, athletic, or body composition oriented, all of which calories and macronutrients will play a fundamental role in. Below, we've included a charts to serve as a jumping off point to help you look for various factors when considering calories and macronutrients.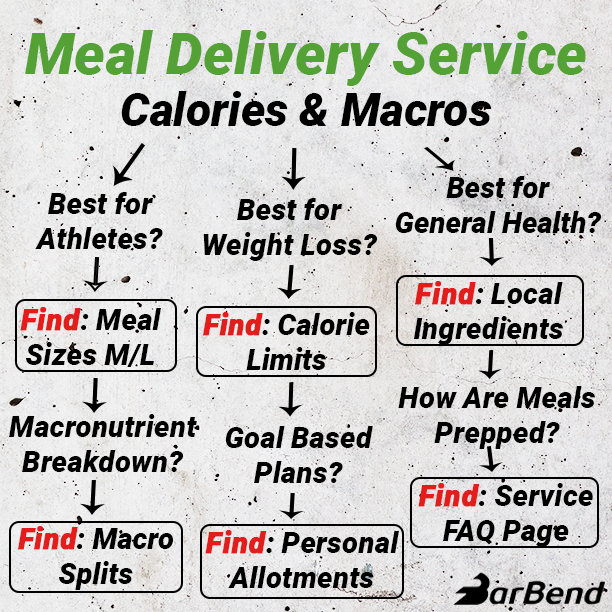 Every meal service will offer slightly different methods for helping you assess the best plan based on your calorie and macronutrient goals. For example, some services like Kettlebell Kitchen provide medium and large meals, which will have more or less calories and macronutrients based off of what you select.
Ideally, we'd recommend ranking what you find to be most important whether it be calories and macronutrients, then work through their meal selection process carefully to find your best fits. Sometimes services will offer you the ability to limits allotments, and others base meals off of your current bodyweight and activity levels.
3. Customization
One of the coolest, but more tedious attributes that come along with different meal delivery services is the customization of their meals. This is how different services split their meals into weekly menus and differentiate from one another. Some services change their meals every week, some rotate out certain meals based on ingredients, and other deliver options that can be made consistent on a weekly basis.
Every meal service will typically allow you to choose your own weekly meals, or let their chefs/system/service select the best choices for you. When it comes to this consideration parties are usually split into two categories, and these categories will break off into different sub-groups.
For example, there's one party that enjoys a changing menu with unique meals, then there's another party that wants consistency all of the time. More often than not, these groups are split based off of one's goals and needs. Below, we've included a list of meal services we've reviewed that provide weekly rotating menus and those that have more consistent menus.
One thing to note is that the above selections will have overlap and sometimes some meals will rotate out while others stay the same. If you're looking for truly consistent types of food that you can order in bulk such as chicken, then look at services like Trifecta Nutrition. 
Another important characteristic of a meal delivery services customization is the different diet categories they offer. Many services will offer automatic categories like: Keto, paleo, Whole30, vegetarian, low-carb, clean, vegan, and so forth.
If you're searching through different services and need to find a meal plan that caters to one of these needs, then it should be pretty easy to narrow down the options. Most of the time companies will make these categories one of the first deciding factors when setting up a plan, so it's pretty easy to identify a service that caters to your needs.
4. Price
Our final point worth considering is price. This aspect is potentially the biggest concern for new paleo meal delivery service subscribers and that's for good reason. No matter how you do the math, a meal service will always be slightly more expensive than if you were to cook and prep your own meals. Granted, in some cases it's comparable, but more than likely you'll find that, yes, you're going to pay a little more for this service.
Once that point is understood, then we can begin to look at different aspects that factor into price. Believe it or not, meal delivery service prices can be catered exactly to your needs if you spend some time researching exactly what you need. Below we've provided three questions to consider when deciding your budget.
Subscription: Most services are run on an automatic weekly subscription, so consider if this is something you want/need on a regular basis that can fit your weekly budget, or if you'd rather something like a bi-weekly setup (which some companies offer!).
Volume: How many meals do you absolutely need a week? If you buy more meals, then the price will often go down between $1-2 a meal respectively.
Delivery & Tax: Most services will charge for a shipping fee, which can be expensive at times. Although, other services allow you to pick-up meals at a specific location to save on that fee while others don't charge tax (rare), so it's worth exploring these options when factoring price.
In general, the meals provided from meal delivery services will vary based on your location and where the service is headquartered. Additionally, what typically stands true across all companies is the more you order in bulk, the more the price declines per meal. This can vary, but in general you can expect to pay between $10.00-$13.00 for a lunch or dinner, then $8.00-$10.00 for breakfast. 
Wrapping Up
The idea of ordering meals on a weekly basis can be an equally exciting and daunting experience. What's most important when looking into a service like this is to do your homework. Hopefully the list above provided some insights into what to look for with a paleo meal delivery.
If you're interested in seeing other factors we rated our meal reviews on, then check out our in-depth round-up of the best Paleo meal delivery services!