Meredith Alwine is at the top of her game. On Dec. 13, 2021, the 71-kilogram weightlifter won the gold medal in both the clean & jerk event and the total at the 2021 International Weightlifting Federation (IWF) World Championships in Tashkent, Uzbekistan.
By lifting 100 kilograms (220.4 pounds) in the snatch, 135 kilograms (297.6 pounds) in the clean & jerk, and totaling 235 kilograms (518 pounds), Alwine edged ahead of British lifter Sarah Davies to win the overall by a single kilogram in one of the most explosive finales of the competition thus far.
You can check out her final clean & jerk below, courtesy of the IWF on Instagram, the podium results from the Women's 71-kilogram event, and a brief interview with Alwine:
View this post on Instagram
2021 World Weightlifting Championships Women's 71-Kilogram Results
Meredith Alwine (USA) — 235 kilograms (100/135), Gold
Sarah Davies (GBR) — 234 kilograms (102/132), Silver
Patricia Strenius (SWE) — 231 kilograms (104/127), Bronze
After missing her second and third snatch attempts at 102 and 103 kilograms (224.8 and 227 pounds), respectively, Alwine sat in 10th place, well behind leaders Strenius and fellow team USA athlete Olivia Reeves, both of whom lifted 104 kilograms (229.2 pounds).
However, Alwine was the final athlete to appear for the clean & jerk portion and the only competitor to open her campaign above 130 kilograms. She made 135 kilograms on her second lift, securing the win, and took a gutsy but unsuccessful try at 138.
BarBend caught up with Alwine over text message shortly after her session in Tashkent concluded to find out a bit more about her performance:
BarBend: What was going through your mind after the snatch event?
Meredith Alwine: [The snatches] felt really heavy. Usually when I have a good snatch day I have bad clean & jerks, so I was just hoping that the opposite would come true and [my coaches and I] could do what we needed to do.
BB: Why did you attempt 138 kilograms in the clean & jerk after you'd already won with 135?
MA: I made 138 at the online National championships last year. It would've also been an international competition personal record for me. There was no reason to try 140 or anything too crazy this time.
BB: What does a win at the World Championships mean to you?
MA: It proved that I deserve to be at this level [of competition] and that everything I've done has paid off. It's a title I'd never really let myself dream of, so it's really surreal. Even though I had to fight so hard for a less-than-ideal total, I could still come out on top.
Meredith Alwine's Athletic Career
Alwine's stunning performance in Tashkent wasn't her first successful endeavor on the international stage — in fact, it wasn't even her first noteworthy win in Uzbekistan. The 23-year-old took silver in 2018 at the IWF Junior World Championships, held in Tashkent as well, while competing in the now-defunct 75-kilogram class.
Although this marks her first time standing atop of the sport's most prestigious podium outside of the Olympic Games, Alwine has had a successful career since her international debut in 2017:
2017 Pan-American Junior Championships: Silver
2018 Junior World Championships: Silver
2020 Roma World Cup: Gold
2020 Pan-American Championships: Gold
2021 World Championships: Gold
Note: These rankings refer to Alwine's results in the Total, which combines the athlete's best snatch with their best clean & jerk.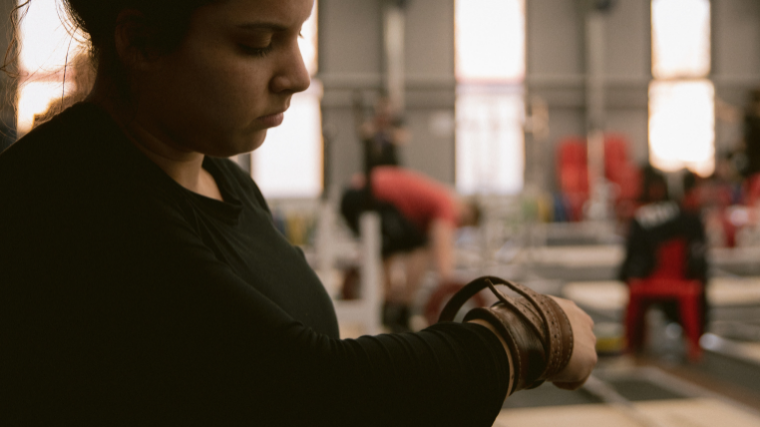 [Related: Team China Withdraws from 2021 World Championships]
In Good Company
By seizing gold in Tashkent, Alwine joins a select echelon of American weightlifters to have won a Senior world-level event. She, alongside Sarah Robles (2017) and Kate Nye (2019), is one of only three American Senior World Champions in the last decade.
Alwine is also the fifth-ever female IWF World champion from the United States. Prior to Robles' victory at the 2017 World Championships, Team USA hadn't had a female champion since 1994.
The 2021 IWF World Championships have been fraught with exciting moments and record-setting performances. Alwine's gold-medal effort not only represents a massive personal milestone but contributes strongly to Team USA's collective efforts on the world stage.
Editor's Note: BarBend is the Official Media Partner of USA Weightlifting. The two organizations maintain editorial independence unless otherwise noted on specific content projects.
Featured Image: @iwfnet on Instagram