Of all the workout supplements one can buy, pre workouts can be the most confusing. Sure, the caffeine is the ingredient most people look for, but then there's a slew of other ingredients linked to improved performance like beta alanine, citrulline, betaine, and others.
A lot of people feel like they need a degree in biochemistry before picking the right one for them, but we've tried dozens of contenders to land on our list of the best of the best. Take a look below.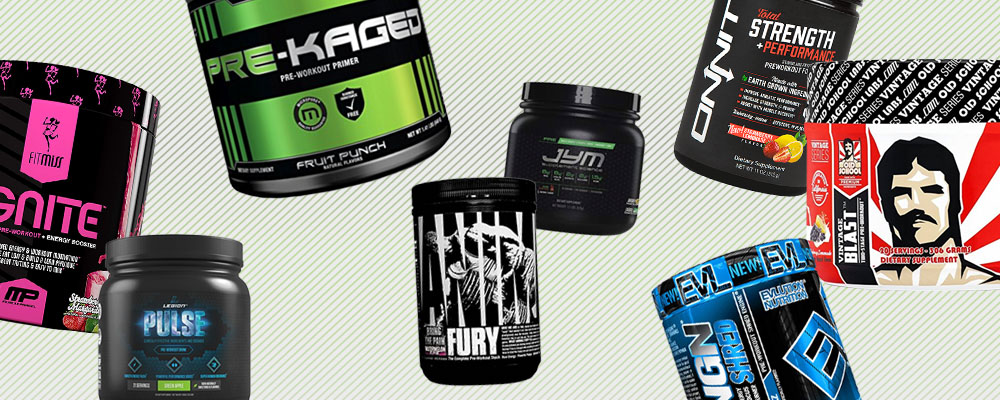 Best Pre Workout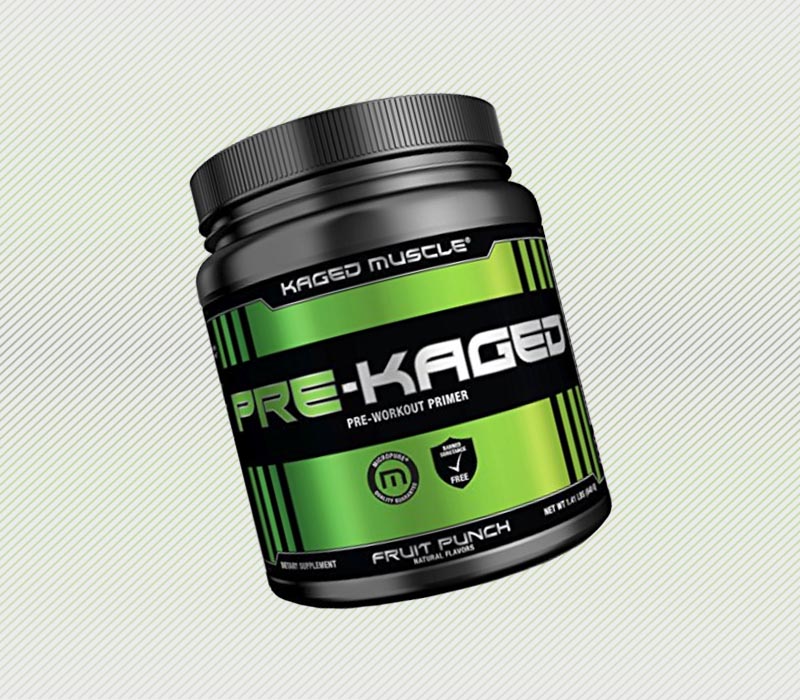 KAGED MUSCLE PRE KAGED
Not only does it contain a solid, 274-milligram dose of caffeine, but KAGED MUSCLE's supplement also has good amounts of ingredients for endurance, focus, and power output. Basically, it's a great all rounder — there are even antioxidants to manage inflammation and branched chain amino acids, which might help to prevent muscle breakdown.
Pros
This contains research-backed doses of beta alanine for endurance, tyrosine and taurine for focus, betaine and creatine for power, and citrulline for blood flow.
Unusually for a pre workout, PRE KAGED contains antioxidants from quercetin and powdered vegetables, which may help to combat inflammation.
This product also contains 3.5 grams of branched chain amino acids.
Cons
This product contains artificial sweeteners and flavors.
All those ingredients mean PRE KAGED winds up on the pricier side for a pre workout.
Strongest Pre Workout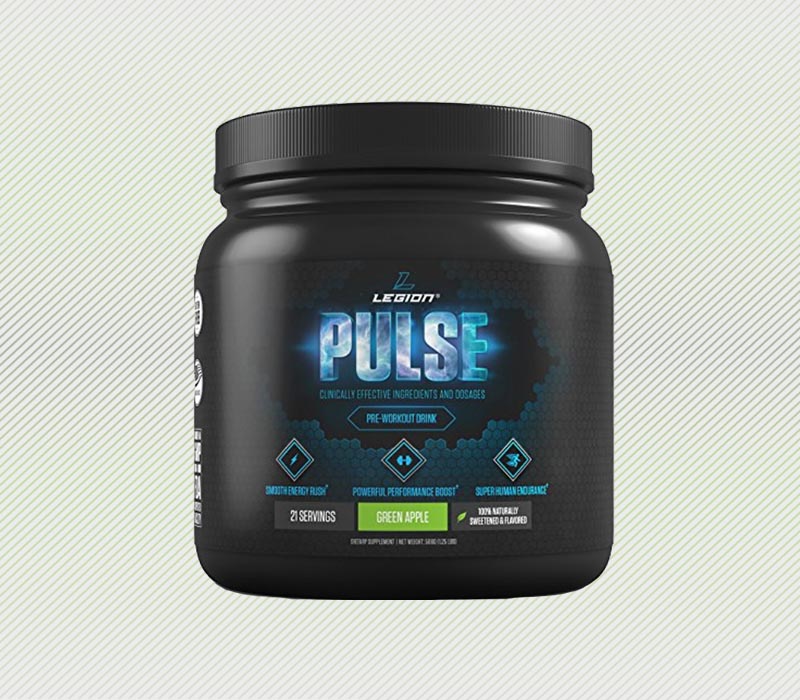 Legion Pulse
Legion's Pulse contains a huge 350 milligrams of caffeine, about as much as is found in 3.5 standard cups of coffee. (Or a little more than what's present in a Venti dark roast from Starbucks.) On top of that, Legion has a suite of ingredients that might help with blood flow, endurance, and focus — plus it's all natural, so it'll please those who avoid artificial sweeteners.
Pros
One serving of Pulse delivers the caffeine of three cups of coffee, making it very effective even for those with a high tolerance.
With two scoops per serving, it's easy to cut a dose in half if there are concerns about taking too much caffeine.
Cons
Even in one scoop, there's a lot of beta alanine in here. This ingredient is linked to improved endurance, but high doses typically cause tingling on the skin — it's harmless, but some people find it unpleasant.
Most of Legion's products are more expensive than their competitors, and Pulse is no exception.
Best Tasting Pre Workout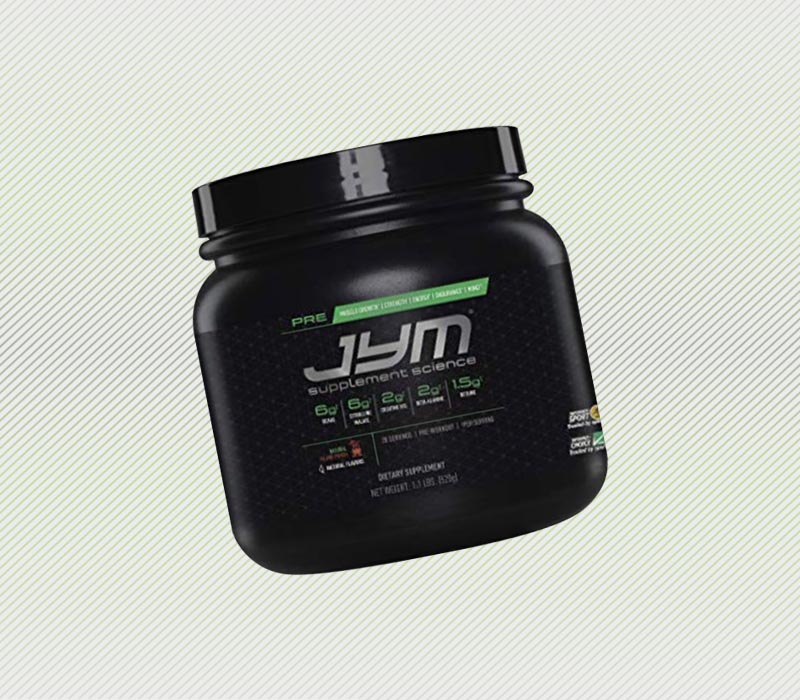 Pre Jym
Dr. Jim Stoppani earned his PhD in exercise physiology and biochemistry, and his line of supplements deserve their hype for the research that goes into their formulations. Pre Jym is well dosed — and has a considerable 300 milligrams of caffeine — but it really stands out for how tasty it is. Our favorite flavors are Refreshing Melon and Strawberry Kiwi.
Pros
With innovative flavors like Refreshing Melon, Rainbow Sherbet, and Strawberry Kiwi, we've found this to be the best tasting pre workout.
Pre Jym contains strong doses of caffeine, creatine, beta alanine, taurine, and citrulline to fuel a wide variety of workouts.
One scoop contains six grams of branched chain amino acids, which might help to preserve muscle during tough workouts.
Cons
Pre Jym costs almost twice what its cheaper — but less effective — competitors cost on average.
This product contains plenty of artificial flavors and sweeteners.
Some ingredients, like alpha GPC and betaine (used for improving power output), seem a little under dosed.
Best Caffeine Free Pre Workout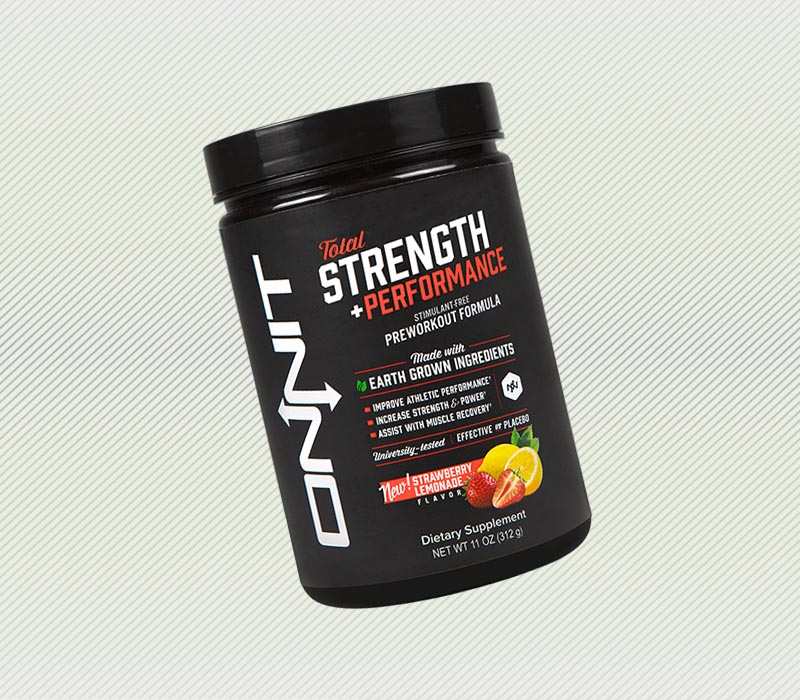 Onnit Total Strength + Performance
Want a boost, but don't like getting all jacked up from caffeine? Onnit Total Strength + Performance is a great option. The ingredients emphasize beta alanine, which is linked to increased endurance, and branched chain amino acids, which may help to improve muscle retention and focus puring punishing workouts.
Pros
This pre workout delivers a suite of ingredients that may improve focus and endurance without acting as stimulants.
Total Strength + Performance is all natural, with no artificial flavors or sweeteners.
The addition of stinging nettle may help to reduce inflammation.
Cons
The product contains proprietary blends, so we don't always know the precise dosage we're getting in a scoop.
Best All Natural Pre Workout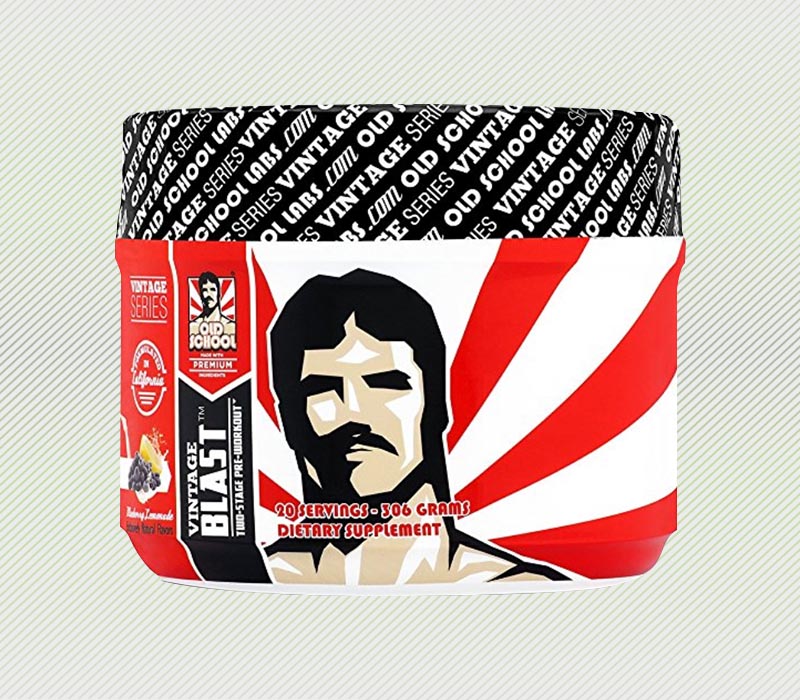 Old School Labs Vintage Blast
There's nothing artificial here, but the really interesting aspect of this product is the "two-stage formula" that includes both regular caffeine and micro encapsulated caffeine. That means some of the caffeine particles are coated in a thin, tasteless film that slows their digestion, so the effect is prolonged throughout your workout. Add that to a big dose of citrulline for blood flow and tyrosine for focus, and you've got a solid product.
Pros
Vintage Blast has an unusual "two-stage formula" that breaks down slowly, potentially being useful for longer workouts.
This product is completely free from artificial flavors, sweeteners, and colors.
Old School Labs included a big dose of citrulline to help with blood flow.
Cons
The Blueberry Lemonade flavor is quite sour, which may be off putting to some consumers.
The benefits of some ingredients, like d-aspartic acid, aren't very well supported by evidence at this time.
Best Pre Workout for Fat Loss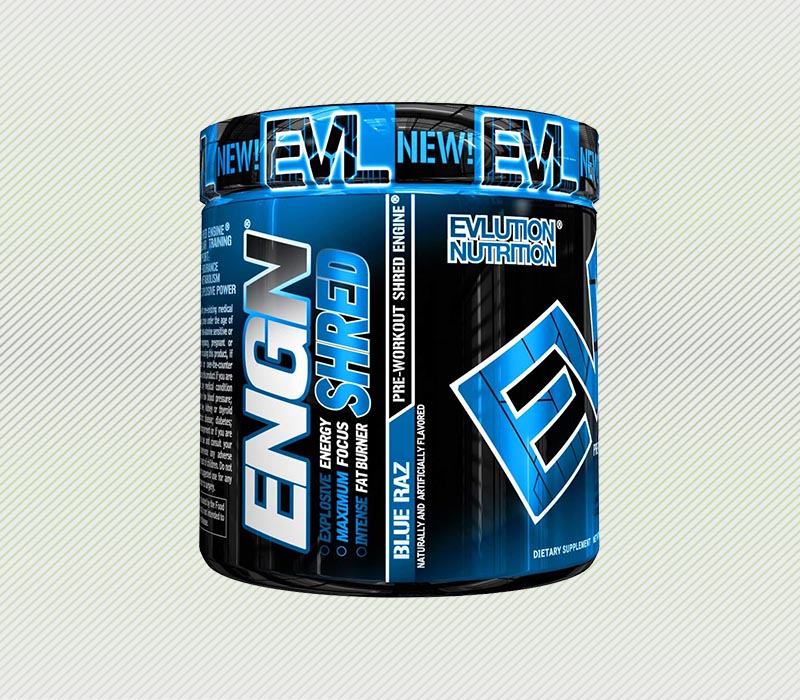 Evlution Engn Shred Pre Workout
Engn Shred contains B-vitamins, caffeine, and beta-alanine, but what makes it stand out from the crowd is the range of ingredients that have links to increased thermogenesis like red pepper extract and l-carnitine l-tartrate. This may help to increase the number of calories burned during and after a workout.
Pros
The red pepper extract and the l-carnitine l-tartrate both have interesting links to fat loss.
In addition to the caffeine, there's a good hit of beta-alanine, which may improve endurance.
Engn Shred is one of the most reasonably priced pre workouts.
Cons
One of the blends, the "Mind-to-Muscle Matrix" is a proprietary blend, and given its weight the ingredients don't seem well dosed.
Engn Shred contains artificial flavors and sweeteners.
Best Pre Workout Without Creatine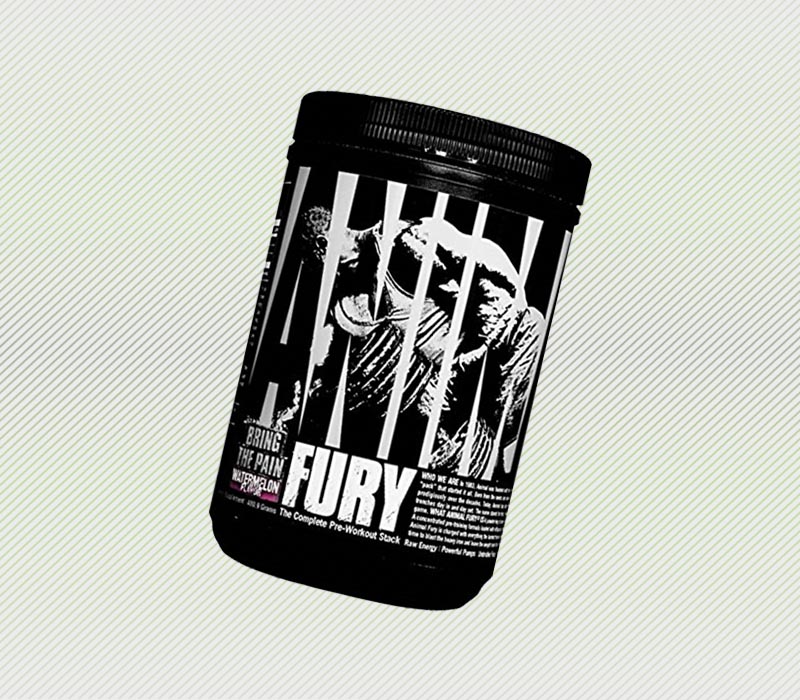 Animal Fury
With a whopping 350 milligrams of caffeine, Animal Fury is not for the faint of heart. But if you're wary of creatine — it tends to add size to your muscles and increase a little water weight, which not everybody likes — this product is very well dosed in a range of ingredients that may improve stamina, blood flow, and focus. And of course, if the caffeine is too high, you can just use a smaller scoop.
Pros
Animal Fury is very well dosed, meeting the amounts of citrulline, beta alanine, and caffeine that experts typically recommend.
A scoop also contains 5 grams of branched chain amino acids, which may help to preserve muscle during tough workouts.
Cons
One scoop contains about as much caffeine as 3 cups of coffee, which may be too strong for some users.
Animal Fury contains artificial flavors and sweeteners, which may be off putting to some consumers.
5 Common Pre Workout Ingredients You Should Know About
What do all of these ingredients mean? Here we'll run through a few of the most common additions that are likely to be found on a pre workout label.
Caffeine
This is the most common ingredient in pre workouts. The USDA puts a cup of coffee at 95 milligrams of caffeine, while a short cup of Starbucks® coffee has about 160 milligrams. The average pre workout has at least 200 and up to 350 milligrams, and research has suggested that caffeine can help improve focus, power output, reaction time, and both aerobic and anaerobic exercise.(1)(2)(3)(4)(5)(6)(7)
Creatine
A type of nitrogeonous organic acid that's found in meat — but the kind in supplements is vegetarian friendly — creatine doesn't actually have to be taken before a workout. The idea is to take about five grams per day to increase the amount of creatine circulating in the body. This has been shown in scores of studies to potentially increase power output by up to 12 and maybe even 25 percent.(8)(9) Among folks who don't eat much meat (and therefore not much creatine), it may also be useful for cognitive health.(10)
Beta Alanine
This amino acid has pretty solid links to increased endurance. Research published in Amino Acids, the Journal of Strength and Conditioning Research, and elsewhere suggest that two to five grams can help with sprinting as well as strength training sets in the range of 8 to 15 reps.(11)(12)(13) Look for at least 1.6 grams of the stuff per serving, and note that it causes a "tingling" sensation on the skin. It's harmless and short lived, but some find it uncomfortable.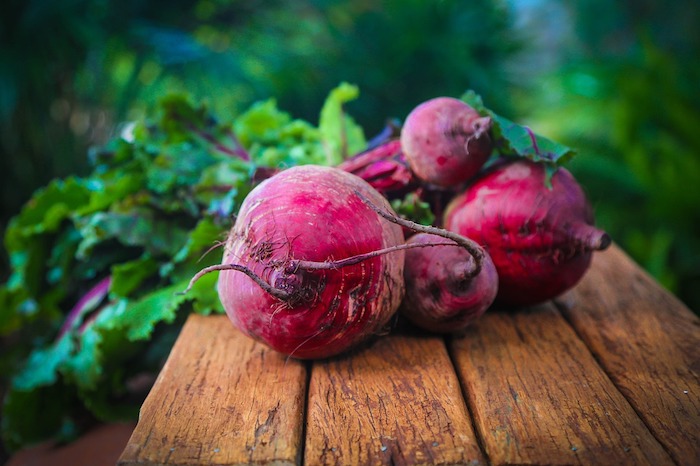 Tyrosine
This is one of the most popular ingredients for "focus." Some research suggests that tyrosine can help a person maintain focus in stressful situations — hot days, prolonged fatigue, sweaty workouts — by making sure they don't run too low on adrenaline and dopamine.(14)(15)(16)(17) We don't have a great idea of the best dosage, but 500 milligrams to 2 grams may be ideal.
Citrulline
Because of its possible benefits for blood flow, citrulline — from the Latin word for "watermelon," which is a good source of this amino acid — may help with endurance and power output.(18)(19) This is almost always underdosed though; look for a good 5 to 8 grams of it in a pre workout.
Betaine
A metabolite that's found in beets and other plants, betaine has been seen in some studies to significantly improve power output and work capacity.(20)(21) These studies saw benefits with 2.5 grams per day split into two doses.
BarBend Tips
Consider your weight and your tolerance when looking for a pre workout. A 200-pound athlete with a coffee habit may prefer something with at least 300 milligrams of caffeine, whereas lighter folks or those who don't take much caffeine may prefer low doses or a stimulant-free option.
Remember that a lot of pre workouts have artificial flavors and sweeteners, and they may have been made on equipment that processes products that contain allergens like gluten and soy. Check the label if you have preferences or sensitivities.
Above we listed pre workout ingredients in their rough order of how much evidence supports them. Caffeine has the most studies backing it up, then creatine and beta alanine, and the others have interesting research suggesting their usefulness — but it's not ironclad. Prioritize your pre workouts accordingly.
Be wary of proprietary blends. They're common, so we didn't penalize products too harshly for containing them, but we prefer products that list the precise weight of each of their active ingredients.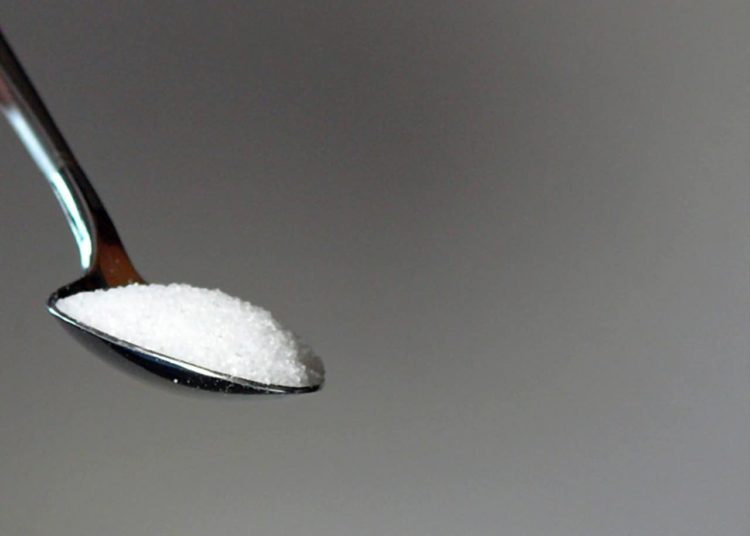 Wrapping Up
Pre workouts can seem tricky, but hopefully this article has helped to demystify the product and show that they can be used by a wide variety of serious and casual gymgoers alike. They can be strong, mild, and stimulant-free — one doesn't need to commit to bouncing off the walls if they just want the boost of a small cup of coffee. The science is compelling and the benefits could prove useful for you.
References
Duvnjak-Zaknich DM, et al. Effect of caffeine on reactive agility time when fresh and fatigued. Med Sci Sports Exerc. 2011 Aug;43(8):1523-30.
Childs E, et al. Subjective, behavioral, and physiological effects of acute caffeine in light, nondependent caffeine users. Psychopharmacology (Berl). 2006 May;185(4):514-23.
Mora-Rodríguez R, et al. Caffeine ingestion reverses the circadian rhythm effects on neuromuscular performance in highly resistance-trained men. PLoS One. 2012;7(4):e33807.
Del Coso J, et al. Dose response effects of a caffeine-containing energy drink on muscle performance: a repeated measures design. J Int Soc Sports Nutr. 2012 May 8;9(1):21.
Cook C, et al. Acute caffeine ingestion's increase of voluntarily chosen resistance-training load after limited sleep. Int J Sport Nutr Exerc Metab. 2012 Jun;22(3):157-64.
Paton CD, et al. Caffeinated chewing gum increases repeated sprint performance and augments increases in testosterone in competitive cyclists. Eur J Appl Physiol. 2010 Dec;110(6):1243-50.
Desbrow B, et al. The effects of different doses of caffeine on endurance cycling time trial performance. J Sports Sci. 2012;30(2):115-20.
Kreider RB. Effects of creatine supplementation on performance and training adaptations. Mol Cell Biochem. 2003 Feb;244(1-2):89-94.
Cooper R, et al. Creatine supplementation with specific view to exercise/sports performance: an update. J Int Soc Sports Nutr. 2012 Jul 20;9(1):33.
Benton D, et al. The influence of creatine supplementation on the cognitive functioning of vegetarians and omnivores. Br J Nutr. 2011 Apr;105(7):1100-5.
Hobson RM, et al. Effects of β-alanine supplementation on exercise performance: a meta-analysis. Amino Acids. 2012 Jul;43(1):25-37.
Stout JR, et al. Effects of beta-alanine supplementation on the onset of neuromuscular fatigue and ventilatory threshold in women. Amino Acids. 2007;32(3):381-6.
Kern BD, et al. Effects of β-alanine supplementation on performance and body composition in collegiate wrestlers and football players. J Strength Cond Res. 2011 Jul;25(7):1804-15.
Neri DF, et al. The effects of tyrosine on cognitive performance during extended wakefulness. Aviat Space Environ Med. 1995 Apr;66(4):313-9.
Shurtleff D, et al. Tyrosine reverses a cold-induced working memory deficit in humans. Pharmacol Biochem Behav. 1994 Apr;47(4):935-41.
Banderet LE, et al. Treatment with tyrosine, a neurotransmitter precursor, reduces environmental stress in humans. Brain Res Bull. 1989 Apr;22(4):759-62.
Tumilty L, et al. Oral tyrosine supplementation improves exercise capacity in the heat. Eur J Appl Physiol. 2011 Dec;111(12):2941-50.
Sureda A, et al. L-citrulline-malate influence over branched chain amino acid utilization during exercise. Eur J Appl Physiol. 2010 Sep;110(2):341-51.
Ochiai M, et al. Short-term effects of L-citrulline supplementation on arterial stiffness in middle-aged men. Int J Cardiol. 2012 Mar 8;155(2):257-61.
Lee, E.C. et al. (2010) Ergogenic effects of betaine supplementation on strength and power performance. J Int Soc Sports Nutr. 2010; 7: 27.
Hoffman, J. et al. (2009) Effect of betaine supplementation on power performance and fatigue. J Int Soc Sports Nutr. 2009; 6: 7.