You do everything you can for optimal performance on the lifting platform. Downing pre-workout before the gym gives you that energy and performance boost you're looking for, especially on those mornings when you just don't want to lace up your weightlifting shoes.
But even pre-workout isn't perfect. Pre-workout supplements can get pricey, especially if you take them frequently. And because they're not regulated, you can't always be sure what's in pre-workout or how much of each ingredient you're drinking.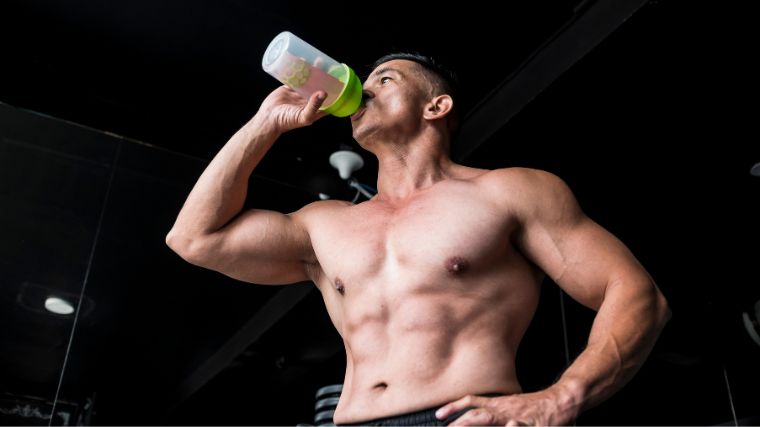 That's where homemade pre-workout comes in. Understanding the ingredients that make an excellent pre-workout allows you to mix one up on your own. Controlling the amount of each ingredient can help you avoid side effects and go as natural as you want. Here's everything you need to know about how to cook up your own homemade pre-workout.
Editor's Note: The content on BarBend is meant to be informative in nature, but it should not be taken as medical advice. When starting a new training regimen and/or diet, it is always a good idea to consult with a trusted medical professional. We are not a medical resource. The opinions and articles on this site are not intended for use as diagnosis, prevention, and/or treatment of health problems. They are not substitutes for consulting a qualified medical professional.
What Is Pre-Workout?
Pre-workout is a dietary supplement often made up of caffeine, amino acids, vitamins, and creatine that can give you an energy boost and performance benefits for your training session.
These supplements were largely made popular by the bodybuilding community in the 1990s and have stayed big on the market. Pre-workout may make you feel more energized by increasing your endurance, delaying fatigue, enhancing blood flow, and promoting better muscular contractions. All of this adds up to a potential boost in athletic performance. (1)(2)
Common Pre-Workout Ingredients
Supplement companies offer different proprietary blends of ingredients and suggest that the mix of ingredients may work together better than they do on their own. Each ingredient can have a different ergogenic effect on your workout. (2)
The most common ingredients in the top 100 selling multi-ingredient pre-workout supplements (MIPS) were found to be: beta-alanine, caffeine, citrulline, tyrosine, taurine, and creatine. (3) Other common ingredients include arginine, branched-chain amino acids (BCAAs), betaine, and other stimulants.
[Read More: New Study Shows Over 10 Percent Of Some Supplements Contain Ingredients Banned By FDA]
Can You Make Your Own Pre-Workout?
Yes, you can make DIY pre-workout. Overall, it may be cheaper than pre-made blends and you can control what goes into it. Avoid additives and skip ingredients that you know give you side effects.
For example, beta-alanine may help reduce fatigue but is known for causing a tingling sensation that some people may find uncomfortable. (4)(5) If caffeine gives you the jitters, you can skip stimulants.
You can go the natural route or purchase supplement ingredients on their own and add them in. To figure out what's best for you, get specific about what you're looking to get out of your pre-workout.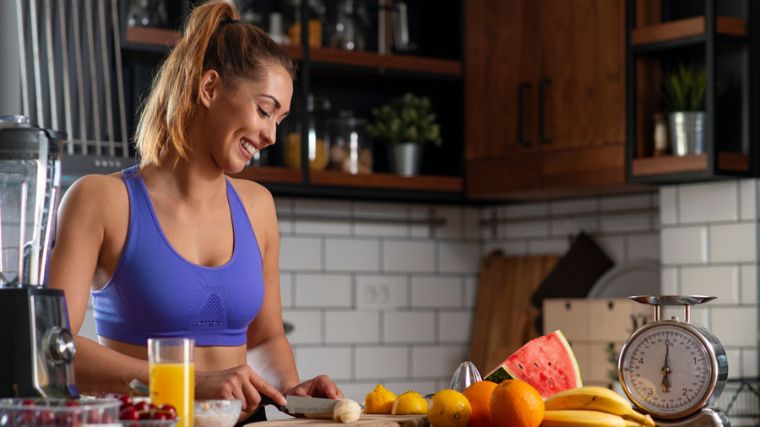 [Read More: Nutrition for Athletes — How to Eat for Muscle and Performance]
If you're trying to increase your endurance and are less focused on muscle building, you can skip creatine and BCAAs. If muscle growth is your goal, you may want to include them — but you can also aim to hit your protein intake goals outside of your pre-workout drink.
Ingredients in a Homemade Pre-Workout
To make your own pre-workout, you need a working knowledge of common ingredients and what benefits they give. That way, you can pick and choose which are best for you.
Here are the top options to include in your homemade pre-workout — and what they offer your training session.
Caffeine
If you're looking for that boost of mental motivation, including caffeine in your homemade pre-workout may be beneficial. On the other hand, if you're not into stimulants, skip it altogether.
Caffeine can enhance your energy and focus, delay feelings of fatigue, and potentially improve your cognition and reaction time. Caffeine is well-known to improve exercise performance in endurance training, but may also be beneficial to resistance training by increasing your strength and power output. (6)(7)(8)
You can add caffeine to your pre-workout with caffeine capsules or powder.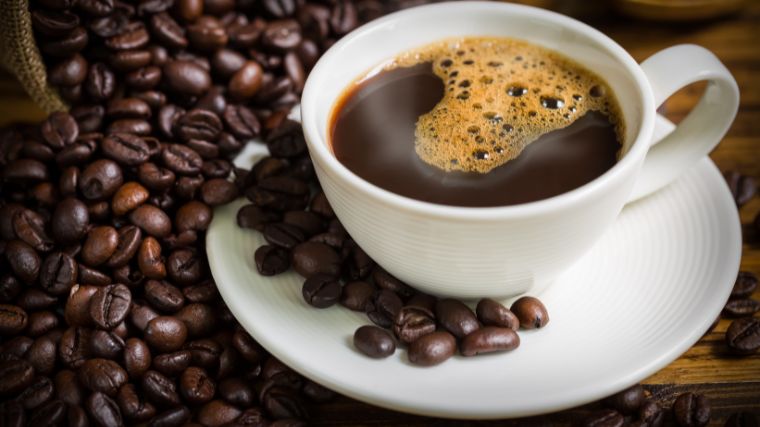 [Read More: The Complete Guide to Pre-Workout Supplements]
When you want something more natural, opt for green tea extract. Green tea also contains L-theanine, an amino acid that may improve your cognitive function. Combined with caffeine, theanine can help you feel more alert and less tired while potentially reducing the jittery feeling from caffeine. (9)
Green tea extract also contains antioxidants. Having antioxidants in your pre-workout may help delay fatigue, reduce muscle damage and soreness, and improve your recovery after training. (10)
Salt
Staying hydrated while you train is about more than drinking water. So, adding salt to your homemade pre-workout can help with hydration and more.
Salt (or sodium) is an electrolyte that works to maintain fluid balance in your body. When you sweat, you lose water, salt, and electrolytes. Consuming salt before your workout can help keep you hydrated and potentially improve your exercise performance. (11)(12)
Keeping your electrolytes balanced with salt may lead to increased endurance, delayed fatigue, more blood flow, better muscular contractions, and bigger pumps. (13)(14)
The American College of Sports Medicine (ACSM) recommends having 1.7 to 2.9 grams of salt before your workout to reap the benefits. (13) You can add it straight into your homemade pre-workout. If you want some extra flavor, coconut water also contains electrolytes and sodium.
Beetroot and Watermelon
Beetroot juice or powder and watermelon juice are great natural sources of nitrates and citrulline, respectively. Nitrates, citrulline, (and arginine) are precursors to nitric oxide. (15)(16)(17)
Nitric oxide is a gas produced in your body that enhances vasodilation — the widening and relaxing of your blood vessels. This leads to better blood flow, allowing for better delivery of oxygen and nutrients to your muscles. (17)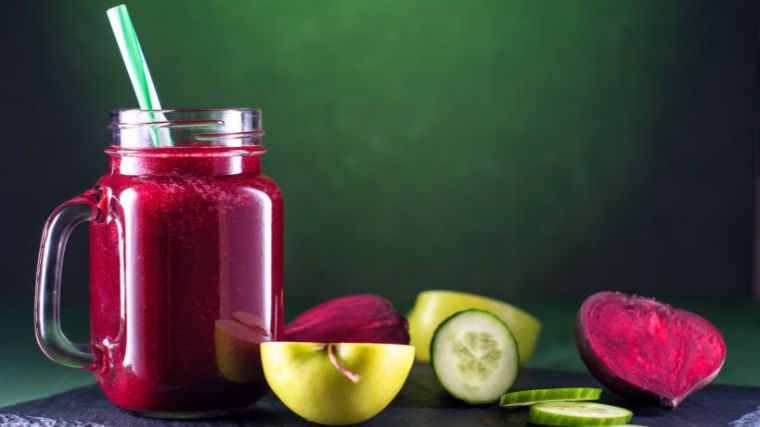 [Read More: The Best Foods for Energy Before, During, and After Your Workouts]
Research shows nitric oxide can positively impact exercise by improving performance during high-intensity interval training and long-duration aerobic activity. Better blood flow from nitric oxide may increase your endurance, help you build strength over time, contribute to muscle growth, and improve recovery by speeding up lactic acid excretion. (17)(18)(19)(20)
Adding beetroot and/or watermelon juice to your pre-workout can encourage nitric oxide production in your body. If you want to purchase nitric oxide-boosting supplements to add to your homemade pre-workout you can also get l-arginine, l-citrulline, or citrulline malate on their own.
Creatine
For athletes focused on building muscle mass and lifting heavy, adding creatine to your homemade pre-workout may be beneficial.
For over 50 years, research has suggested that creatine is a safe and ergogenic aid to exercise. It works by increasing your ATP stores (energy supply) in highly intense, short-duration activities like weightlifting.
This leads to enhanced muscular contractions which may help you build lean muscle mass and increase your strength over time. It can increase your exercise capacity and potentially improve your recovery as well. (21)(22)(23)
[Read More: BCAA Vs. Creatine Supplements — Which to Take and When?]
There are different types of creatine, and creatine monohydrate is the type that has been the most studied. (24) There are foods with creatine if you want a natural source, but it's difficult to get enough of it through food alone. Supplementation may be more efficient to reap the benefits.
Betaine
Betaine is a nutrient found in foods like spinach, beets, and whole grains. It's often found in pre-workout because it may increase power output, force, muscular endurance, and exercise capacity. When paired with resistance training and adequate nutrition, research shows betaine can also help increase muscle size. (25)(26)(27)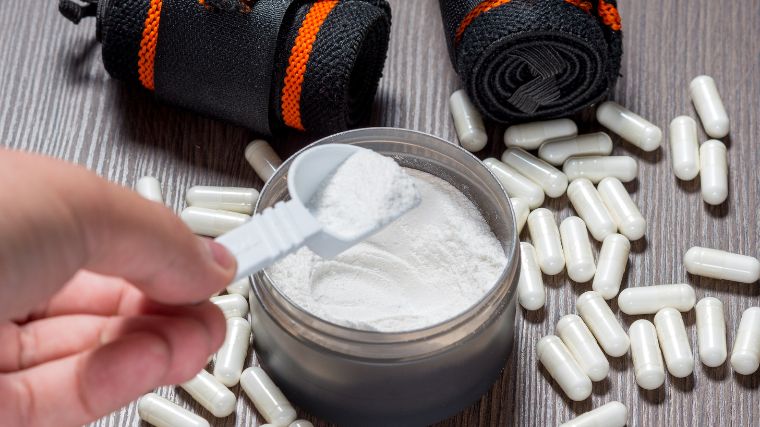 [Read More: The 12 Best Supplements for Muscle Growth]
It's associated with power workouts, so if you're training explosive movements, betaine may be a good addition. You may be able to get some natural betaine from beets or spinach in your pre-workout, which will also provide carbs and increase your overall veggie intake. Opting for a betaine supplement will give you a more concentrated amount.
BCAAs
Many pre-workout supplements contain BCAAs, which stands for branched-chain amino acids.
Leucine, valine, and isoleucine make up BCAAs. These are essential amino acids that your body cannot make on its own. Muscle protein is made of 20 amino acids, nine are essential (including the three BCAAs), and 11 are non-essential. All 20 must be present in your body for muscle protein synthesis to occur: the process of muscle building. (28)
Leucine is a precursor for muscle protein synthesis, and research shows having essential amino acids readily available in your body after training may help stimulate muscle hypertrophy. BCAAs may help build muscle, but you still need the rest of your amino acids — they don't work on their own. Together, they may also help reduce soreness. (29)(30)(31)
[Read More: The Best Protein Intake Calculator for Muscle Gain and Fat Loss]
Although BCAA supplements are popular, it's unclear if they're necessary for a pre-workout. They may not have any impact on your exercise performance, and you get BCAAs anytime you consume complete protein sources from food or supplements. So if you make a post-workout shake with protein powder (whey protein is high in leucine), you'll still get all your BCAAs.
Still, some people may opt to add BCAAs to homemade pre-workouts to boost their protein intake.
How Safe is a Homemade Pre-Workout?
A homemade pre-workout is as safe as you make it. When you're adding individual supplements, it's best to read the label and follow the suggested serving size. Even if you opt for natural pre-workout ingredients, it's safest to follow the recommended amount.
Be mindful of your caffeine intake in particular. The Food and Drug Administration (FDA) recommends not consuming more than 400 milligrams of caffeine daily. (32) If you're having coffee and adding caffeine to your pre-workout, keep that number in mind to avoid harmful side effects.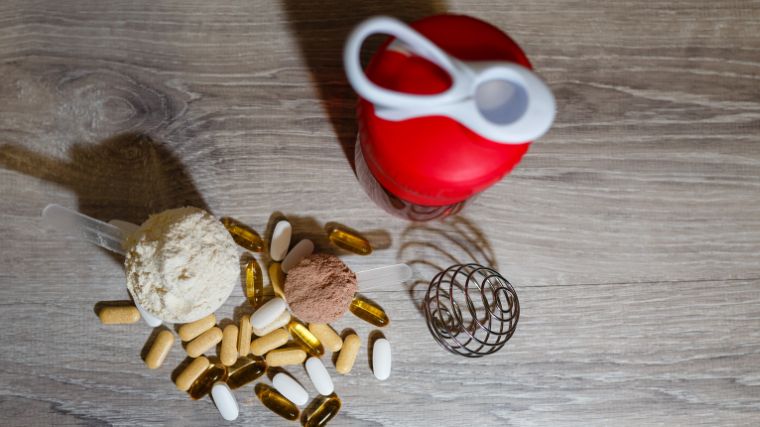 Studies on the safety and ergogenic effect of multi-ingredient pre-workout supplements are scant and inconclusive because they are not standardized products. Most of the evidence of how common ingredients can boost your exercise performance comes from studies done on them individually. (33)
Because of that, homemade pre-workout may be more "safe," but it still depends on you and what you put in it.
Shake It Up
Making your own pre-workout supplement can be a cost-effective way to boost your energy before you hit the gym. Choosing from common ingredients (or their natural alternatives) like caffeine, salt, nitric oxide boosters, creatine, betaine, and BCAAs can help give you the push you need to crush your workouts and get your gains.
Be mindful of the recommended dosage before you pop everything into your shaker bottle. It may be safer to make your own pre-workout because you control what goes in it, but that also makes it possible for it to be unsafe if you go too hard — it all depends on you.
FAQs
Before you hit the kitchen, let's answer some lingering questions you may have.
Can I make my own pre-workout?
Yes, you can combine exercise-boosting ingredients to make your own pre-workout. Sometimes, that means adding certain foods or juices — like beetroot or watermelon — while other times, you might opt for a supplement like green tea extract or betaines.
What are the benefits of pre-workout?
Pre-workout may increase your feeling of energy and focus, decrease your fatigue, increase your blood flow, boost endurance, and improve your athletic performance.
What can I add to my pre-workout?
You can add caffeine, salt, creatine, nitric oxide boosters, betaine, and BCAAs. You can also add other ingredients commonly found in pre-workout supplements like beta-alanine, taurine, and tyrosine.
References
Martinez N, Campbell B, Franek M, Buchanan L, Colquhoun R. The effect of acute pre-workout supplementation on power and strength performance. J Int Soc Sports Nutr. 2016 Jul 16;13:29.
Harty, P.S., Zabriskie, H.A., Erickson, J.L. et al. Multi-ingredient pre-workout supplements, safety implications, and performance outcomes: a brief review. J Int Soc Sports Nutr 15, 41 (2018).
Jagim AR, Harty PS, Camic CL. Common Ingredient Profiles of Multi-Ingredient Pre-Workout Supplements. Nutrients. 2019 Jan 24;11(2):254.
Hoffman JR, Emerson NS, Stout JR. β-Alanine supplementation. Curr Sports Med Rep. 2012 Jul-Aug;11(4):189-95.
Dolan E, Swinton PA, Painelli VS, Stephens Hemingway B, Mazzolani B, Infante Smaira F, Saunders B, Artioli GG, Gualano B. A Systematic Risk Assessment and Meta-Analysis on the Use of Oral β-Alanine Supplementation. Adv Nutr. 2019 May 1;10(3):452-463.
Pickering C, Grgic J. Caffeine and Exercise: What Next? Sports Med. 2019 Jul;49(7):1007-1030.
Southward K, Rutherfurd-Markwick KJ, Ali A. The Effect of Acute Caffeine Ingestion on Endurance Performance: A Systematic Review and Meta-Analysis. Sports Med. 2018 Aug;48(8):1913-1928.
Grgic, J., Mikulic, P., Schoenfeld, B.J. et al. The Influence of Caffeine Supplementation on Resistance Exercise: A Review. Sports Med 49, 17–30 (2019).
Giesbrecht T, Rycroft JA, Rowson MJ, De Bruin EA. The combination of L-theanine and caffeine improves cognitive performance and increases subjective alertness. Nutr Neurosci. 2010 Dec;13(6):283-90.
Canals-Garzón C, Guisado-Barrilao R, Martínez-García D, Chirosa-Ríos IJ, Jerez-Mayorga D, Guisado-Requena IM. Effect of Antioxidant Supplementation on Markers of Oxidative Stress and Muscle Damage after Strength Exercise: A Systematic Review. Int J Environ Res Public Health. 2022 Feb 5;19(3):1803.
National Academies of Sciences, Engineering, and Medicine; Health and Medicine Division; Food and Nutrition Board; Committee to Review the Dietary Reference Intakes for Sodium and Potassium; Oria M, Harrison M, Stallings VA, editors. Dietary Reference Intakes for Sodium and Potassium. Washington (DC): National Academies Press (US); 2019 Mar 5. 8, Sodium: Dietary Reference Intakes for Adequacy.
Turner MJ, Avolio AP. Does Replacing Sodium Excreted in Sweat Attenuate the Health Benefits of Physical Activity? Int J Sport Nutr Exerc Metab. 2016 Aug;26(4):377-89.
Veniamakis E, Kaplanis G, Voulgaris P, Nikolaidis PT. Effects of Sodium Intake on Health and Performance in Endurance and Ultra-Endurance Sports. Int J Environ Res Public Health. 2022 Mar 19;19(6):3651.
Mora-Rodriguez R, Hamouti N. Salt and fluid loading: effects on blood volume and exercise performance. Med Sport Sci. 2012;59:113-119.
Dos Santos Baião D, Vieira Teixeira da Silva D, Margaret Flosi Paschoalin V. A Narrative Review on Dietary Strategies to Provide Nitric Oxide as a Non-Drug Cardiovascular Disease Therapy: Beetroot Formulations-A Smart Nutritional Intervention. Foods. 2021 Apr 15;10(4):859.
Volino-Souza M, Oliveira GV, Conte-Junior CA, Figueroa A, Alvares TS. Current Evidence of Watermelon (Citrullus lanatus) Ingestion on Vascular Health: A Food Science and Technology Perspective. Nutrients. 2022 Jul 15;14(14):2913.
Gonzalez, Adam M., Jeremy R. Townsend, Anthony G. Pinzone, and Jay R. Hoffman. 2023. "Supplementation with Nitric Oxide Precursors for Strength Performance: A Review of the Current Literature" Nutrients 15, no. 3: 660.
Wylie LJ, Mohr M, Krustrup P, Jackman SR, Ermιdis G, Kelly J, Black MI, Bailey SJ, Vanhatalo A, Jones AM. Dietary nitrate supplementation improves team sport-specific intense intermittent exercise performance. Eur J Appl Physiol. 2013 Jul;113(7):1673-84.
Lansley KE, Winyard PG, Fulford J, Vanhatalo A, Bailey SJ, Blackwell JR, DiMenna FJ, Gilchrist M, Benjamin N, Jones AM. Dietary nitrate supplementation reduces the O2 cost of walking and running: a placebo-controlled study. J Appl Physiol (1985). 2011 Mar;110(3):591-600.
Mor, A., Yılmaz, A. K., Acar, K., Birinci, M. C., & Ipekoglu, G. (2020). Does Nitric Oxide Intake Affect Post-Exercise Recovery in Athletes? A Study on Cocoa, Caffeine and Nitric Oxide Supplement: Effect of Nitric Oxide Intake in Athletes. Progress in Nutrition, 22(3), e2020007.
Kreider RB, Kalman DS, Antonio J, Ziegenfuss TN, Wildman R, Collins R, Candow DG, Kleiner SM, Almada AL, Lopez HL. International Society of Sports Nutrition position stand: safety and efficacy of creatine supplementation in exercise, sport, and medicine. J Int Soc Sports Nutr. 2017 Jun 13;14:18.
Hall M, Manetta E, Tupper K. Creatine Supplementation: An Update. Curr Sports Med Rep. 2021 Jul 1;20(7):338-344.
Mills S, Candow DG, Forbes SC, Neary JP, Ormsbee MJ, Antonio J. Effects of Creatine Supplementation during Resistance Training Sessions in Physically Active Young Adults. Nutrients. 2020 Jun 24;12(6):1880.
Hall M, Trojian TH. Creatine supplementation. Curr Sports Med Rep. 2013 Jul-Aug;12(4):240-4.
Lee EC, Maresh CM, Kraemer WJ, Yamamoto LM, Hatfield DL, Bailey BL, Armstrong LE, Volek JS, McDermott BP, Craig SA. Ergogenic effects of betaine supplementation on strength and power performance. J Int Soc Sports Nutr. 2010 Jul 19;7:27.
Hoffman JR, Ratamess NA, Kang J, Rashti SL, Faigenbaum AD. Effect of betaine supplementation on power performance and fatigue. J Int Soc Sports Nutr. 2009 Feb 27;6:7.
Cholewa JM, Wyszczelska-Rokiel M, Glowacki R, Jakubowski H, Matthews T, Wood R, Craig SA, Paolone V. Effects of betaine on body composition, performance, and homocysteine thiolactone. J Int Soc Sports Nutr. 2013 Aug 22;10(1):39.
Wolfe RR. Branched-chain amino acids and muscle protein synthesis in humans: myth or reality? J Int Soc Sports Nutr. 2017 Aug 22;14:30.
Atherton PJ, Smith K. Muscle protein synthesis in response to nutrition and exercise. J Physiol. 2012 Mar 1;590(5):1049-57.
Fouré A, Bendahan D. Is Branched-Chain Amino Acids Supplementation an Efficient Nutritional Strategy to Alleviate Skeletal Muscle Damage? A Systematic Review. Nutrients. 2017 Sep 21;9(10):1047.
Weber MG, Dias SS, de Angelis TR, Fernandes EV, Bernardes AG, Milanez VF, Jussiani EI, de Paula Ramos S. The use of BCAA to decrease delayed-onset muscle soreness after a single bout of exercise: a systematic review and meta-analysis. Amino Acids. 2021 Nov;53(11):1663-1678.
FDA. Spilling the Beans: How Much Caffeine is Too Much? U.S. Food & Drug Administration.
Eudy AE, Gordon LL, Hockaday BC, Lee DA, Lee V, Luu D, Martinez CA, Ambrose PJ. Efficacy and safety of ingredients found in preworkout supplements. Am J Health Syst Pharm. 2013 Apr 1;70(7):577-88.
Featured Image: MDV Edwards / Shutterstock