Transparent Labs is a Utah-based supplement company and as the name suggests, they're really invested in making transparent products. They don't have any proprietary blends, so you know the exact amount of every ingredient going into each serving, and while a lot of companies do third party testing for their supplements Transparent Labs actually offers the certificates of analysis and composition on their site. Today I'm reviewing their LEAN Pre-Workout supplement.
They have two pre-workouts, "Lean" and "Bulk," with Lean being the one that's focused on fat loss. So does the science hold up?
10% Off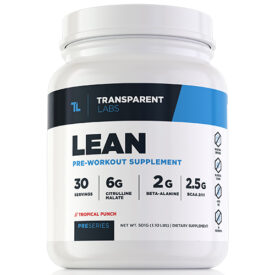 Third-party tested and clearly dosed, Transparent Labs LEAN has a huge variety of ingredients for endurance, power, alertness, and focus. Use code BARBEND10 for 10% off.
Transparent Labs Lean Pre-Workout Video Review
Get an in-depth look at Transparent Lab's pre-workout, including a breakdown of the ingredients label, how it tastes, and more.
Transparent Labs Lean Pre-Workout Ingredients
There are a ton of ingredients in this product. Transparent Labs recommend using half a serving at first to see how you react. Nutrition wise, a serving has over a day's worth of iodine, zinc, and chromium, plus a good dose of selenium and copper.
There are fourteen other ingredients:
Citrulline malate (6 grams)
Betaine (2.5 grams)
Branched chain amino acids (2 grams)
Beta alanine (1.5 grams)
Tyrosine (600mg)
Choline bitartrate (500mg)
Theanine (360mg)
Caffeine (180mg)
Guggulsterones (75mg)
Mucuna pruriens, a.k.a. velvet bean extract (70mg)
L-norvaline (60mg)
Synephrine HCl, also called bitter orange extract (50mg)
Hordenine (25mg)
Bioperine®, or black pepper extract (5mg)
We picked up the Green Apple flavor. The rest of the ingredients are anti-caking agents, natural flavorings, green apple flavor, stevia and citric acid. This product also comes in sour grape, strawberry lemonade, and blue raspberry flavors. Note that there are no artificial sweeteners or colors in this product.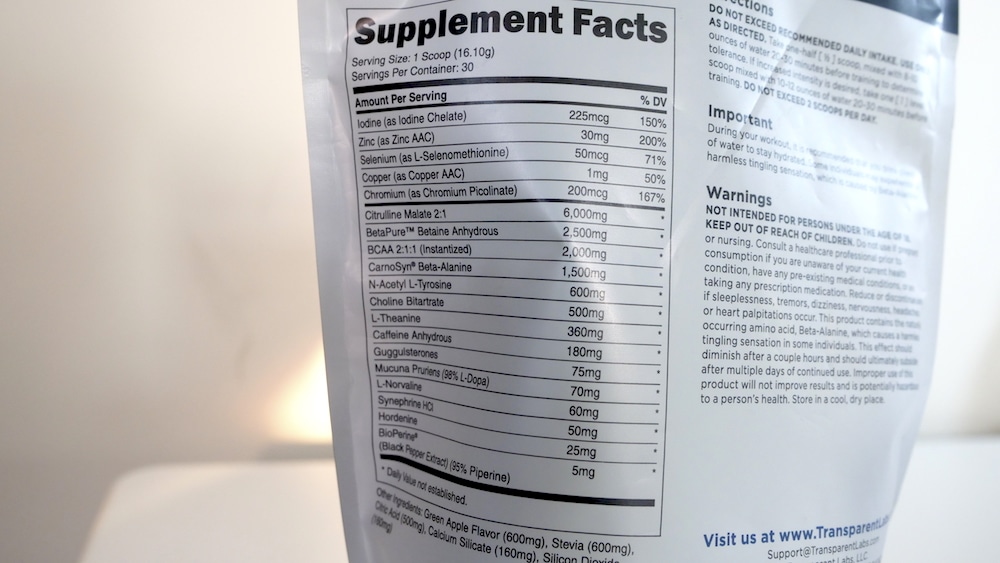 Transparent Labs Lean Pre-Workout Benefits and Effectiveness
So what do all these ingredients do? The first thing people usually ask about a pre-workout is the caffeine content, and there are 180 milligrams of the stuff in one scoop — a little over what you'll get in a small Starbucks coffee.
Let's try to group the rest of the ingredients by effect. Unless otherwise noted, all of the doses of these ingredients are pretty much in-line with what the research suggests. That's a big positive.
Focus: The theanine and tyrosine may have an effect, and the theanine in particular can be useful for reducing the jitteriness associated with a big hit of caffeine.
Endurance: The beta-alanine has a strong link and it's super common in pre-workouts. (Note that it tends to produce a harmless "tingly" sensation on the skin.) The citrulline and norvaline could also help in this regard. The branched chain amino acids may help with endurance, but normally they're dosed at at least three times the amount found in Lean.
Power: Betaine, a compound found in beets and some other plants, has been shown in a few studies to help with power output in the back squat, and two studies also found that citrulline improved power output in cyclists and tennis players. The choline bitartrate may also play a role here as it appears to help with anaerobic capacity.
Digestion: The black pepper extract, a relatively common ingredient in medications, appears to help all of these ingredients absorb more effectively.
Adrenaline: The velvet bean and the hordenine could have adrenaline-like effects, but the evidence is pretty shaky.
Fat loss: This is kind of the product's biggest selling point. Is there evidence that ingredients here can help? The bitter orange has a little evidence. One placebo-controlled study of 40 subjects found that 50 milligrams — the amount found in this product — increased the participants' metabolic rate by 65 calories without increasing hunger. Another had the same result while also showing that when combined with food, it could increase the extra calories burned to around twice that amount.
The guggulsterones, meanwhile, appear to improve thyroid activity. If you're thyroid isn't working optimally, that can make it harder to lose fat. That said, they're typically dosed at 500 milligrams three times a day. There are just 75 milligrams in one serving of Lean.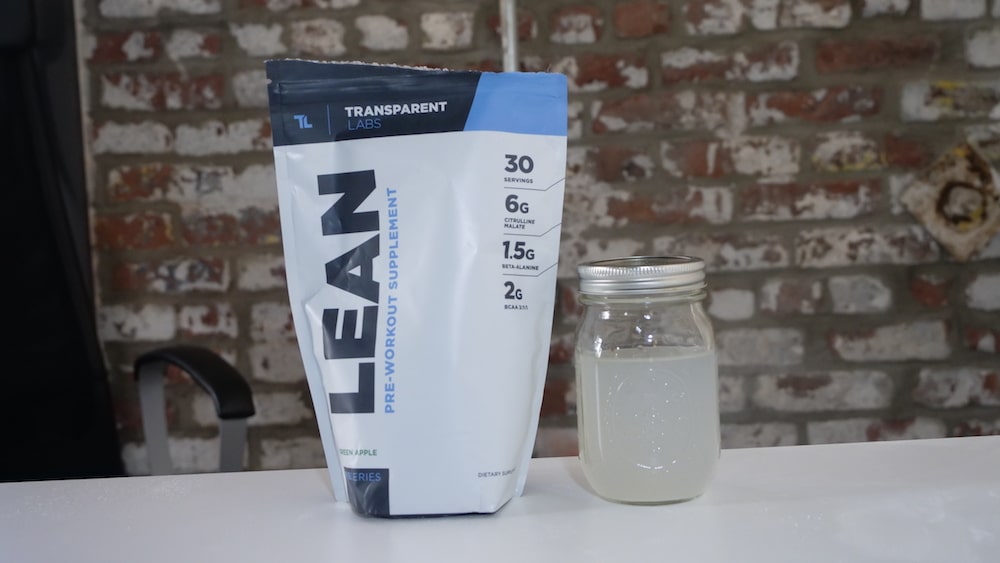 Transparent Labs Lean Pre-Workout Price
You can pick up 30 servings (that's a little over a pound) for $49. That's $1.63 per scoop, which is pretty expensive given that most pre-workouts fall between 80 cents and $1 per serving. That said, almost every ingredient in Lean really is dosed significantly higher than most of its competitors, so you may find the price worth it.
Transparent Labs Lean Pre-Workout Taste
Green Apple tastes like sour apple candy, which could be expected given that the ingredients list includes citric acid, which is pretty tart. I will say when following Transparent Labs' suggestion to mix one whole scoop mixed with 1.2 cups of water (10 fluid ounces) it produces a pretty darn sour drink. If you don't like sour, try mixing it with two cups.
The Takeaway
In many ways, this is a truly impressive product. It has a huge variety of ingredients with a huge variety of effects: you can expect better endurance, power, alertness, and focus. The product is extraordinarily well dosed, it's third party tested, and it has no artificial ingredients. Very few pre-workouts share these qualities.
But I was a little underwhelmed with the fat loss component. Most products that call themselves good for fat loss contain red pepper extract and/or l-carnitine l-tartrate, which have the best reputations and the most research supporting them. Instead, Lean takes a very small dose of a thyroid supplement and some bitter orange which, while it does have a couple of promising studies, doesn't have a lot of evidence supporting it.
So that's my takeaway: this may not the best fat loss product for some people, but it's a fantastic pre-workout.
[Use code BARBEND10 get 10% off your order with Transparent Labs.]